In October 2021, I made a public declaration that I would only fly African airlines to Africa. Just as the United States has a 'Fly American Act' that requires all air travel and cargo transportation paid for by the federal government to use US flag carriers, the fortunes of the African aviation industry would change significantly if more Africans were encouraged to fly home carriers. I have flown South African Airways numerous times to London, Hong Kong, Lagos, Abidjan, Cape Town, Lusaka, and rated them highly. It was time to try another African carrier and after a toss-up between Ethiopian Airlines and RwandAir, I settled on the latter.I flew RwandAir from London to Lusaka via Brussels and Kigali on Saturday 6 November 2021 and returned on 20 November 2021. My overall experience was positive though there were definite areas for improvement. Details below:
Value for money: 5/5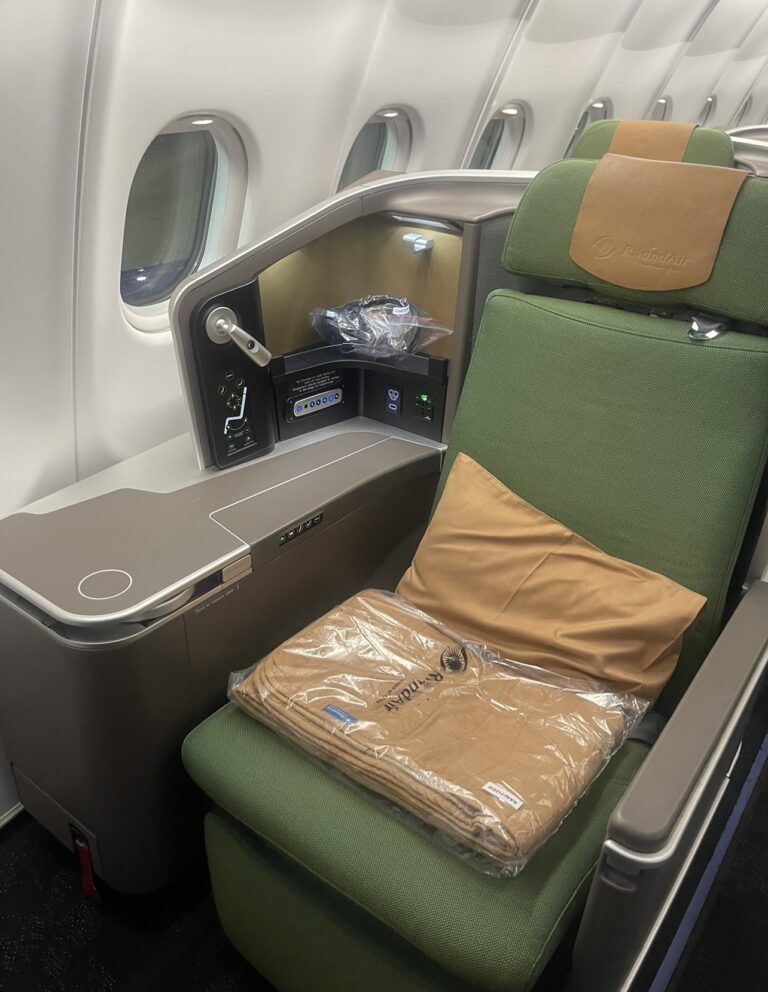 RwandAir has one of the most affordable business class offerings. A return ticket from London to Lusaka cost £2k, which was half the price of a similar ticket on Emirates. A business class traveller heading to Congo Brazzaville said RwandAir was a third the cost of flying Air France. An economy class ticket from London to Lusaka cost less than £600 with a generous luggage allowance of two pieces.
Despite the low prices, both the inbound and outbound flights were not full. Only 29 people boarded the outbound flight in London: 4 in business (out of 30 seats), 3 in Premium economy (out of 21 seats) and 22 in economy (out of 223 seats). Fortunately, another 120 passengers boarded in Brussels, with 13 of them flying business class. The inbound flight had 150 passengers with 14 in business. Most passengers disembarked in Brussels leaving 40 to continue onto London with eight in business class.
A crew member explained that the flight was usually fully booked all the way from London to Kigali pre-pandemic and that passengers have been slow to return post the lifting of travel restrictions. Let's hope so! Low prices should correspond with high volumes otherwise RwandAir will remain unprofitable.
Airline communication 1/5
There is no engagement with RwandAir after buying a ticket – no prompts to join the Dream Miles loyalty programme, no marketing emails, and no check-in reminder 48hrs before the flight. Missed opportunity!
Ground Service 4/5
RwandAir moved from London Gatwick to London Heathrow Terminal 3 in October 2021 after a brief stint at Terminal 2. The check-in counter is in Zone G which was chaotic with passengers from other airlines such as Biman and Jazeera checking in at the same time as Heathrow tries to optimise airline stacking after Terminal 4 closed.
The Heathrow ground crew were friendly though there was only one permanent RwandAir staff who was on hand to explain the requirements to complete the passenger locator form, a requirement which all passengers missed during the online check-in. All passengers, including those who are in transit, must complete the form.
The ground service is Kigali was much smoother, with clear signage for transiting passengers and fast checking of Covid and immigration documentation. I was also comfortable leaving my luggage at Kigali International Airport during my 18hr layover – something I would never do at Oliver Tambo, where I have robbed on several occasions. The ground crew checked their system to ensure that the bags had indeed been loaded onto my onward flight to London and I received them intact.
Lounge 3/5
There was no lounge available at London Heathrow, which was a disappointment. The staff recommended the use of the Number 1 lounge which charged £40. RwandAir should have sorted this out like Pakistan Airlines which has signed up Number 1 for all their premium passengers. There was also no lounge service available in Lusaka. The Transit Hotel at Kenneth Kaunda International Airport is the designated lounge but is not open at 1.30am which is the check-in time for the 3.30am flight from Lusaka.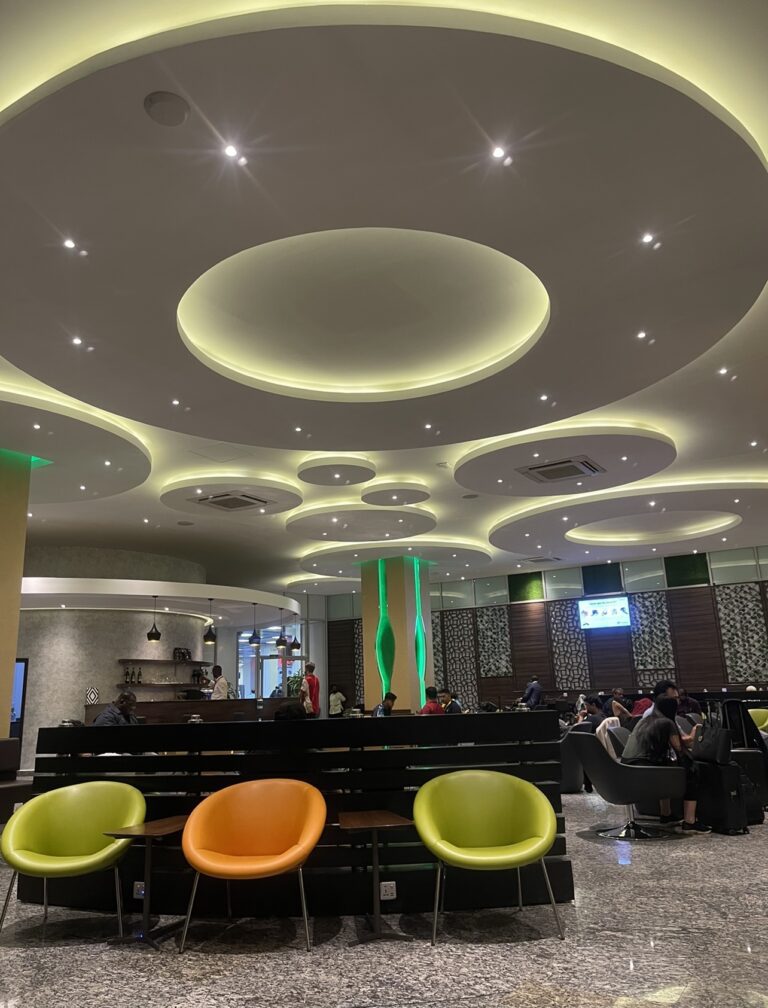 Fortunately, I did get to use the lounge in Kigali. It is beautifully decorated but small and gets full in the mornings. The lounge has a shower, which was handy after spending the day touring Kigali but there was no hot water.
Reliability 3/5
RwandAir has a notorious reputation for being late. The flight left London an hour late even though there were only 29 passengers. This was likely due to the cargo that was still loading when check-in was supposed to start. The flight from Kigali to Lusaka was also delayed by an hour, this time due to a faulty cargo loading equipment at Kigali International Airport. The return leg was a different story: the 3.30am flight left Lusaka 30 minutes early and the flight to London was right on time.
Plane 4/5
RwandAir uses an Airbus A330-330 on the London-Brussels – Kigali route which it is quiet and smooth to fly. The 1-2-1 configuration in business class is better than the 2-3-2 configuration that Emirates uses on the Dubai-Lusaka route. However, one downside is the lack of adequate bathrooms, with the main one being a small stall next to the cockpit and a less used one in the back which I suspect is also used by premium economy.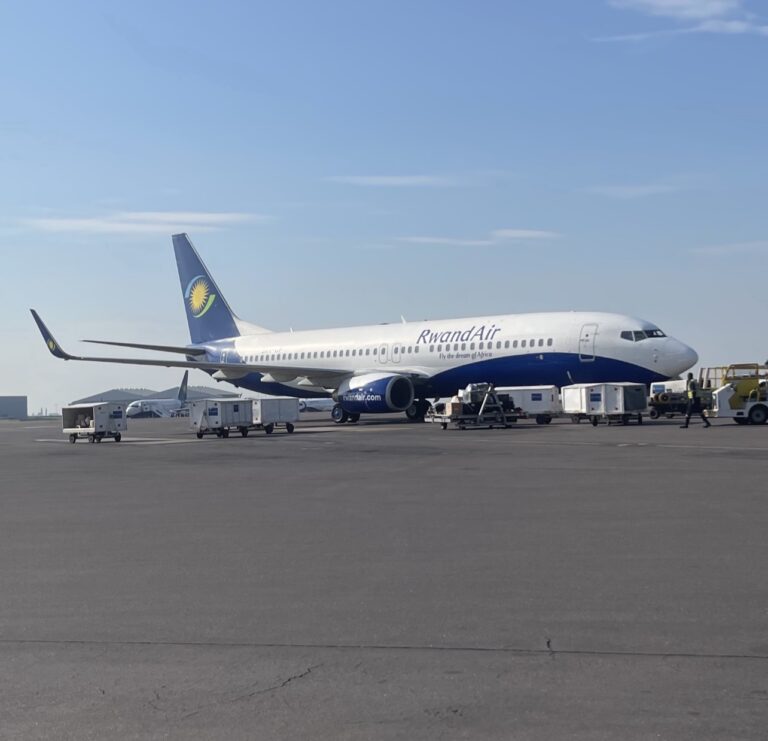 The outbound flight to Lusaka was on a Bombadier CRJ900ER plane which carries 75 passengers and went on to Harare. The small plane was hit by a wind shear on approach to Lusaka and aborted landing at the last minute which made for an uncomfortable few minutes until we went around and touched down safely on the second attempt. The pilots were very professional. The inbound flight came from Johannesburg and was on the more comfortable B737-800 which also cut the flight time to Kigali by 30 minutes.
Cabin crew 3/5
The cabin crew were professional and polite but not as friendly as the Emirates crew who are keen to make small talk as passengers board. I wasn't sure if that was because of the Covid restrictions. I also found it odd that they were absent during the safety briefing on the A330-300 though they did perform the obligatory 'pointing out the exit doors' on the smaller planes.
Missed opportunity: I had expected the female flight attendants to be dressed in beautiful mushanana wear, the traditional dress of Rwandese people. Instead, they wore blacks suits with green shirts. The first thing that comes to mind when people think of Singapore Airlines is the uniform, which wins awards for having the best uniform. RwandAir could make this one of their signature traits.
Seat comfort 5/5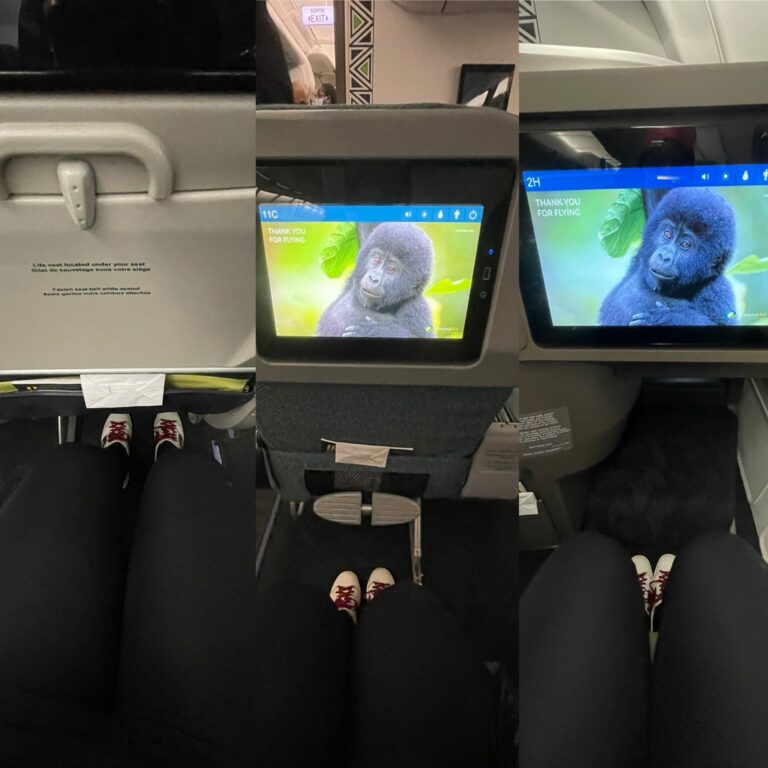 Generous legroom makes for comfortable travel across all classes on RwandAir. The business class seats are comfortable, come with an in-seat massage function and are completely flat, which makes for comfortable sleeping. The economy class seats on the A330 have more legroom than on South African Airways and premium economy is so spacious that tall passengers can comfortably stretch their legs.
In-flight entertainment 3/5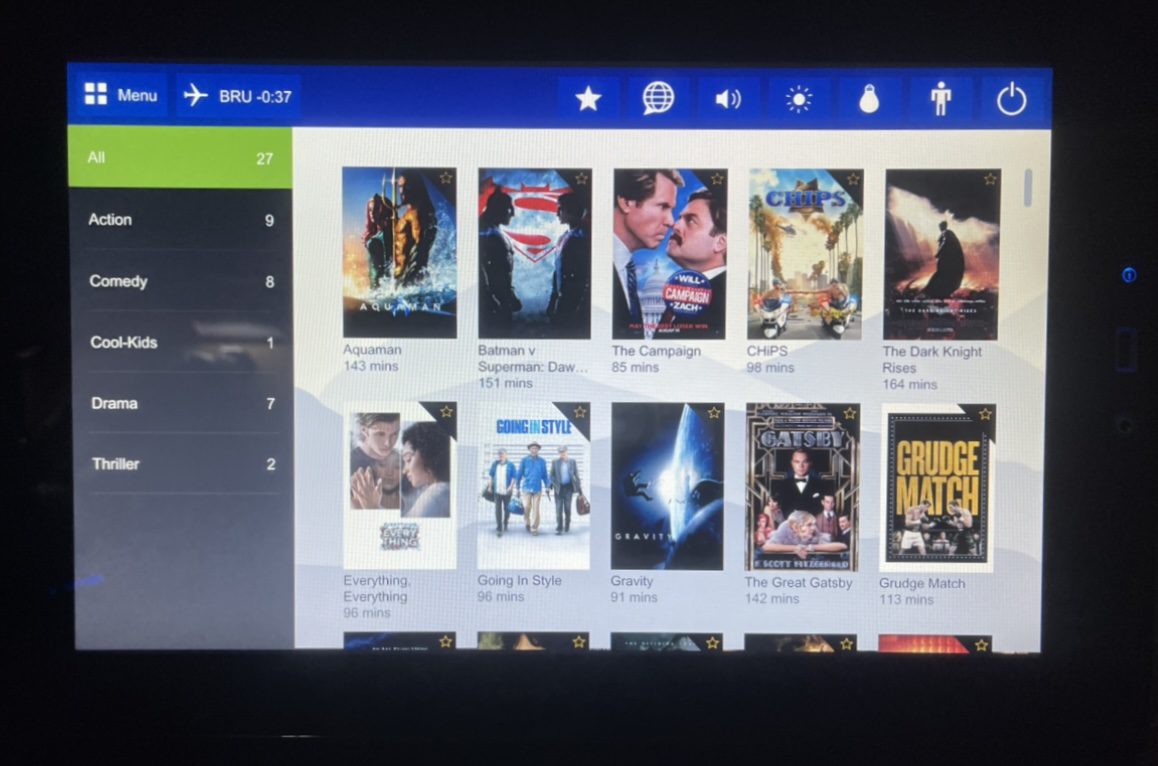 I was surprised to find only 27 movies available in the movie library on the outbound flight from London to Kigali, including just one for kids. Thankfully, this had increased to 125 movies on the return flight two weeks later, including 13 for kids. Do not expect to watch the latest releases on RwandAir – most of the movies were at least three to four years old. You also can't watch movies laying down as the screen does not tilt – small but important detail especially as RwandAir resumes the China flight.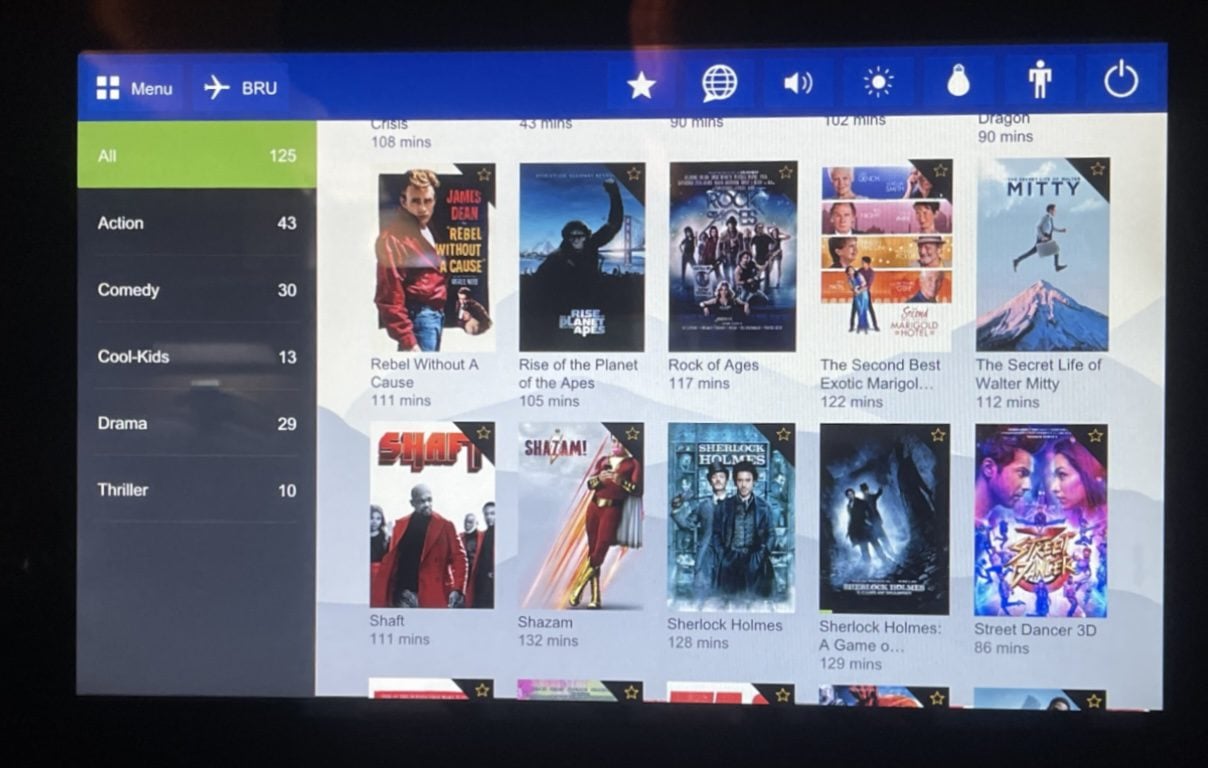 Food & Beverage 2/5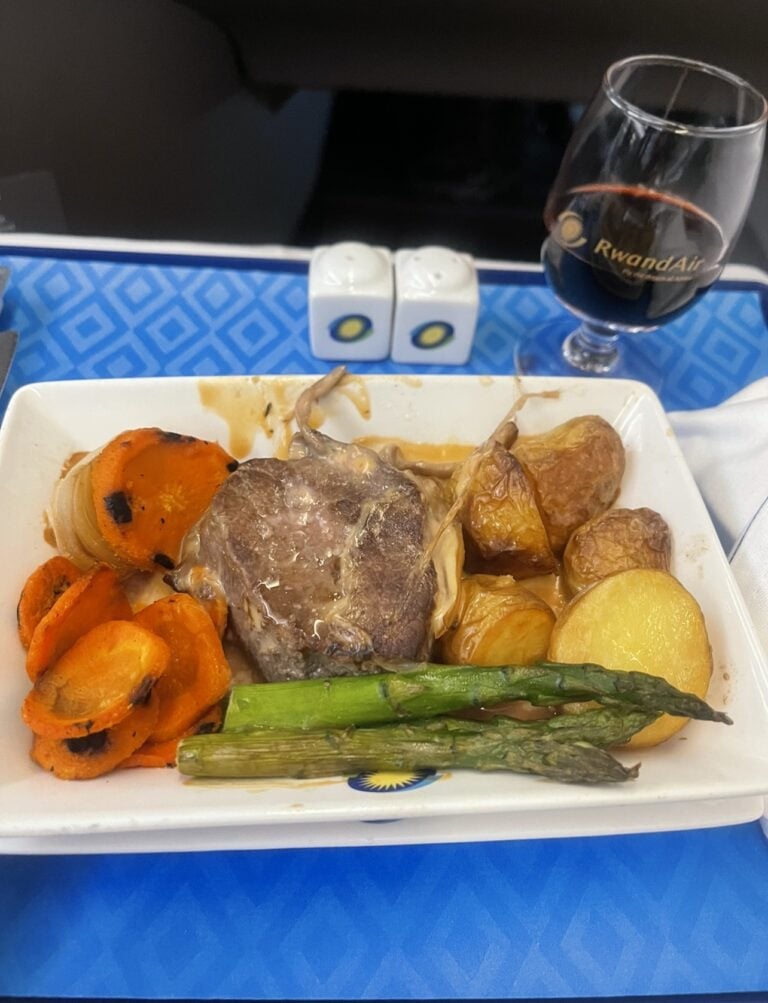 The biggest disappointment and the area that needs the most attention is the food. First, there is no menu in business class – meal (chicken or beef) and wine (limited selection) options are called out by the crew. I tried the beef on the outbound flight which was served with burnt carrots and then the chicken on the inbound flight which was dry and unimaginative. Both times I failed to finish and was uninspired to try the dessert. The breakfast served on the Kigali-Lusaka route was much better – chicken sausage and spinach. Do try Rwandan coffee on the flight – they have some of the best coffee in Africa! Read our previous review on Kawah coffee and the growing popularity of Rwandan coffee.
Overall experience 3.3/5
When you put the RwandAir experience in the context of the price you pay for the ticket, it delivers above expectation. It is an affordable, safe, and comfortable airline with some of the best connectivity within Central Africa.
Rwanda also has the potential take the mantle from Jomo Kenyatta as East Africa's travel hub when the new international airport at Bugesera opens at the end of 2022. Just as Singapore made it easy (pre-pandemic) for travellers heading to Australia or New Zealand to spend a day or two in the city state, RwandAir can capitalise on the long layovers by supporting the local tourism industry by actively marketing tours for the transiting passengers. I organised my own tour during the 18hr layover and plan to spend three to four days on my next stopover in the beautiful land of a thousand hills.
Overall, I was happy with the service and will certainly fly RwandAir again.