The ninth edition of the 1-54 Contemporary African Art Fair was held between 14 – 17 October 2021 at Somerset House in London. The event attracted 48 galleries representing over 150 artists from international and African countries such as Cameroon, Democratic Republic of Congo, Egypt, Ghana, Kenya, Mozambique, Morocco, Nigeria, Senegal, South Africa, Sudan, and Zimbabwe. The first two days were reserved for the press and VIPs who quickly snapped up several pieces, indicating a strong demand for contemporary African art. Local celebrities in attendance included domestic goddess, Nigella Lawson, who had earlier in the week, tweeted support for her artist friend, Lisa Vandy, famous for designing turning boat hulls into African masks using porcupine quills.
The annual event is an opportunity for the public to get in on the art world's best-kept secret: African art is a better investment than crypto. Leading contemporary artists such as Aboudia and Ben Enwonwu set records in early 2021 by selling work for prices for over $200k. Buying the work of up-and-coming artists will pay dividends in future.
ONGOLO has selected a diverse mix of 10 artists whose original work stood out:
Alexis Peskine
The Afro-French artist was born in Paris, France, in 1979 to an Afro-Brazilian mother and a Franco-Russian father. He obtained a Bachelor of Fine Arts degree from the prestigious Howard University and has two Masters' degrees in Digital Arts and Fine Arts. He lives and works between Paris and Dakar, Senegal.
Peskine's art is heavily influenced by his experience growing up as a mixed-race child in France and tackles racial identity, colonialism, and modern-day issues of police brutality in the US and the African refugee crisis in Europe.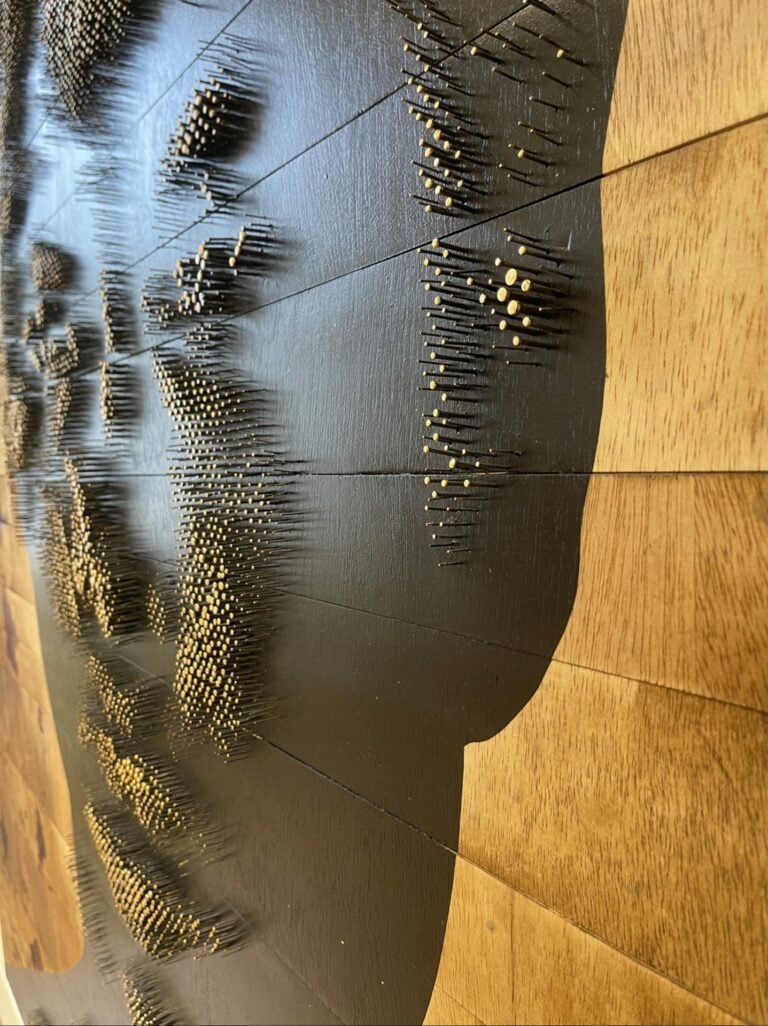 His signature look is the use of nails to make large-scale portraits of African people. The gold leaf brushed nails symbolise construction and destruction – nails are a key component of building and yet are also invisible and easily ignored. Some of the world's largest economies were built off the sweat of slaves and yet this part of history is not acknowledged.
Peskine's work can be found at the October Gallery, which first opened in London in 1979. Email: [email protected]
Gonçalo Mabunda
Mabunda was born in Maputo in 1975, two years before the start of the nearly 17-year-long civil war that devastated Mozambique. He is based in Maputo and channels his experiences growing up in a war-torn country and peace activism into his art. He was voted one of the Top Ten African Artists to Watch 2019 by Blouin Modern Painters.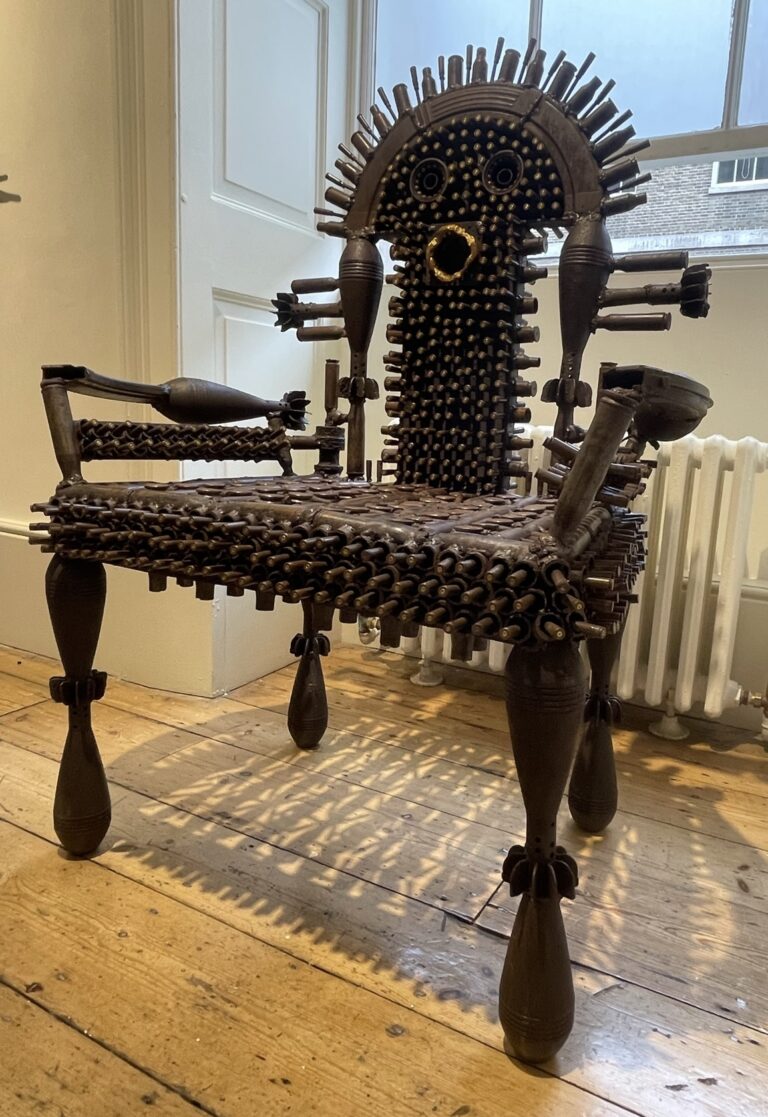 His sculptures of thrones and traditional African masks are made from weapons seized after the war including AK47s, grenades, shell casings and launchers. The style of art marries African tradition with symbols of power and destruction while paying homage to western artists such as Braque and Picasso. Mabunda is quoted as saying: "My pieces prove that objects of violence can be transformed into something positive and something beautiful. Not only that but – to me – the reworked weapons represent the resiliency and creativity of African civilian societies."
Mabunda's work can be found as the Jack Bell Gallery which opened in London in 2010. Email: [email protected]
David Uzochukwu
Uzochukwu was born in 1998 in Innsbruck, Austria, to a Nigerian father and Austrian mother. He was educated at Humboldt University in Berlin where he obtained a Bachelor of Fine Arts and is still based in the German capital. In addition to being an artist and photographer, he is also a film maker.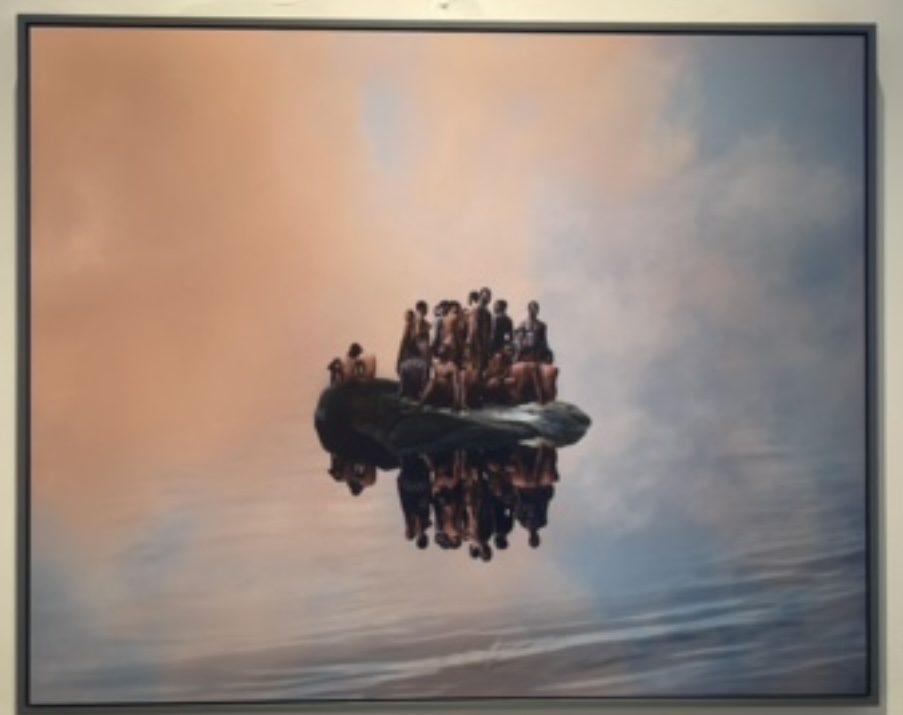 Since 2016, Uzochukwu has been working on a series centred on water which brings mythical Black merfolk to life. Some of his impressive work includes an African mermaid to rival Botticelli and changing the narrative of migrant refugees crossing the Mediterranean.
Uzochukwu's work can be found at Galerie Number 8 in Brussels. Email: [email protected]
Djeneba Aduayom
Aduayom was born in Togo and grew up in Paris. She has a mixed cultural heritage of Togolese, French and Italian. She turned to fine art photography after serious injuries cut short her promising career as a professional back-up dancer. She also spent four years studying interior design in London before moving to Los Angeles where her work has been featured in leading publications such as Vogue Italia, i-D and TIME.
Aduayom's work can be found at Galerie Number 8 in Brussels. Email: [email protected]
Richard Atungonza
Atungonza was born in Fort Portal in Uganda in 1994 and graduated from Margaret Trowell School of Industrial and Fine Art at Makerere University in 2019. He is based in Kampala, Uganda. His signature look uses waste materials such as charcoal, plastics, dried grass and saw dust to make partial portraits of people making natural movements.
Atungonza's work can be found at Afriart Gallery in Kampala. Email: [email protected]
Elolo Bosoka
Bosoka was born in Kumasi, Ghana in 1991 and received first degree in Fine Arts from Kwame Nkrumah University of Science and Technology (KNUST) in 2015. He specialises in art installations, collages, and paintings recycling every day materials such as burnt plastic sacks, fish net and textiles. He is based Accra and Kumasi.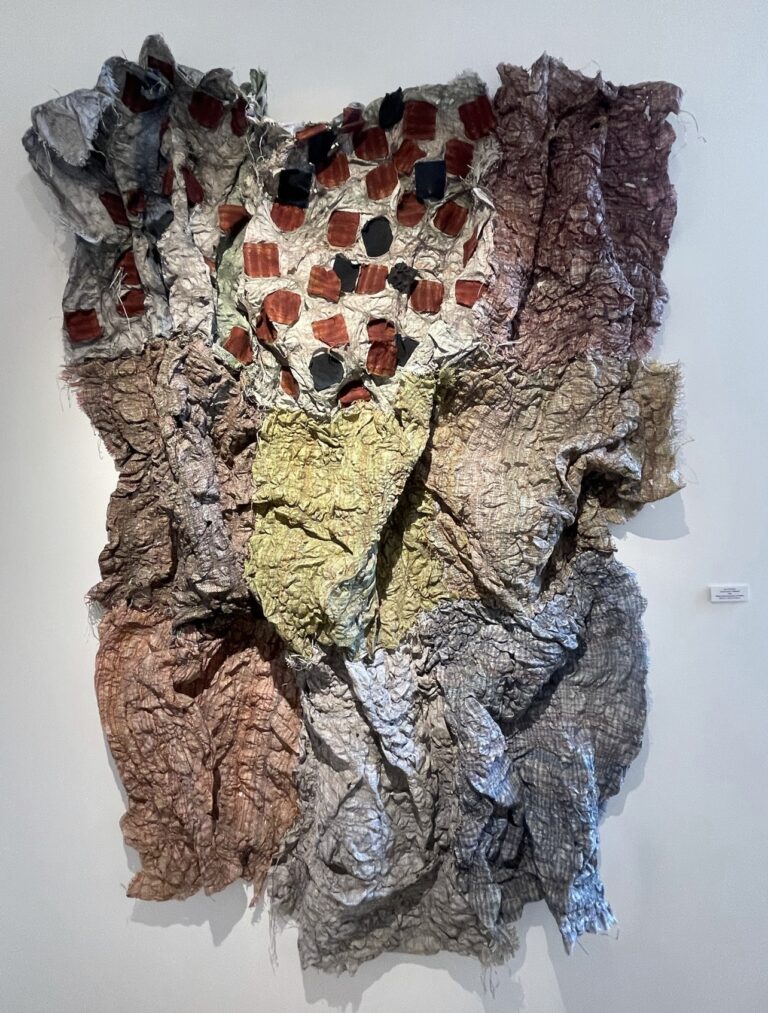 Bosoka's work can be found at Galerie Atiss Dakar which was founded in Senegal in 1996. Email: [email protected]
Evans Mbugua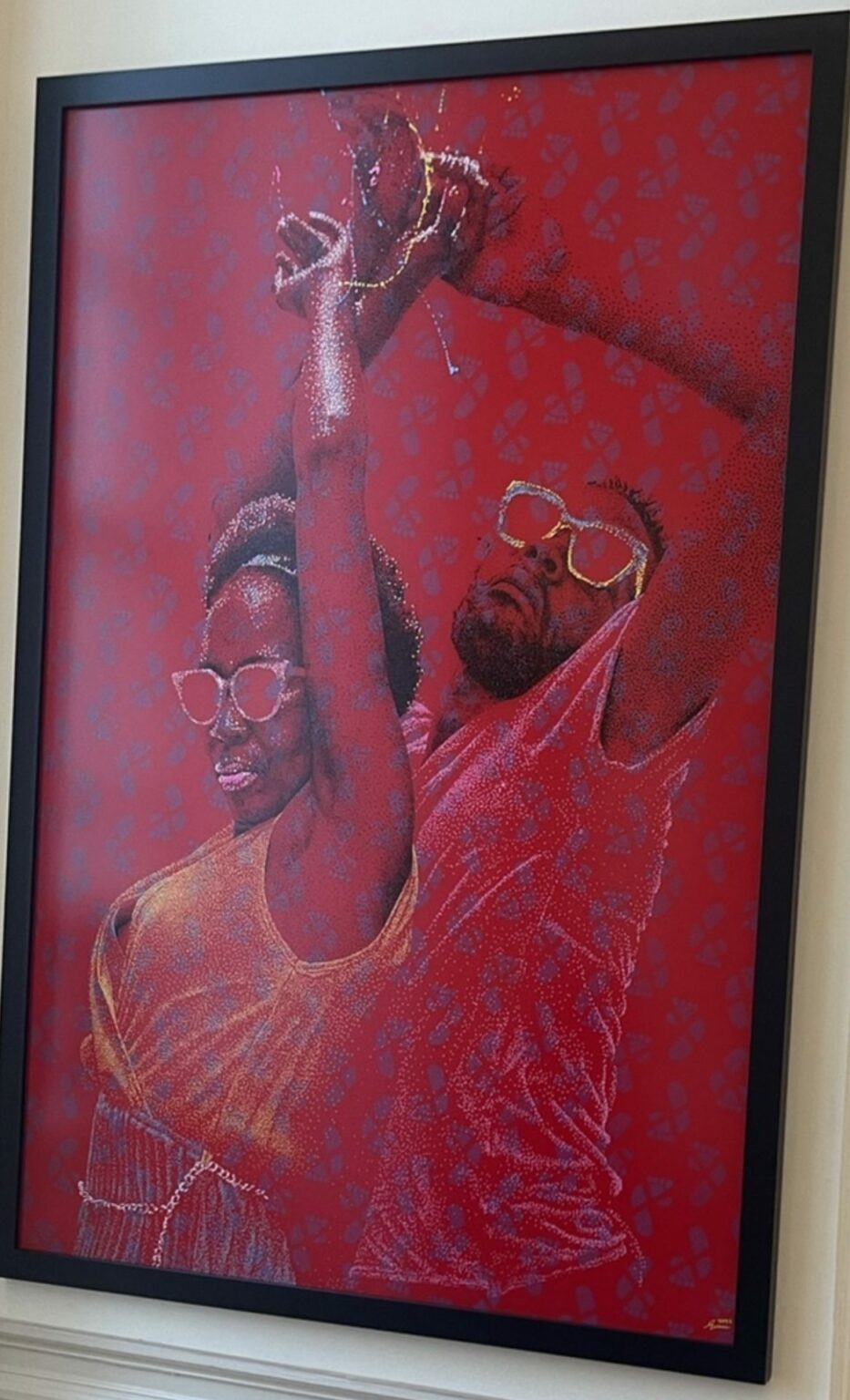 Mbugua was born in Nairobi in 1979 and now lives and works in Paris where he studied graphic design. He specialises in visual arts and uses small dots to paint bright images of people enjoying urban life on Plexiglas and glass. The use of glass is to underline human frailty and beauty.
Mbugua's work can be found at Loft Art Gallery which was founded in Casablanca in2009. Email: [email protected]
Ann Gollifer
Gollifer was born in 1960 in Guyana and has lived and worked in Botswana for over 30 years where she paints, photographs and writes about her subjects. Her work reflects her extensive travels throughout Botswana as well as her upbringing in post-colonial Latin America. Her signature art uses earth pigments which she makes herself.
Gollifer's work can be found at Guns & Rain gallery which was founded in Johannesburg in 2014. Email: [email protected]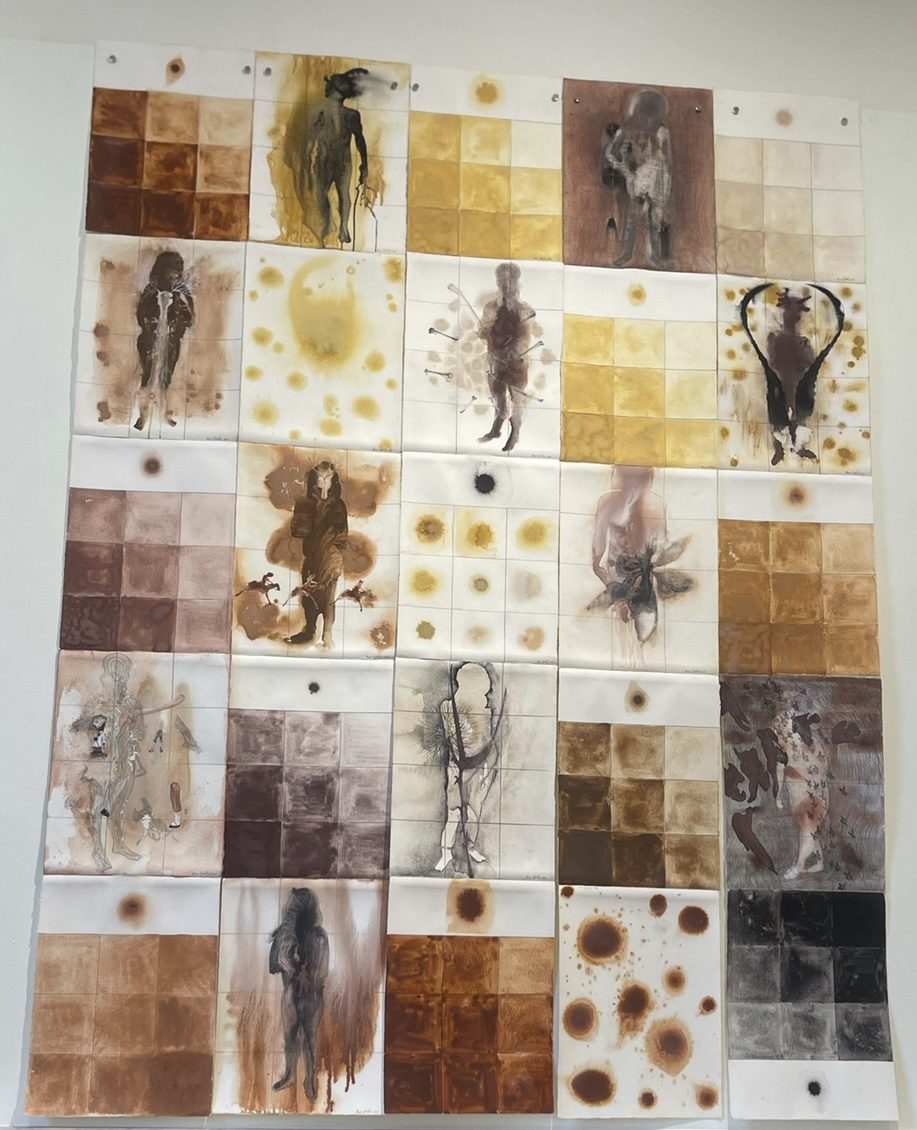 Patrick Bongoy
Bongoy was born in Kinshasa, Democratic Republic of Congo, in 1980 and trained at the Academy of Fine Arts. He now lives and works in Cape Town, South Africa, after upsetting the government with his protest art. His signature art uses discarded materials such rubber and reflect his feelings of displacement and the effects on his identity.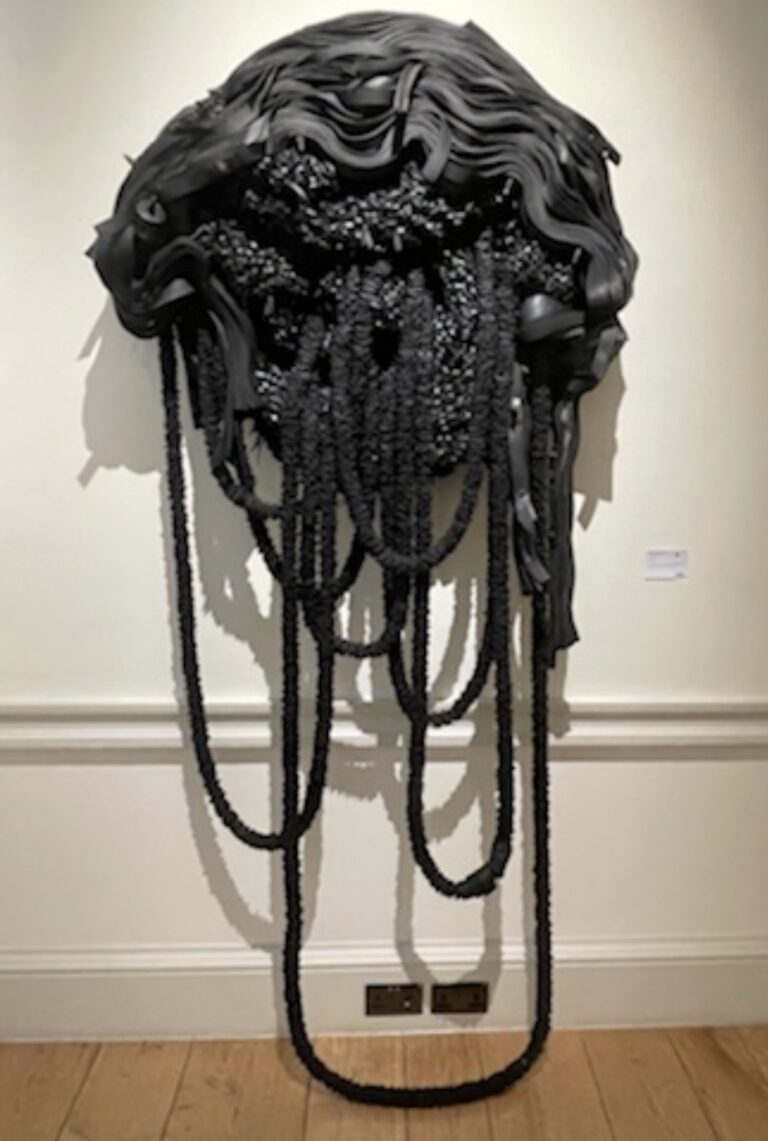 Bongoy's work can be found at THIS IS NOT A WHITE CUBE gallery located in Luanda and Lisbon. Email: [email protected]
Sahara Longe
Longe was born in 1994 in London where she is based. She studied at Charles H Cecil Studios in Florence where she studied in a Renaissance style of art by painting with oils. Her signature style is to give an African take on the work of the Old Masters, breathing new life into traditional art forms.
Longe's work can be found at Ed Cross Fine Art gallery in London. Email: [email protected]