The World Health Organisation (WHO) has declared the new B.1.1.529 Covid strain, a variant of concern. Renamed Omicron, the latest mutation of the nearly two-year-old pandemic could replace Delta as the dominant global Covid variant, though it will take some more weeks of testing for scientists to establish the facts. Here is what we know today: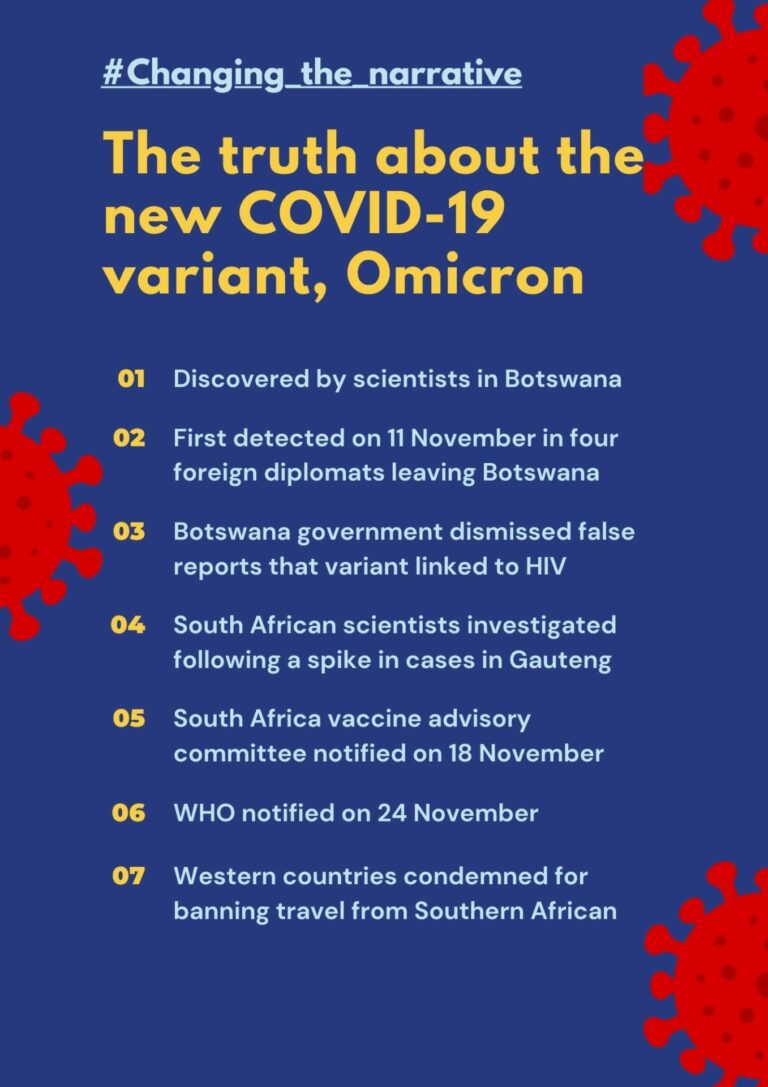 #1 Discovered by scientists in Botswana
The genetic code for Omicron was first sequenced by the Botswana Harvard Partnership (BHP) which is managed by Zimbabwean medical scientist, Dr Sikhulile Moyo, who is the lead virologist at the institution.
#2 Was first detected in visiting diplomats in Botswana
According to a statement issued by the Ministry of Health and Wellness of Botswana, the virus was first detected in four diplomats who arrived in Botswana on 7th November and took pre-departure Covid tests on 11 November. The samples were confirmed to be infected with the new variant on 24 November, long after the diplomats had left. The Botswana government has been coy about the country from which the diplomats originated and speculation on social media has been wild with the latest rumour being that they came from Ghana.
#3 Fake news: Omicron not linked to HIV
The Botswana Presidential COVID-19 Task Force dismissed social media reports that the new variant developed in HIV+ patients as "no HIV status of the clients was associated with the results".
Read more about the difference between HIV and COVID in the ONGOLO feature story published on March 2021 entitled COVID v HIV: why science has tamed one but not the other.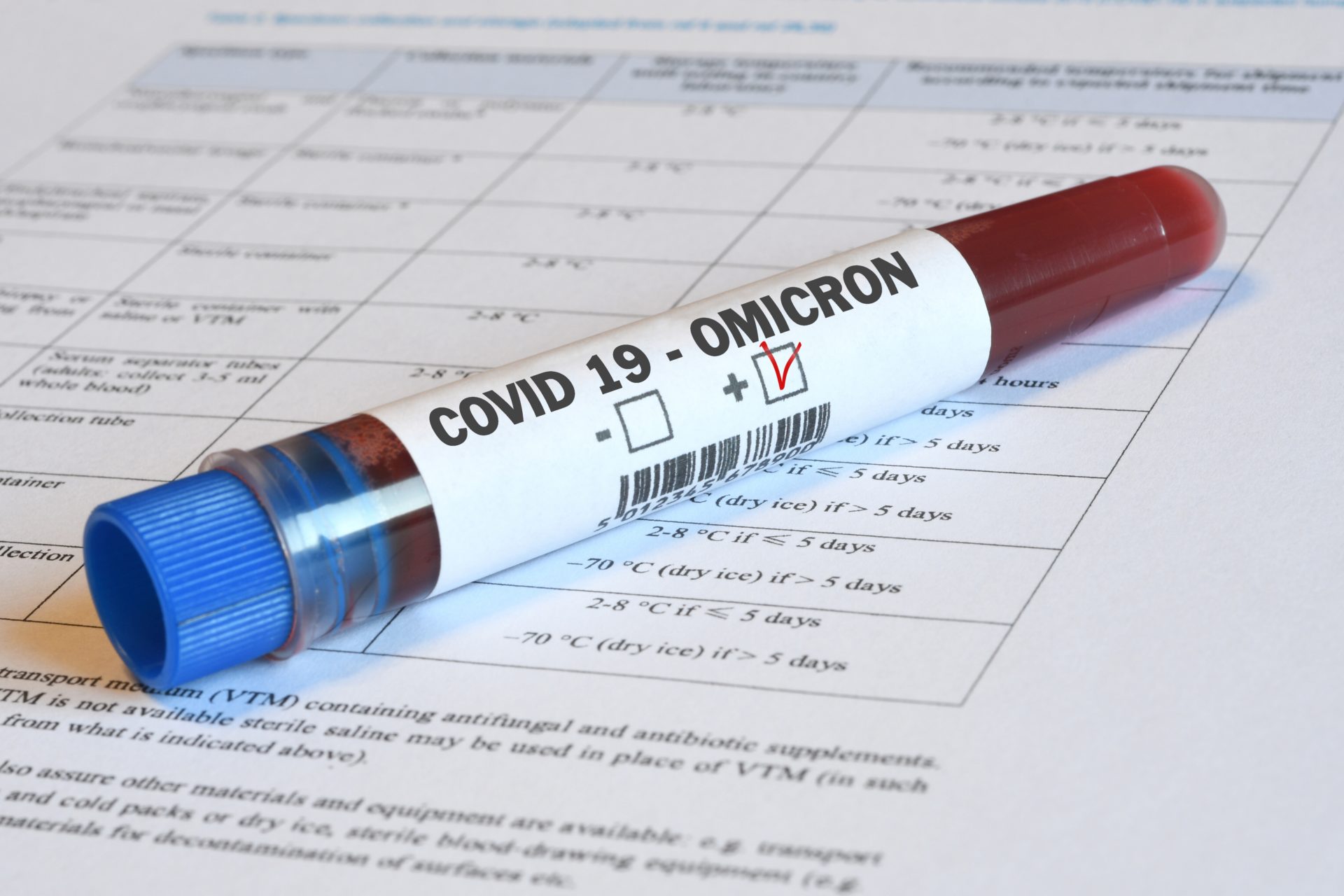 #4 South African scientists investigate rising cases
The head of the South African Medical Association, Dr. Angelique Coetzee, runs a private practice in Pretoria and noticed that patients who had tested positive for Covid since the start of November had different symptoms from the norm though most of them were mild. Symptoms such as the loss of smell and taste were replaced by intense fatigue. A six-year-old child who was nearly admitted for having a high pulse rate felt much better after just two days.
The Network for Genomics Surveillance in South Africa and the Botswana Harvard HIV Reference Laboratory have worked together to understand this new variant. South African scientists think it is to blame for the sudden increase in the number of cases from 530 per day to over 4,000. Both countries have world class epidemiologists who have spent decades studying infectious diseases such as HIV and are now using their infrastructure and framework to support the fight against the Covid-19 pandemic.
#5 Reported to the South African vaccine committee
Dr Coetzee reported the cases to South Africa's vaccine advisory committee on 18 November after more than two dozen people tested positive for the same variant. More than half the patients were fully vaccinated. South African authorities are concerned about how the new strain will impact patients with underlying health conditions and the many who remain unvaccinated.
#6 Reported to WHO on 24 November
The new variant was reported to WHO on 24 November. The variant was immediately upgraded to a concern because Omicron has more than 30 mutations compared to just nine for Delta. Mutations are changes in a virus' genetic code (genome) from the earliest version of the virus. The high number of mutations have raised concerns that the variant could potentially spread more easily and could be resistant to vaccines and current treatments. The new variant is already evading tests with one out of three gene types undetectable by commonly used PCR tests. It will take a few more weeks until scientists are certain about what to expect from Omicron.
#7 Western countries condemned for unjustified travel bans
The UK was the first Western country to implement a travel ban on passengers from six Southern African countries (Botswana, Eswatini, Lesotho, Namibia, South Africa, and Zimbabwe) which was extended to ten with the addition of Angola, Malawi, Mozambique, and Zambia by 28 November. The European Union, United States, United Arab Emirates, and other countries quickly followed suit in a move that was branded hypocritical and discriminatory. Israel banned every country in Sub-Saharan Africa.
The virus has already spread to Australia, Belgium, Egypt, Germany, Hong Kong, Israel, Italy, the Netherlands, United Kingdom – none of which have been banned by other countries. Italy believes the first patient visited Mozambique before returning to Italy on 12 November, having tested negative before travelling.
Some scientists believe the variant, whose origins are unknown, could have been circulating from as early as the beginning of October before it was detected by the more sophisticated Covid genomic surveillance system in Botswana and South Africa.
So rather than focus on the negative response to a spirit of openness and collaboration, ONGOLO is choosing to celebrate African excellence and remind Africans to think Africa for your next trip abroad.