It started with a humble brag tweet. On Monday 3 January 2022, the Kentucky Fried Chicken (KFC) in Kenya Twitter handle (@KFCinKenya) informed their 12.4K followers that the December 2021 Furaha marketing promotion had been so successful that KFC had run out of chips. Customers were asked to substitute chips with one of five other products, including the local staple, ugali. The tweet, which interestingly is still up, attracted nearly 450 comments from Kenyans who were sharply divided into two camps. The first camp was outraged that KFC Kenya, which has been operating in the country for over 11 years, was importing potatoes from the United States, when local farmers were struggling to find buyers for the same product. Some even suggested that KFC Kenya start importing customers as well and this triggered the #BoycottKFC campaign, with many vowing to take their custom elsewhere.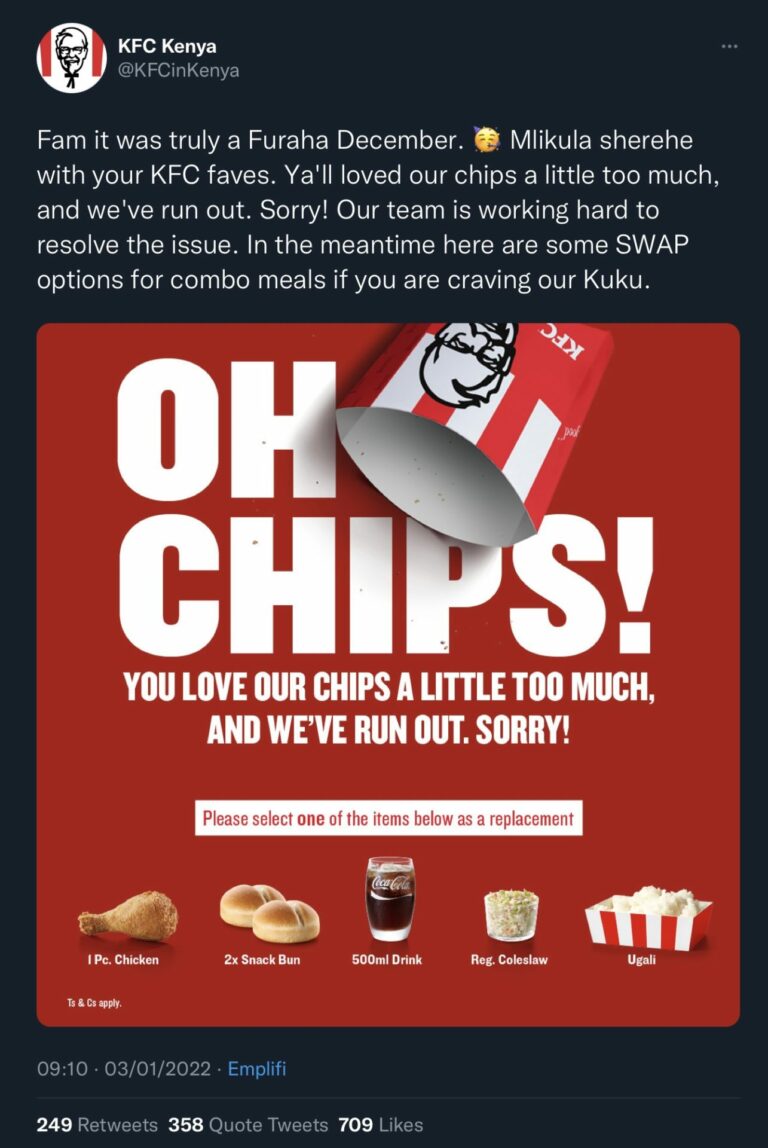 The second camp consisted of people who had noticed a change in the quality of chips in the period after Christmas and were more sympathetic of KFC Kenya's plight. Some analysts pointed out that brewery and cigarette manufacturers also import core inputs such as barley and tobacco into Kenya. They dismissed the #BoycottKFC campaign as a misguided ploy by those who did not understand the challenges companies face with sourcing locally.
KFC goes into damage control mode
The following day, KFC Kenya went into overdrive to limit the damage. The KFC East Africa CEO, Jacques Theunissen, spoke to The Standard newspaper where he explained the company policy:
"The reason we cannot buy local at the moment is all suppliers need to go through the global QA [quality assurance] approval process and we cannot bypass that even if we run out to ensure that our food is safe for consumption by our customers"

Jacques Theunissen, KFC East Africa CEO
This view was supported by some Kenyan analysts who explained that most local farmers did not meet standards on quality seeds, the type of soil used, pesticide and fertiliser usage, harvesting and storage – which make traceability and consistent supply a real challenge.
And yet KFC China was able to support local farmers when they first entered the Chinese market in 1987. All ingredients except KFC's secret fried chicken recipe are sourced locally and KFC works in partnership with growers to provide specific products such as US variety of sweetcorn. KFC China believes supporting the local farmers also strengthens its relationship with the government.
Furthermore, KFC Group has a social impact report that states a commitment to climate change and forest stewardship. So how do they justify exporting potatoes from the United States to markets as far as Africa? How and where is this carbon footprint captured in their Environmental, Social and Governance (ESG) reporting?
Lessons learnt
KFC Kenya has a responsibility to be a good corporate citizen by supporting the local economy from which it extracts financial value. This is not an unreasonable ask and it is encouraging that the Theunissen said: "There is an opportunity to source the potatoes from a local supplier that meets the global KFC quality and safety specifications in the near future". Will the Kenyan government follow through?
This incident – and those that have not come to the fore – are a direct sign of government failure to ensure that investors are supporting the growth of the local supply chain. If China can do it then why not the Kenyan government?
It is also worrying that the agricultural sector in Kenya and the rest of Africa continues to lag on quality. How can Africa seize the opportunity to feed the world (as we reported back in September 2020 in the article 5 reasons why agriculture underperforms in Africa) if we can't feed our own countries?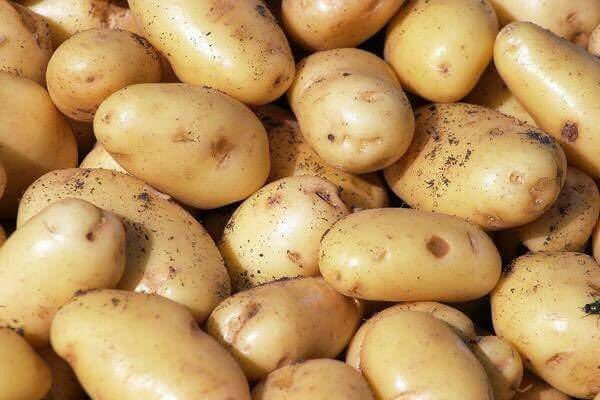 Why do African businesses need external Social Media Managers?
Many companies do not realize the need for a Social Media Managers (SMMs) until they have a crisis on their hands. KFC Kenya could have avoided the PR blunder by hiring an external professional to handle the company's social media accounts. Maintaining several profiles across different platforms can be exhausting, especially when changes are constantly being made.
SMMs can sometimes be pricey, but they are worth every penny considering the amazing return on investment that TikTok, Twitter, Facebook, Instagram has yielded for companies in just a few short years.
Let us know if you're looking for SMM services by emailing [email protected]