When the Algeria national team, Les Fennecs (Desert Foxes), landed in Douala on Saturday 9 January 2022, they were in a strong position to successfully defend the Africa Cup of Nations (AfCON) title they won in Egypt in 2019. The team was still on a high after being crowned champions at the inaugural FIFA Arab Cup just three weeks earlier on 18 December 2021 in Qatar and were unbeaten in 33 competitive matches. Algeria came in ranked 29th best in the world by FIFA and third in Africa, behind Senegal and Morocco. To everyone's surprise, the Riyad Mahrez-led team never got their heads into the tournament. Perhaps it was fatigue from the FIFA Arab Cup or the heat and humidity in Douala.
Whatever the case, Les Fennecs got off to a poor start when they were held to a goalless draw by Sierra Leone (ranked 108th). Algeria then lost their second match to Equatorial Guinea (ranked 114th) and were thrashed in their third and final group stage match against long-time rival, Côte d'Ivoire (ranked 56th). The defending champions left the tournament utterly humiliated, having scored just one goal, and will drop in the FIFA rankings to fifth best in Africa behind Tunisia and Nigeria.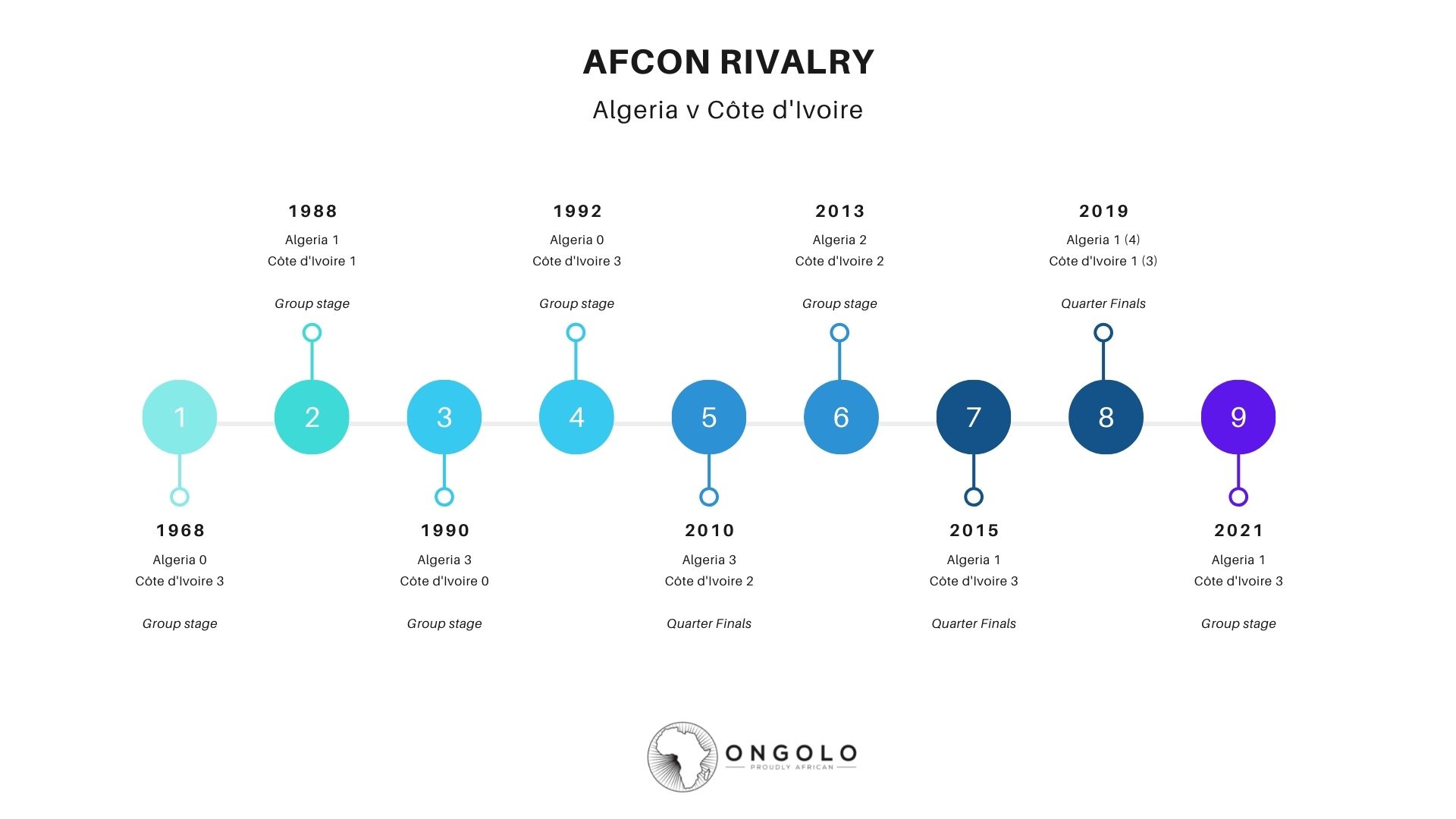 Algeria and Côte d'Ivoire have a long rivalry at AfCON
Algeria and Côte d'Ivoire have been fierce rivals at AfCON since they first played against each other in 1968. The two countries have met nine times at AfCON and The Elephants have a slight advantage, having won four matches including yesterday's 3-1 thriller which saw Mahrez miss a dubious penalty. As Ivorian midfielder, Franck Kessié, said after yesterday's match: "In 2019, they [Algeria] eliminated us so we wanted to eliminate them this time".
Ghana also sent packing from AfCON
The Black Stars and their fans arrived in Yaoundé with similarly high expectations. They lost their first match to Morocco and were then held to a 1-1 draw by Gabon in the second match. The frustrated Black Stars mentally fell apart after the final whistle was blown when tempers flared up on the pitch. The referee issued a red card to Ghanaian striker, Benjamin Tetteh, for throwing a punch at Gabonese forward, Aaron Boupendza. The Black Stars put up a spirited fight in their last group match against Comoros, who were making their AfCON debut, and still lost by 2-3 goals in one of the most exciting matches seen at AfCON2021. Ghana (ranked 52nd) finished last in Group C behind Comoros, who are ranked 132nd.
North Africa teams struggling at AfCON 2021
There has been a noticeable drop in performance across the North African teams, except Morocco. Algeria, Egypt, Mauritania, Morocco, Sudan, and Tunisia all participated in the FIFA Arab Cup, which Algeria won after beating Tunisia. Egypt came third. Perhaps Morocco had more time to prepare for AfCON after they were beaten by Algeria in the quarter finals?
Comoros qualifies to the round of 16
History was made when Comoros qualified to the round of 16 – an amazing feat for the island nation which was appearing at AfCON for the first time. The news was met with jubilant celebrations in the capital of Comoros, Moroni. The islanders will next face the hosts, Cameroon.
The round of 16 fixtures
The round of 16 matches have now been set. The host, Cameroon, will meet Comoros next and unless there are no more surprises will likely get to the semi-finals. Morocco will meet Malawi next and face either Côte d'Ivoire or Egypt in the quarter finals. Nigeria will play Tunisia, who lost to Gambia, and should also make it to the semi-finals where they will meet Senegal or Mali. Will it be a Côte d'Ivoire/Morocco v Senegal/Nigeria final? We can't wait to see what surprises AfCON has in store during week 3.