A dark cloud descended over Cameroon on Tuesday 24 January 2022 when news broke after the Cameroon v. Comoros Round of 16 match that there had been a stampede 30 minutes before kick-off, which left eight people dead, including a six-year-old girl. Another 38 people were injured, including a woman carrying a two-year-old toddler on her back, who was unharmed. The incident happened outside the brand new 60,000-seater Olembé stadium, which cost over $300m, when more than 50,000 fans tried to enter the stadium through the single entrance that was open.
Concerns have been raised about security and crowd management during the tournament, as the Confederation of African Football (CAF) launched a full investigation into the worst incident at AfCON since 2010 in Angola, when a gun attack on the Togo team bus left three dead and eight injured. CAF President and South African billionaire, Patrice Motsepe, announced that the tournament would continue as scheduled as measures would be put in place to prevent further incident, and that every match going forward would observe a minute of silence. The quarter final match that was scheduled to be played at Olembé has been moved to Ahmadou Ahidjo Stadium, which was the main stadium in Cameroon from 1972 until 2021.
Comoros wins hearts and minds across Africa
Comoros put up a spirited fight against the host nation in a match they lost by 1-2 goals, with ten men and no goalkeeper. Comoros team captain, Nadjim Abdou, was sent off in the seventh minute after the Video Assistant Referee (VAR) review showed that he had recklessly tackled Cameroonian right winger, Nicolas Ngamaleu. Prior to the match, 12 Comoros players tested positive for COVID-19 including two goalkeepers while a third goalie was injured. The team tasked defender, Chaker Alhadhur, with the important task of manning the goal posts.
Alhadhur did an exceptional job and produced some impressive saves which frustrated Cameroon. Social media fans were united in their calls for him to be named man of the match. Comoros gave it their all until the final whistle and managed to claw back one goal. They did their country proud and are a team that will win AfCON one day.
The Africa Cup of Red Cards and VAR
A record number of red cards – 13 and counting – have been issued at AfCON2021, much to the dismay of fans who say the referees are ruining the game. The number now exceeds the combined total from the last four AfCONs and these decisions have played a key role in deciding the outcome of matches. Cape Verde lost two players during their knock-out match yesterday against an unimpressive Senegal, which they lost by 0-2 goals.
Considering many of these red cards were issued after the referees had consulted the VAR, one must question whether the role of the field referees is now redundant?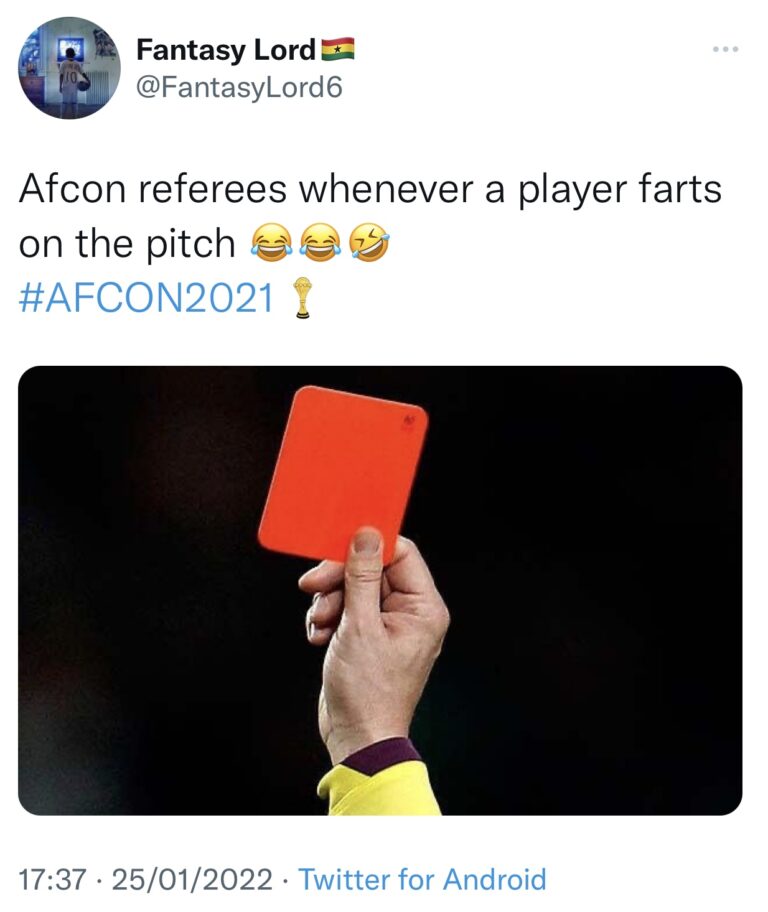 Nigeria: the group stage champions crash out
Nigeria went into their knockout stage match against Tunisia as though it was a mere formality. The Super Eagles were the only team in the entire tournament who left the group stages with nine points after beating all their opponents. Most football analysts had declared them the favourites to win the tournament and the team was overconfident that they would deliver.
Tunisia, on the other hand, had qualified as a third-place finisher after losing their opening group match against Mali and last group match against Gambia. They only scored points by beating Mauritania. Like Comoros, their squad was hit on the day by many COVID-19 positive tests results, which meant their coach, Mondher Kebaier and 10 players, including the team captain, Wahbi Khazri, were absent during this key match against Nigeria. It did not look good for the North Africans and yet they pulled off the upset of the tournament by sending the Super Eagles packing.
Nigeria played as though they had infinite amount of time, even when they were a goal down, and lacked a sense of urgency. It was as though they had spent all their fuel in the group stages and had nothing left in the tank. They were ultimately unable to break the impenetrable Tunisian defence and were humiliated in defeat. The thousands of Nigerian fans in the stadium sat in stunned silence while those on social media started looking for answers. Some blamed President Muhammadu Buhari, who had called the team to wish them good luck, for bringing negative energy to the team. While others pointed to Nigeria's track record for being inconsistent and delivering when the expectations were low. The jollof rice war reached new heights as Ghanaians rejoiced the downfall of the AfCON group stage champions on social media until someone reminded them that The Gambia was still playing at the West African giants were not.
We are only half-way through the knock-out stages and cannot wait to see what other surprises are in store!