The quarter-final matches at the Africa Cup of Nations (AfCON) on Saturday 29 January 2022 will see the host country, Cameroon, take on the tournament debutants, Gambia, while Tunisia will face off with a determined Burkina Faso. The following day, Egypt and Morocco will meet in a thrilling clash of two North African giants, while Senegal will play Equatorial Guinea in a match which on paper, looks like it will be an easy run for the West Africans, but if there is anything we've learnt from AfCON2021 is to expect the unexpected. In summary, North, West and Central Africa will be competing for the trophy once again.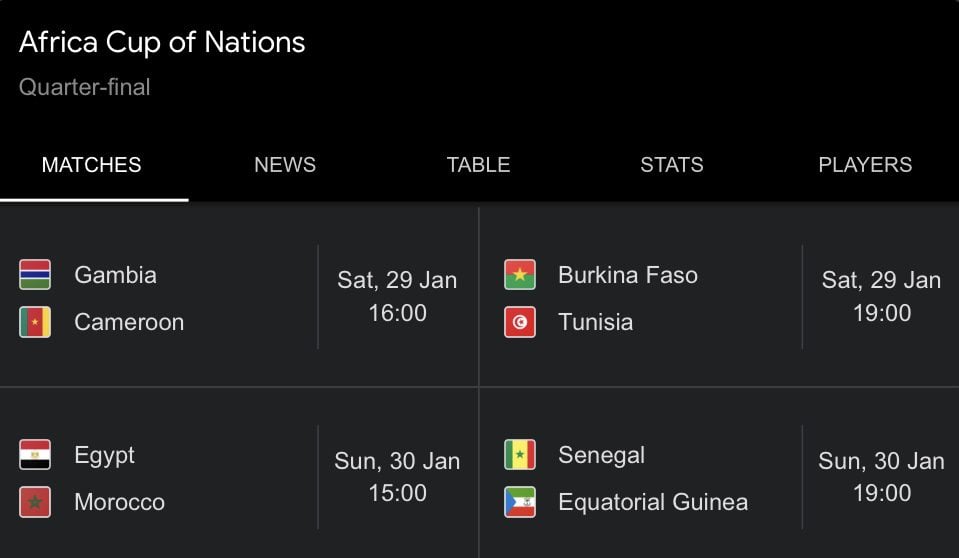 In the 65-year history of AfCON, teams from Southern and East Africa have won the tournament only 5/32 times and all have been one-hit wonders: Ethiopia (1962), Sudan (1970), Congo (1972), South Africa (1996), and Zambia (2012). North Africa has won 11/32 times: Algeria (1990 and 2019), Egypt (1957, 1959, 1986, 1998, 2006, 2008 and 2010), Morocco (1976), and Tunisia (2004). West Africa has won the tournament 9/32 times: Côte d'Ivoire (1992 and 2015), Ghana (1963, 1965, 1978 and 1982), and Nigeria (1980, 1994 and 2013). Central Africa has won 7/32 times: Democratic Republic of Congo (1968 and 1974) and Cameroon (1984, 1988, 2000, 2002 and 2017).
The fact that North, West and Central African teams have won 27/32 times reflects the level and consistency of participation at the tournament. At AfCON2021, 80% of North African teams qualified (Libya was the only one to miss out), compared to 75% in West Africa, 38% in Central Africa, 21% in Southern Africa and just 17% in East Africa. Former AfCON winners, Democratic Republic of Congo, Congo, South Africa, and Zambia failed to qualify.
South Africa's Bafana Bafana won the tournament in 1996 during the Nelson Mandela-era, when the post-apartheid nation was re-establishing itself as a dominant force in sports. The year before, the Springboks won the Rugby World Cup for the first time and have remained consistent as one of the best teams in the world. The decline of football, which is still the most played sport in the country, has been attributed to a lack of soccer academies to develop talent and ensure a sustainable pipeline. This is also the case for Zambia's Chipolopolo, who face the additional challenge of political infighting between the past and present Football Association of Zambia executives that has resulted in neglect of the sport. A lack of leadership is also blamed for the decline of the football in East Africa.
What lessons can other regions learn from North, West and CentralAfrica? The first is to build lasting institutions to develop talent. West and Central African soccer academies have been credited with nurturing players such as Sadio Mané (Génération Foot Academy in Senegal), Yaya Touré (Mimos Sifcom Academy in Côte d'Ivoire) and Samuel Eto'o (Kadji Sports Academy in Cameroon). These academies will help players develop superior football skills – which is something the North African teams are well known for and what gives them the edge. North African are also known for being highly competitive and play to a high standard.
The second is to address the alleged physical attributes that give West Africans the advantage. According to South African sports scientist, Tim Noakes, West African players are bigger and stronger than other players and able to cope with the physical demands of playing football. This is not an insurmountable challenge. Maria Sharapova once famously said "If I was built like Serena [Williams, I] think I would hit a big serve too!" which inspired her to take up weightlifting and boxing as part of her exercise regime. Watching Malawi run out of steam in the second half of their Round of 16 match against Morocco, was a sign that the teams are not paying enough attention to physical training.
Lastly, football should be adequately funded by governments and the private sector, and the funds must be used appropriately. FIFA gives each federation $1.5m every year to support football – where does this money go? The sum might also explain why people clamour to hold positions! The players, meanwhile, are given crumbs. The Gabonese players initially refused to travel to Cameroon three weeks ago until their outstanding bonuses were paid. Cameroon will give each player a bonus of €13,700 for getting to the quarter-final – a small amount considering each team that makes it to the quarter-finals will win $800k. The incentives' structure is completely misaligned and that drives poor outcomes.
At the end of the day, winning AfCON is not about the prize money (the winning team gets $4.5m). Rather, football has a unique ability to unite people, boost national pride and serve as a catalyst for cultivating a winning mindset across other aspects of societies. Bottom line: do not neglect the beautiful game!