Chelsea Football Club owner, Roman Abramovich, was one of the seven Russian oligarchs sanctioned by the UK government on 10 March 2022 as part of their "efforts to isolate Putin and those around him". The European Union announced yesterday that they would also sanction Abramovich, who became a Portuguese citizen in April 2021 by claiming to be a descendant of Sephardic Jews expelled from the Iberian Peninsula more than 400 years ago. The Rabbi who supported his citizenship application was detained by Portuguese authorities last week.
Abramovich bought Chelsea for $233m in June 2003 and promised the fans great success and trophies. He invested nearly $2b to transform Chelsea from a tier two club which was not a member of the "big five" (Manchester United, Liverpool, Tottenham Hotspurs, Everton, and Arsenal) into a top-flight club that won 21 prestigious trophies in 19 years.
Why was Abramovich sanctioned?
Abramovich was sanctioned for being a close associate of Russian President Vladimir Putin (aka Alpha Dog), who inherited the dubious title of global pariah from North Korean leader, Kim Jong-un, after Russia invaded Ukraine on 24 February 2022. The two men are said to have developed a close relationship before Putin first became President in May 2000. Abramovich joined the Russian political inner circle when he worked for Boris Abramovich Berezovsky (no relation), who is said to have been instrumental in Boris Yeltsin's re-election in 1996. Abramovich also became close to the Yeltsin family and lived in an apartment at the Kremlin. It has been reported that Abramovich recommended Putin to become Yeltsin's successor and Berezovsky made it happen. Berezovsky later fell out with both Putin and Abramovich.
Both Berezovsky and Abramovich capitalised on their Kremlin connections to become insanely wealthy during the privatisation of former Soviet Union assets, buying the oil giant Sibneft for just $100m, which was $500m less than its book value at the time. Abramovich made his first billions when he sold Sibneft to state-owned Gazprom for $13b. He currently owns shares in the steel manufacturing company, Evraz, and Nornickel, which mines nickel and palladium. Forbes estimated his fortune at over $14b before the sanctions which is not a bad achievement bad for an orphan and average college student who later dropped out (again confirming that A students really do work for C and D students).
Abramovich was relatively unknown outside Russia until he bought Chelsea in 2003, which the HarperCollins best-selling book Putin's People alleged was done on Putin's orders (the publishers agreed to drop these allegations from the book in December 2021). The investment came with Tier 1 visa which allowed Abramovich, his second wife, Irina, and their five children to settle in London. Abramovich's last known address in London was the £150m mansion at 16 Kensington Palace Gardens, also known as Billionaire's Row, on the same road as both the Russian and Israeli embassies.
Trouble has been brewing for Abramovich since April 2018 when his UK visa expired and there was an unusual silence whenever the government was asked about the delay in granting a new one. The visa renewal coincided with a deterioration in relations between the UK and Russia following the poisoning of former Russian double agent, Sergei Viktorovich Skripal, and his daughter. The UK expelled 23 Russian diplomats in May 2018 following the incident. That same month Abramovich, who is a Jew, was granted Israeli citizenship which subsequently allowed him to travel to the UK.
Two days before Russia invaded Ukraine, Labour Member of Parliament, Chris Bryant challenged UK Prime Minister Boris Johnson when he incorrectly told Parliament that Abramovich had been sanctioned. On the day of the invasion (24 February 2022), Bryant revealed that he had received leaked confidential documents from 2019 that identified Abramovich as a person of interest to Her Majesty's Government due to his links to the Russian state and corrupt activities. Bryant was a catalyst for the events that followed when he issued the following statement:
"Surely Mr Abramovich should no longer be able to own a football club in this country? We should be looking at seizing some of his assets including his 152-million-pound home and make sure that other people that have Tier 1 visas like this are not engaged in malign activity in the UK."

Chris Bryant. Labour Member of Parliament. 24 February 2022
Both the invasion of Ukraine and the parliamentary discussion prompted swift action from Abramovich, who handed over the stewardship and care of Chelsea to the trustees of the charitable foundation on 26 February 2022, in attempt to shield the club from the negative publicity. Four days later, Abramovich announced his "painful decision" to sell his beloved club presumably because of the looming sanctions.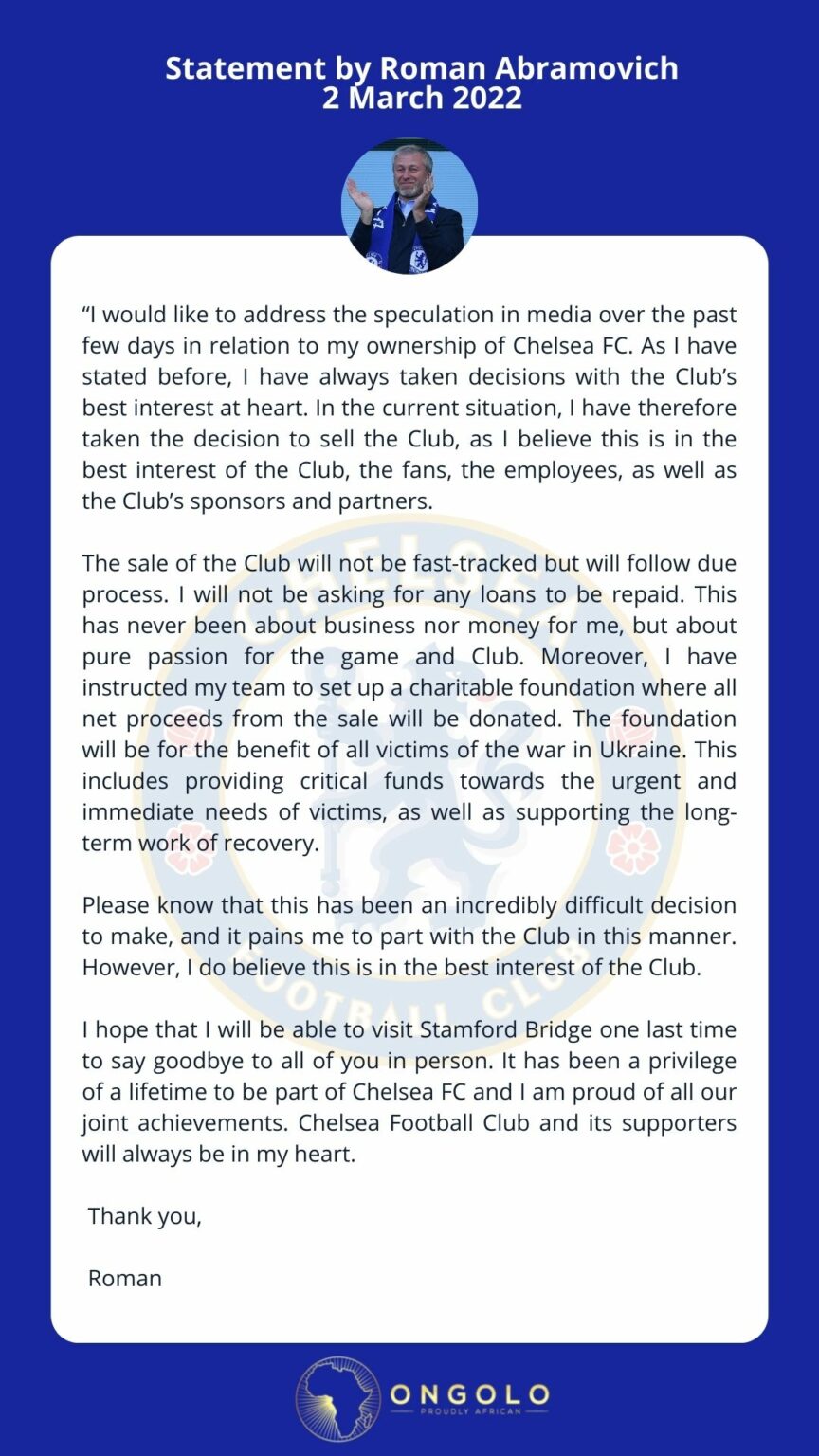 As a sanctioned person, Abramovich will no longer be able to travel to the UK or do any business in the UK. The London Stock Exchange suspended trading in shares of Evraz and Nornickel. All his assets have been frozen or seized including bank accounts and real estate. The UK government action also halted the sale of his most prized possession, Chelsea, and plunged the club into crisis.
Special license for Chelsea to operate
The UK government, recognising the potential public backlash, granted Chelsea a special license to continue to play matches, both at home and away, and to pay the salaries of players and staff, which amount to £28m per month. The club will also continue to receive broadcasting revenues of £23m per month.
Abramovich was disqualified as a Director of Chelsea FC, which paved the way for the sale of the club to continue. The UK government has announced that Abramovich will not receive any proceeds from the sale, which is expected to generate less than the original asking price of $4b.
However, the club will operate under strict restrictions. Chelsea will not be allowed to sell tickets for home or away games, merchandise or players. The club's bank, Barclays, froze their accounts and suspended credit cards. The club was given a paltry £20,000 allowance for travel and accommodation to away games and £500,000 to hold home games at Stamford Bridge, which was revised to £900,000.
First home match post sanctions
The first home match under the special license was played against Newcastle Football club on Sunday 13 March 2022. The atmosphere outside the stadium was surprisingly calm and a steward who has worked for Chelsea for 16 years said there were far less police present than when they play Liverpool, Arsenal, Tottenham Hotspurs and Crystal Palace. Most tickets for March have already been sold and it is the home match against Brentford on 2 April 2022 when tensions are expected to boil over as only the 28-30k season ticket holders will be allowed to enter Stamford Bridge.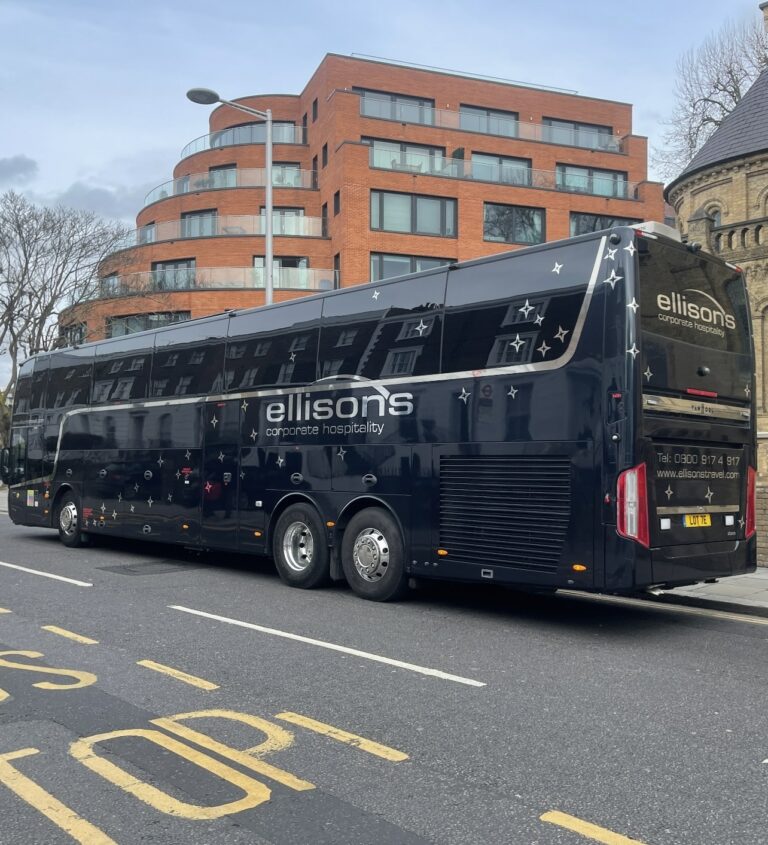 Inside the stadium, the Toon Army (Newcastle fans) taunted Chelsea fans with chants of "Mike Ashley, he's coming for you". Ashley was the much-loathed owner of Newcastle, who sold the club £305m in October 2021. Chelsea desperately needs a buyer but are not that desperate. In response, the Blues fans chanted "Boris Johnson, he's coming for you." Newcastle is owned by a consortium which includes the Saudi Arabia Sovereign Wealth Fund. The match took place a day after reports emerged Saudi Arabia executed 81 people in a single day which didn't seem to faze the fans who were waving Saudi flags.
Chelsea fans still loyal to Abramovich
Unlike Mike Ashley, Roman Abramovich is much loved by Chelsea fans. Fans continue to chant his name at matches and display 'Roman Empire' banners, much to the annoyance of the UK government which called the chants "inappropriate". Some fans have taken to social media to call for a statute to be erected to honour Abramovich's contribution. It is unlikely that the government and new owners will oblige.
Chelsea now has more fans around the world – 107.5m across Facebook, Instagram, Twitter, TikTok and YouTube – than all other English Premiere League clubs except Manchester United. The club is popular across Africa because of the number of past and present African football stars including Didier Drogba (Côte d'Ivoire), Michael Essien (Ghana), John Obi Mikel (Nigeria), Salomon Kalou (Côte d'Ivoire), Samuel Eto'o (Cameroon), George Weah (now President of Liberia), Hakim Ziyech (Morocco) and, Édouard Mendy (Senegal).
Some sponsors cut ties while other stand with Chelsea
Hours after the sanctions were imposed on Abramovich, mobile phone company, Three, announced an immediate suspension of their £40m-a-year sponsorship and asked Chelsea to remove their logo from the uniforms. Unfortunately, the special license makes no provision for buying new kit so Chelsea will continue to play in their current uniforms until the government amends the license or expedites the sale. Fans took to social media to express their disappointment at the betrayal while the Twitter handle @craigidge joked "I hope Chelsea charge Three a cancellation fee for leaving their contract early." The number of followers on the @ThreeUK account dropped from 265k to 198k today.
Shirt sleeve sponsor, Hyundai, also announced a suspension of their rumoured £10m-a-year deal as did MSC Cruises UK, whose sponsorship details are unknown.
Fortunately for Chelsea, some sponsors have decided to stay and show their support for the club, while diplomatically calling for new ownership. Trivago, who sponsor training kits, received a huge boost when Chelsea players walked onto the pitch at the weekend wearing sweatshirts with their brand. The biggest fear was that Nike, who signed a 15-year £900m deal in 2016 would walk but the leading sports brand stood by Chelsea, just as they stood by Tiger Woods during the scandal that derailed his career.
What is next for Chelsea?
The UK government has made it clear that an adverse impact to the club, which in the worst-case scenario could mean bankruptcy by the end of March and relegation from the English Premiere League, is not in their interests. We expect further amendments to be made to the special license to ease the some of the challenges the club will start to face without access to funds and the financial system. The government will also be keen to sale the club as soon as possible with interest from potential buyers in the UK, Switzerland, Turkey, Pakistan, Saudi Arabia, Egypt and the United States.
As Chelsea prematurely closes the chapter on the Roman Empire, Abramovich can rest be assured that his place in the hearts and minds of fans as the owner who led the club from the margins to the centre of football excellence, will live on.