When I arrived in Lusaka for the 2022 Christmas break, I had three simple goals in mind: catch up on my sleep after a very busy year; top up my Vitamin D before returning to cold London; and eat real food, which is mostly organic by default. My plans changed as soon as I landed at Kenneth Kaunda International Airport (KKIA) when I was informed that my maternal uncle, who had showed up at our house 21 years ago with a backpack and never left, was gravely ill after suffering a stroke two days earlier. Uncle Martin passed away on Monday 19 December 2022 and my family hosted the funeral until his burial on Thursday 22 December 2022. So much for resting…
Zambia's healthcare system is shockingly bad
I last saw Uncle Martin on the morning he passed on. My parents and I arrived at Lusaka's main hospital, the University Teaching Hospital (UTH), before 7am and waited until the Intensive Care Unit opened. Waiting is a thing in Zambia. When we eventually got in, my mother was encouraged to see her brother flickering his closed eyes and trying to move his head, as this was the first time he had shown any movement in six days. But I was concerned by what the machines were showing. One said equipment alert and the other, which had low readings in red, was flashing amber. When I asked a nurse for an interpretation of the machine readings, I got yelled at, was asked if I was a doctor to be concerned about the machines and was told to just let the nurses take care of the patient. The explanation made no sense but my mother shut down my attempts to press for a more sensible answer. We soon left.
Uncle Martin's breathing took a bad turn in the early afternoon and my sister-in-law, who is training to be a nurse, raised the alarm. My father, brother and I were touring my land on the outskirts of Lusaka and had no idea of the drama that was unfolding. My mother and her first cousin rushed back to the ICU and finally found a team of doctors tending to Uncle Martin. My mother had been leaving messages for the doctors to call her back to let her know what was wrong with her brother but no one ever did. The five doctors explained that Uncle Martin had suffered a massive stroke and all we could do was pray. All other tests they had allegedly done came back clear. Less than an hour later, he was dead. The joke of it all was that his death certificate, which we had to wait nearly 24hrs to be signed by a doctor, stated that he had died from prostate cancer. Uncle Martin would have turned 70 years old in April 2023, which may seem old for a country with a life expectancy of 64 years old, but fell far short of the 91 years his mother, my maternal grandmother, had lived. He will be greatly missed.
I was born at UTH in 1977 when it was a decent hospital but have no intention of dying there. When I lived in Zambia between 2012 and 2015, I spent a fortune on BUPA medical insurance which included medical evacuation to the world-class health facilities in Johannesburg. My parents had copies of my medical insurance card and were given strict instructions that if anything happened, I wanted to take my chances with the medivac rather than go to UTH. My cousin who partly grew up in Germany and the US, where she studied medicine before returning to Zambia to practice real medicine, used to say: "Don't take me to UTH, I just work there". Most prominent Zambians and politicians travel to South Africa, India and other countries for treatment, which leaves those who cannot afford foreign treatment at the mercy of a failed system.
Stellar service provided by funeral parlours and cemeteries
The duty of care and level of customer service you would expect for the living at UTH is instead accorded to the dead by funeral parlours and cemeteries, who are far more professional and understand their customers' needs.
Funeral parlours now have satellite offices near the UTH mortuary which makes it more convenient to finalise burial arrangements. They also have a short lead time and can take bookings up to 4pm for a next day burial. Nothing moves that quick in Zambia! Their services include the full suite from the casket, transportation and graveside seating, red carpet, tents and bottles of water. Caskets cost anywhere from K850 ($50) to K100,00 ($5,600) and funeral services from K2,300 ($130) to K6,400 ($300).
Remember I said waiting is a thing in Zambia? The funeral parlour still failed the tardiness test and delivered Uncle Martin to his final send-off nearly 40 minutes after the church service was due to begin. Luckily, the Reverend and most of the guests were more than 30 minutes late too.
We buried Uncle Martin at Leopards Hill Memorial Park, where my maternal grandmother is also buried. It is the most serene and orderly resting place in Zambia. Gravesites range from K11,600 ($650) to K120,000 ($6,752) in the VIP area where some of Zambia's most prominent people are buried. A family plot for up to five costs around $6,000 and is a sound investment given the certainty of death.
Funeral traditions in Zambia
When someone passes on in Zambia, the home where the deceased lived typically becomes the funeral house. Extended family, friends, colleagues, church members, acquaintances and even random people congregate at the funeral house during the mourning period. There is no such thing as a funeral invitation so anyone can come and it considered impolite to ask people who they are and how they know the deceased. Some mourners sleep over though the appetite for this practice has waned since the COVID-19 pandemic. Some people genuinely come to mourn and others come for the free food because the hosts are obligated to feed everyone during the mourning period.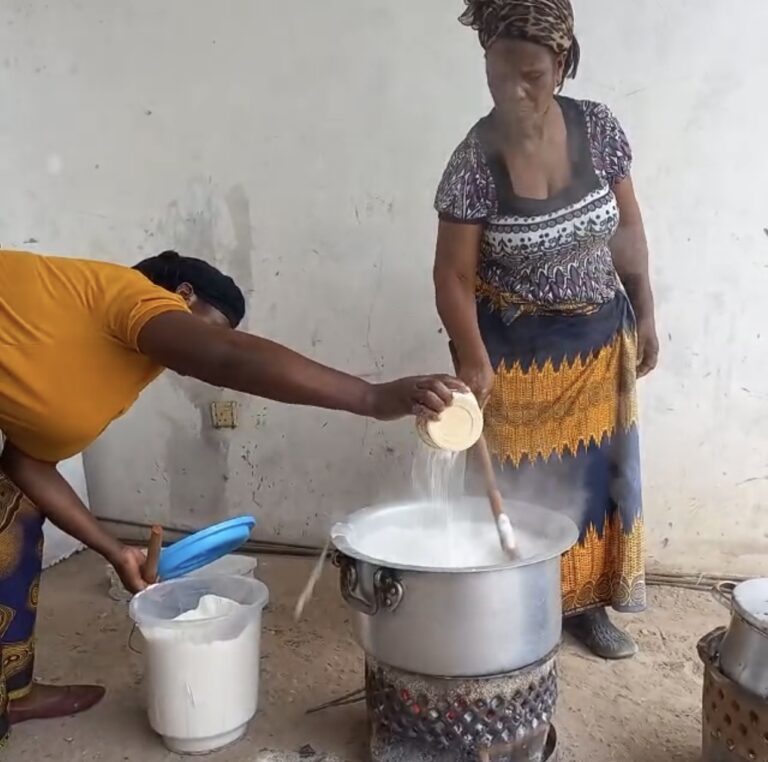 The mourning period is mainly dictated by finances and the presence of key attendees. My grandmother's funeral, which was hosted at my parents' house, even though she lived in a different town, lasted seven days because my aunt and uncle in New York and Canada flew in for their mother's funeral. As a result, my mother estimates there were over 200 people camped in our yard and sleeping anywhere they could and the villagers had to be given transport money to incentivise them to leave. Uncle Martin's funeral lasted just three days because the North American-based siblings did not travel and the family quickly paid for the key things: gravesite, casket and funeral services. It is also the rainy season and we had a heavy downpour the night before the funeral.
It is customary for people to make contributions towards the funeral and this helps meet expenses such as food and drinks, transportation and monetary contributions to the reverend and church. This relieves the pressure on the host family because funerals are expensive.
After the burial, there is a traditional ceremony where the 'assembly' of family elders gather to settle the affairs of the deceased including dependents and property, and to pass on the name to a living relative. Uncle Martin had few very possession so there was nothing to squabble about. But in many homes, this is the ceremony where greedy relatives grab assets (tv, fridges, chairs, clothes, cars) from the home of the deceased, leaving the family with very little.
Conclusion
There is widespread apathy towards death planning in Zambia and it is considered taboo to even talk about it. Therefore, most people leave everything to chance and make it someone else's problem to deal with when they die. There needs to be a balance between preserving traditions and the realities of modern-day life.
The government has been urging people to settle their affairs in advance by drafting a will to avoid problems of asset grabbing. Yet there is no guidance on the cost of these services and I have received quotations ranging from $700 to $5,000. It cost me just £600 in the UK but apparently I would need a Zambian will to dispose of my assets here.
Insurance companies have funeral products that have a low penetration rate despite the high death rates. These policies cover expenses such as the gravesite, casket, funeral service, groceries, programme, tents, chairs and transportation. The payouts are made as soon as the death certificate is shown. Using insurance would replace the reliance on contributions, which are voluntary.
It remains to be seen if these modern changes will be embraced by the majority. Uncle Martin's death has certainly made me rethink my own burial plans and whether I want to be buried in Lusaka (the city of my birth) or London (my second home). Decisions, decisions, decisions…