The upmarket London restaurant, Akoko, is on a mission to win a Michelin star. That is the only explanation I have for a West African restaurant which has the cultural awareness of an African kid who grew up in a detached house in Neuilly, goes skiing in Zermatt in January and scuba diving in French Polynesia in the summer. Simply put: Akoko is an African restaurant for non-Africans.
Target market
Akoko mainly appeals to those who have never had African cuisine and are looking for a different and unique experience. I would be curious to know how many repeat customers they have…
It is also an ideal place to bring clients going to West Africa for the first time so that they can be introduced to Jollof rice. Once you see the bill, you'll understand why this is the kind of restaurant you should expense rather than flex.
I had dinner at Akoko on Wednesday 12 April 2023 with two African girlfriends. Our table and one other, were the only obvious Africans. The English couple next to us at the Chef's table, were so enamoured with one another (i.e. "get a room!"), that you could have served them with a tiny piece of roasted cassava sprinkled with crushed roasted peanuts and they would have found that exquisite.
Akoko is definitely not a place to bring your African parents or older relatives. They will not understand and you will not be forgiven. African restaurants that have thrived in London for decades, like 805 in Old Kent Road, will not be threatened by the arrival of this Oyinbo place.
Décor and ambience
The décor was done by the London-based luxury interior designers, René Dekker Design. According to the designers' brief, they were asked to "provide an interior that had both refined European detailing as well as traditional West African styling, creating a fusion that would appeal to a sophisticated audience".
For example, the very comfortable dining chairs are from Denmark and were given an African-twist with backrests that are shaped like a cow's horns. The colour of the walls, which I quite like, were inspired by African mud houses.
The restaurant can seat around 30 diners. There is one round table at the front next to the window, which is the table to see and be seen. The Chef's counter is very popular. Akoko is not crowded and the music is so soft that you have to strain to hear it. Overall, it is a relaxed environment and a good place to have a private conversation with your guests.
Exceptional service
The service is superb. The staff are friendly, attentive and come from diverse backgrounds: the front of house and bar staff were English, our server was from the Democratic Republic of Congo and the manager is half-English, half-Iraqi.
Food and drink
Akoko only offers a tasting menu which is served over three hours. There is no ala carte and little flexibility to change options though I must give the team top marks for altering the dishes to accommodate my allergies and intolerances.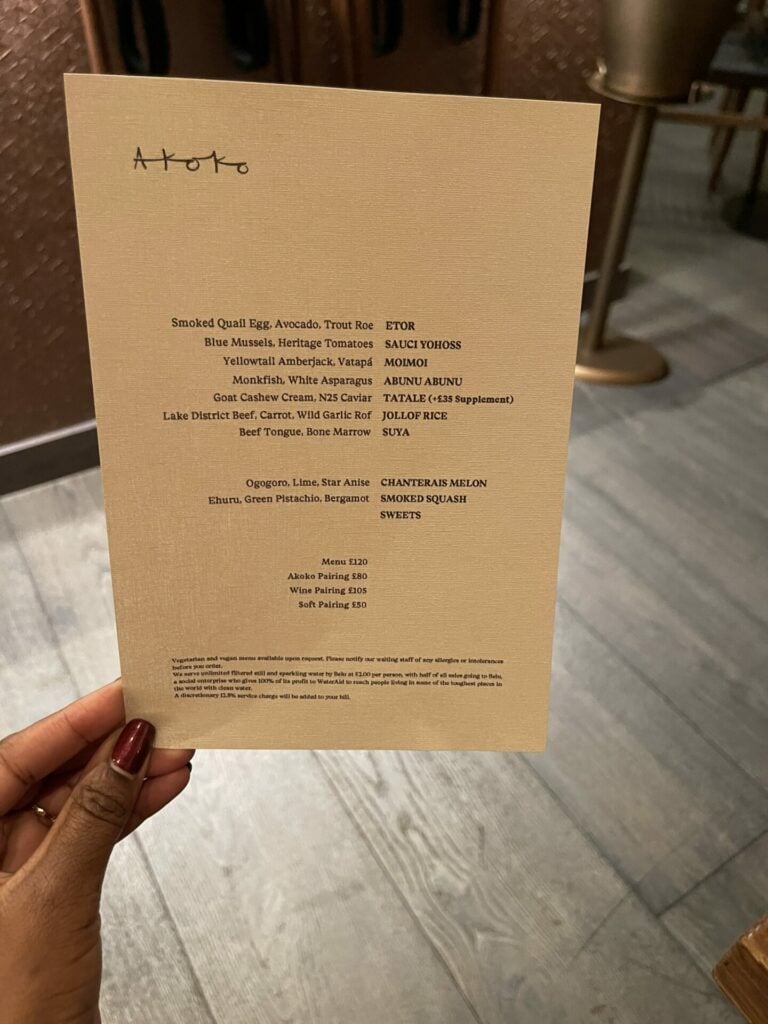 The favourite dish of the night was the Jollof rice with a tiny piece of Lake District beef, carrot and wild garlic rof. We got an extra serving of Jollof rice because we had asked for bread. They really should start an ala carte menu and put this signature dish on it. I would come back!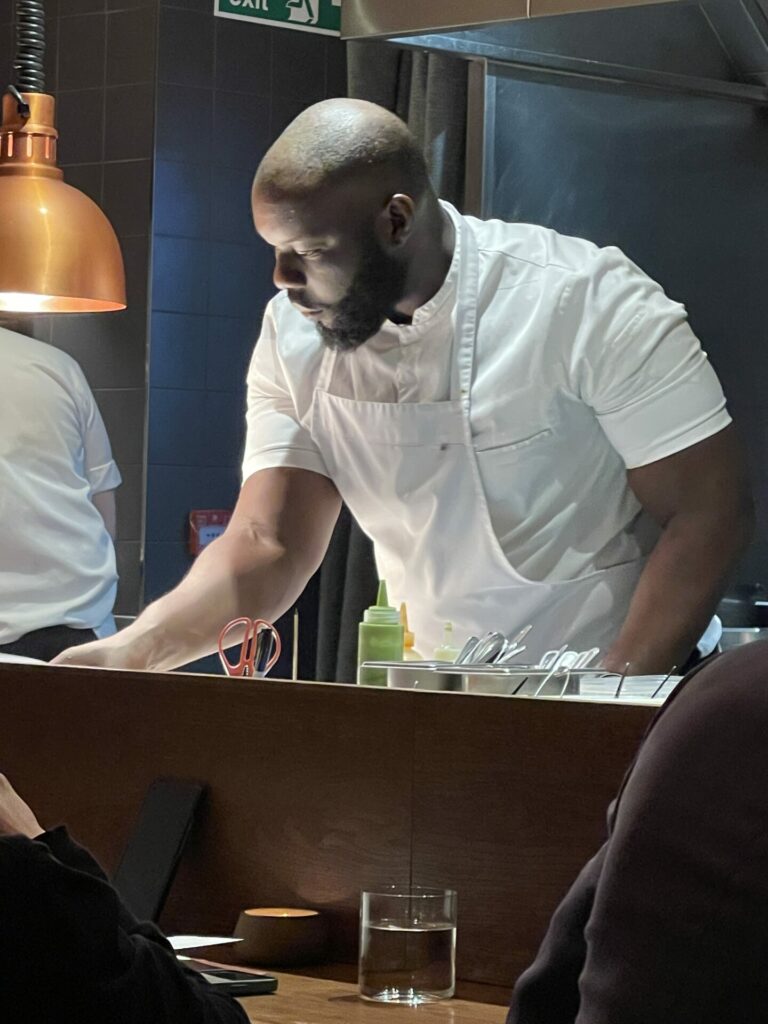 The head chef is Ayo Adeyemi, who was appointed in September 2022. He is the third chef in two years after the departure of Zambian MasterChef finalist, William Chilila, and British chef, Theo Clench.
Value for money
The total bill for three people without alcohol was £432 or £144 each. Akoko is unapologetically overpriced for the portions you get and the fact that you will leave the restaurant hangry.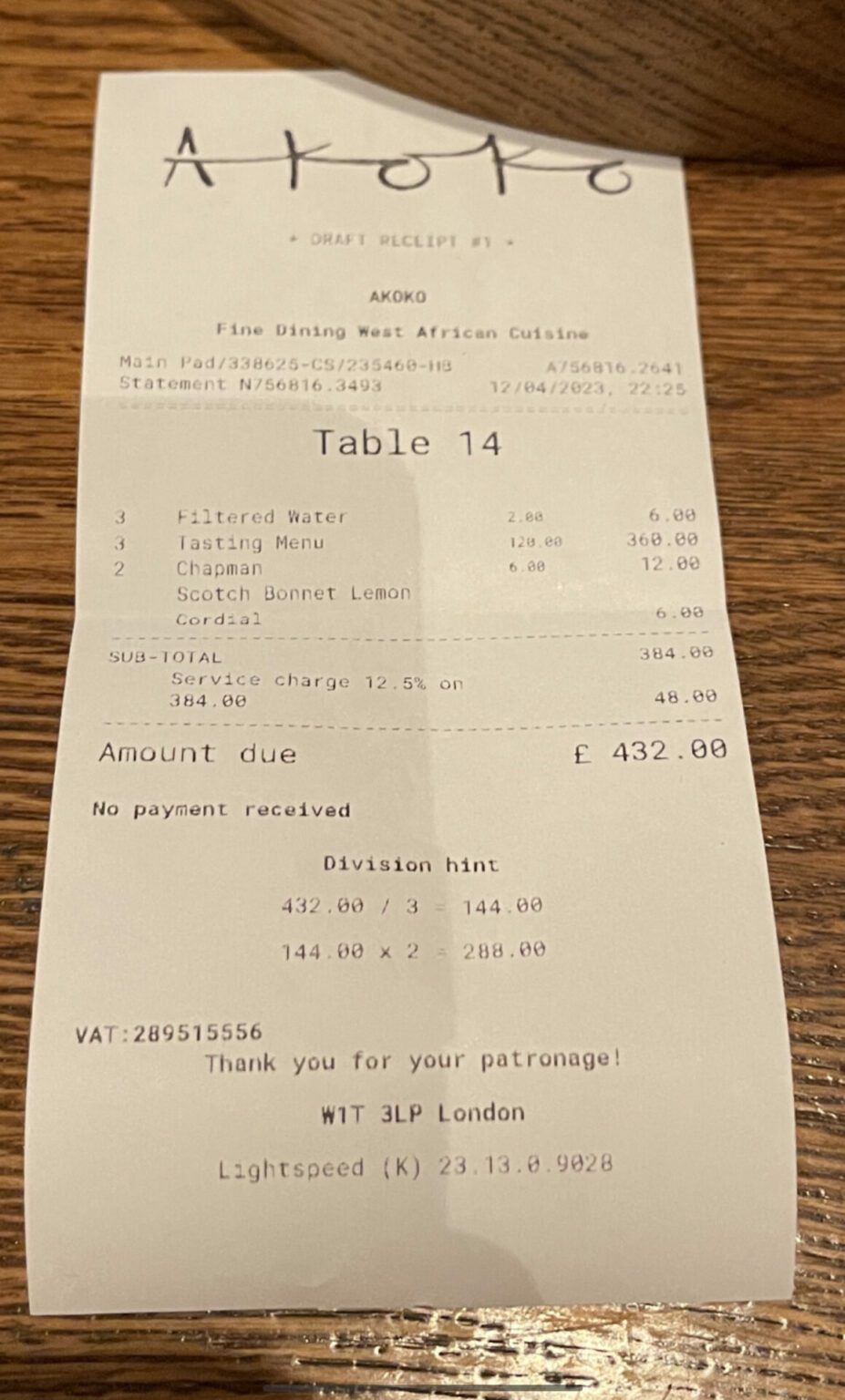 Recommendation
I am torn. I respect what the Akoko's founder, Aji Akokomi, is trying to do by elevating West African cuisine in order to survive in the fiercely competitive and unforgiving UK restaurant scene. However, if Singapore's Kafe Utu, which was founded by a Canadian who grew up in Africa, can deliver an authentic African experience, then so too can Akoko. I would give it a miss.