The Tokyo Olympics ended in spectacular fashion on Sunday 8 August 2021 after enthralling the world with 19 days of high quality, competitive sport. Domo arigato gozaimasu, Nihon! The President of the International Olympic Committee, Thomas Bach, declared the games closed as the Olympic flame was extinguished and the Olympic flag handed over to the Mayor of Paris, Anne Hildago. Paris will host the next Summer Olympics starting on 26 July 2024 and the city erupted in jubilant celebrations after the handover led by French President, Emmanuel Macron, who watched the Patrouille Acrobatique de France (PAF) flypast from the top of the Eiffel Tower.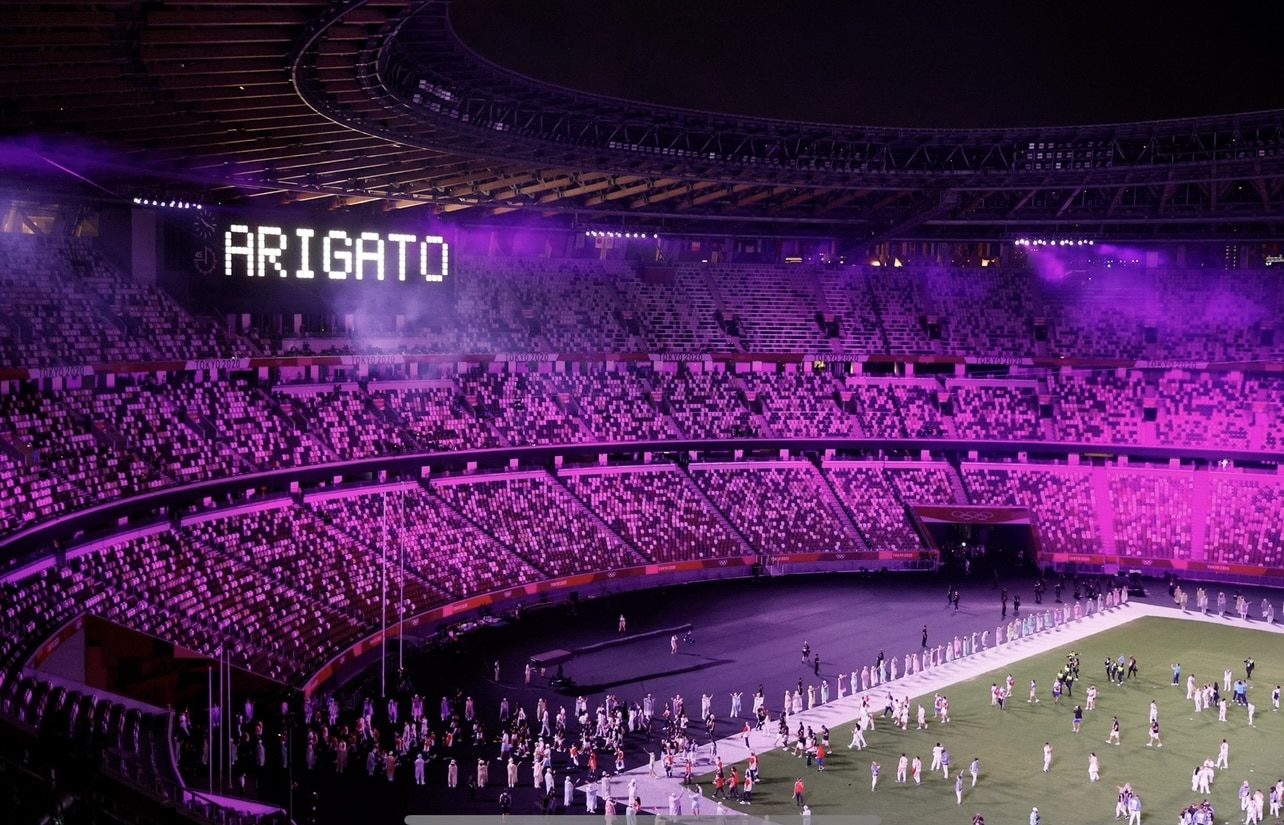 For Africa, the Tokyo games will be remembered for outstanding performances by Kenya's Eliud Kipchoge who defended his Olympic title by winning the men's marathon; historical firsts when ONGOLO favourite, Hugues Fabrice Zango, won Burkina Faso's first ever Olympic medal in the men's triple jump final; and for pioneers charting new waters, such as Privel Hinkati, who became Benin's first Olympic rower and will inspire a whole generation of Africans to take up this traditionally elite sport.
On an aggregate basis, the Tokyo Olympics were Africa's worst performance since Athens 2004 as the continent collectively won 37 medals – a drop of eight medals from Rio in 2016. The performance across countries was mixed. Uganda was a big winner coming in second overall with four medals including two gold medals, Namibia won its first Silver medal since Frankie Fredericks in 1996 and, Ghana won its first medal since 1992. The performance of the big countries was disappointing. South Africa won just three medals representing a drop of seven from Rio while Nigeria got just two. Kenya won a respectable 10 medals.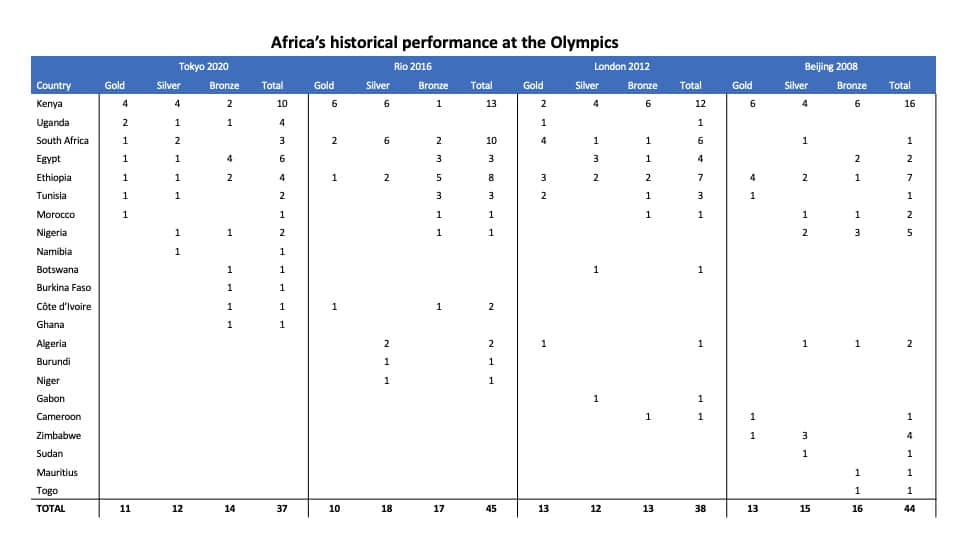 Africa has the potential to win more than 50 medals at Paris 2024. This has never been done before and can only be achieved if there is a coherent and continental strategy that covers five points:
Understand and play the Olympics politics
Set the right ambition at future Olympic games
Invest to achieve Olympic glory
Leverage Olympic best practice across the continent
Poach Africans winning Olympic medals for non-African countries
#1 Understand and play the Olympics politics
The World Athletics body introduced new eligibility regulations in 2018 for female intersex athletes competing in the 400m, 800m and 1500m races which required them to take hormonal contraceptives to keep their testosterone level low in order to participate.
The new rule impacted South Africa's Caster Semenya who previously won the 800m gold medal at both the London (2012) and Rio (2016) Olympics and was the favourite for Tokyo 2020. She is still challenging the decision as a human rights violation as the Olympics gender classification is based on self-identification. It is ironic that transgender women whose bodies developed as male are allowed to compete provided their testosterone levels are now below the threshold. Kenya's Margaret Wambui, who won bronze in 800m in Rio, was also impacted and missed out on Tokyo.
Burundi's Francine Niyonsaba was also impacted by the same rule but pivoted to the 5000m and 10000m which fall outside the IAAF regulations. She finished 5th in the 10000m final but was disqualified from the 5000m for lane infringement which she disputed but did not have the support of her country's officials to fight her case and lost out.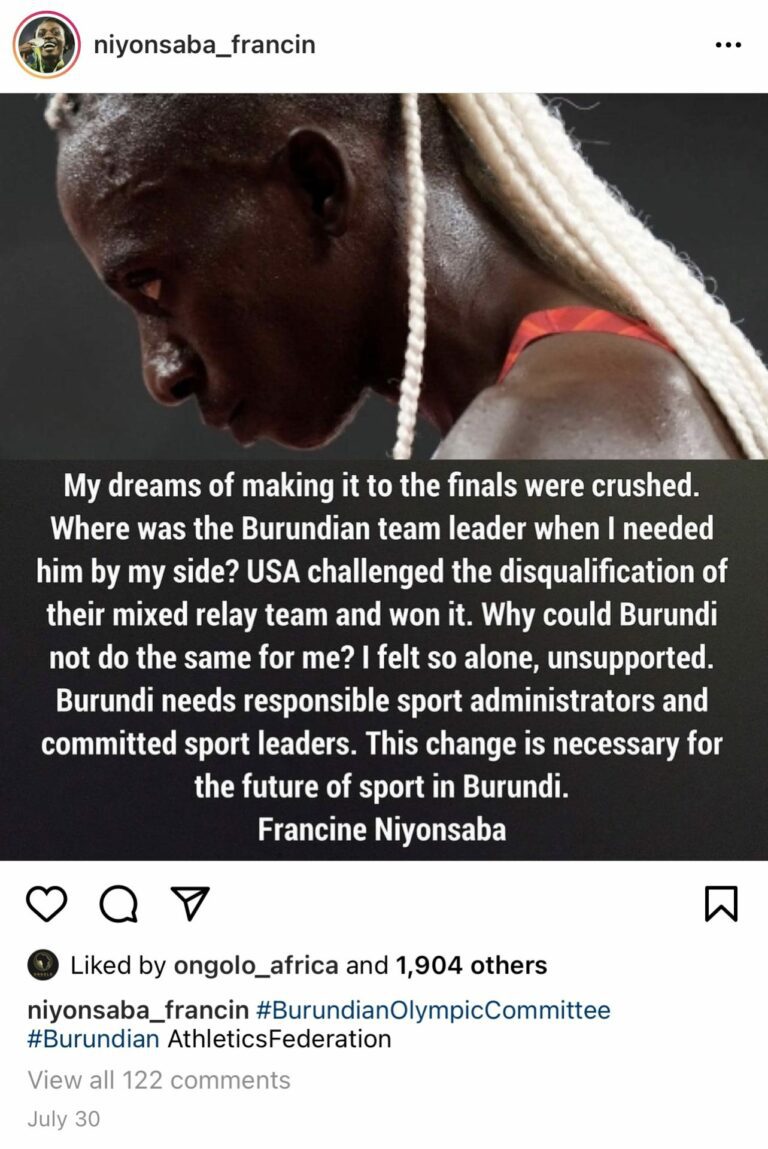 Aside from challenging rules that seem to only affect African athletes and being present to effectively deal with ring side battles, Africa should also be advocating for African sports to be included at the Olympics. How is skateboarding an Olympic sport? Some of the African sports that could be included at the Olympics include: ngolo and capoeira, Senegalese wrestling, donkey racing, Dambe boxing and Ngoni stick fighting, as an alternative to fencing.
Playing the politics will require having champions to push the Pan-African agenda. Amongst the 103 members of the International Olympic Committee (IOC) are 15 Africans including two Olympians (Kirsty Coventry of Zimbabwe and Paul Tergat of Kenya) and business heavyweights such as Tidjane Thiam. It's time to work together to support the motherland.
#2 Set the right ambition at future Olympic games
Do we go to the Olympics to participate or to win? For many countries, the ambition seems to be the former with winning the costume category at the opening ceremony taking priority. Aiming low becomes a self-fulfilling prophecy. What is needed for Paris 2024 is a complete change of approach where winning is the focus and there are clear targets set for what can be achieved.
China devised the same strategy when they launched Project 119 in 2001 to maximise the number of gold medals they could win at the 2008 Summer Olympics which they hosted in Beijing. They picked the sports where they did not traditionally do well in – track and field, swimming, rowing, canoe/kayak and sailing – and built up the capabilities. Project 119 was deemed a success as China won more gold medals that any other country on their home surf.
Africa should define a North Star and set course to ensure that we defend medals where we naturally do well (long distance track) and build new competences in new areas where we have potential to do well and reduce concentration risk in track and field.
#3 Invest to achieve Olympic glory
Project 119 succeeded because China poured billions of dollars into the pursuit of Olympic glory. To date they are the only country with a seemingly unlimited budget in sports. They plan to make sports a $770bn industry by 2025
African governments struggle to send teams to the Olympics and many athletes fund themselves or rely on handouts such as the World Athletics Athlete Welfare Fund which supported 193 athletes from 58 countries. Unlike other sports like tennis, athletics prize money is small and barely covers the cost of travel. The big stars rely on endorsements.
The United States is one of the big countries not to provide government funding and instead uses a commercial approach by selling tv rights. African corporates and crowd funding are the best options for top African athletes to get the funding they need to train for Paris 2024.
#4 Leverage Olympic best practice across the continent
Given the limited resources across the continent, the best strategy would be leverage different countries strengths to raise the bar across the continent by allowing athletes to train together in the following countries:
Basketball: Angola, Nigeria, Tunisia
Boxing: Ghana, Nigeria, South Africa
Cycling: Algeria, Eritrea, South Africa
Football: Algeria, Nigeria, Senegal
Judo: Algeria, Egypt, Tunisia
Karate: Egypt, Namibia
Swimming: Tunisia, South Africa, Zimbabwe
Taekwondo: Côte d'Ivoire, Egypt, Tunisia
Volleyball: Cameroon, Egypt, Kenya
Wrestling: Algeria, Egypt, Tunisia
#5 Poach Africans winning Olympic medals for non-African countries
Africa can prevent athletes migrating to other countries if the funding issue is resolved. Qatar won a team bronze medal in beach volleyball at Tokyo 2020 thanks to the superb performance of Ahmed Tijan (a migrant from Gambia) and Cherif Younousse (a migrant from Senegal). Kalkidan Gezahegne won a silver medal for Bahrain in the 10000m and previously represented Ethiopia until she got Bahrani citizenship in 2013. We must retain talent.
Winning at least 54 medals at Paris 2024 i.e. one for every country should be the goal. We should need a solid plan and to execute.
We can do this!
© 2021 Muloongo Muchelemba. All Rights Reserved