I was anxious about flying Kenya Airways (KQ) from London to Cape Town via Nairobi and Livingstone in July 2022. I have only flown KQ once before when I attended a friend's wedding in Kampala in 2008 and experienced the airline's infamous "operational changes" when the pilot decided to leave Entebbe for Nairobi 30 minutes earlier than scheduled. Over the years, KQ's standards and reputation have deteriorated with Skytrax citing "operational delays, poor airport experience and inconsistent onboard service" as some of the reasons behind the downgrade to a 3-star airline.
Despite the poor reviews and dismal financial performance, KQ is still one of the leading airlines in Africa and a member of the SkyTeam Airline Alliance, which includes Air France, Delta Air Lines, KLM, and Korean Air. KQ also has a good destination network in Sub-Saharan Africa and internationally, flying to New York, London, Paris, Amsterdam, Dubai, Mumbai, Bangkok and Guangzhou. It calls itself the "Pride of Africa" and serves as a gateway between Africa and the rest of the world.
What was my own experience and would I recommend Kenya Airways?
Kenya Airways check-in experience 2/5
KQ operates from London Heathrow Terminal 4, which reopened on 14 June 2022 after a two-year closure. The check-in process was chaotic – not a good start. I arrived 2.5hrs before the scheduled departure time to find a long line of patient passengers. There were no signs for priority check-in and the Heathrow staff were unhelpful. I saw the priority check-in counter and decided to join the random line that was in front of it. None of us were quite sure if we were in the right place. It took just 15 mins to check-in however economy passengers had to queue for over two hours because there were only two people manning the check-in desks before reinforcements were brought in. The slow service delayed the entire flight by almost an hour.
The relief at the quick check-in quickly dissipated when I discovered that there was no priority lane for the security checks. All premium passengers, including those travelling on the five-star Qatar Airways, and economy went in the same line. It took me exactly 1hr and 24 mins to get through security and it was time to board so I did not get to use the Premium Plaza lounge near Gate 6.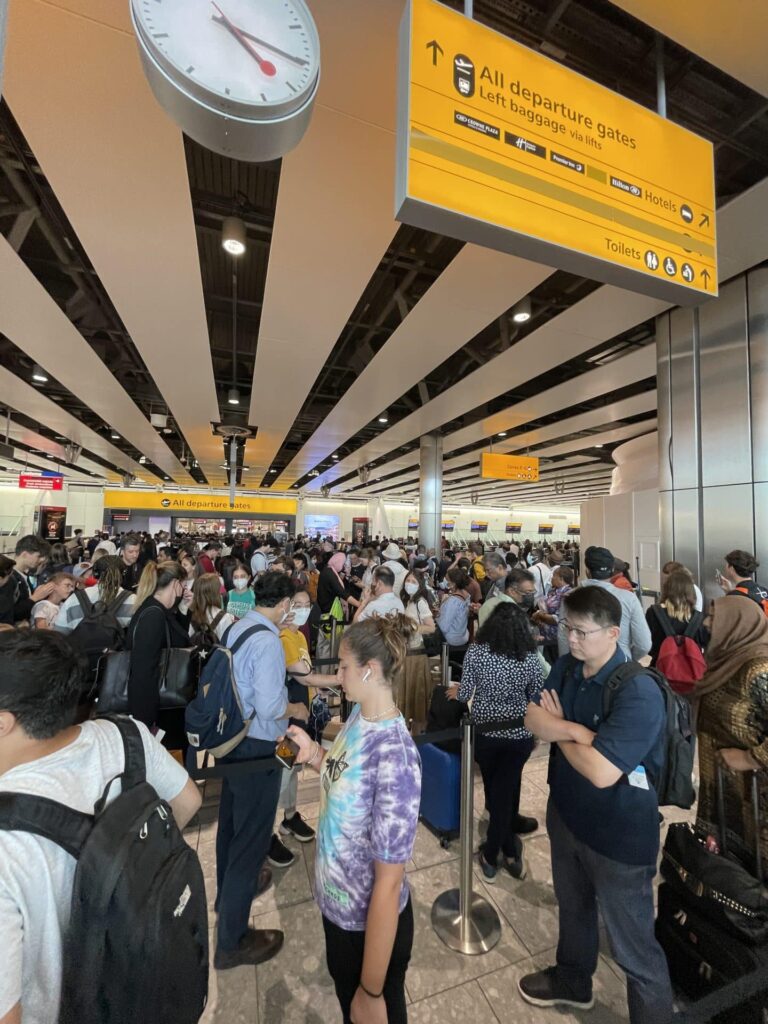 Kenya Airways plane and seat comfort 3/5
KQ uses one of its nine Dreamliners on the London-Nairobi route. The planes are less than nine years-old but the brown seat covers and white headrest cloths look like furniture from the 1980s. The vibrant colours of the Kenyan national flag should have been reflected in the décor of the national carrier. RwandAir uses a similar shade of brown as a secondary colour that compliments the beautiful shade of green. Check out our review of the RwandAir business class service from London to Lusaka.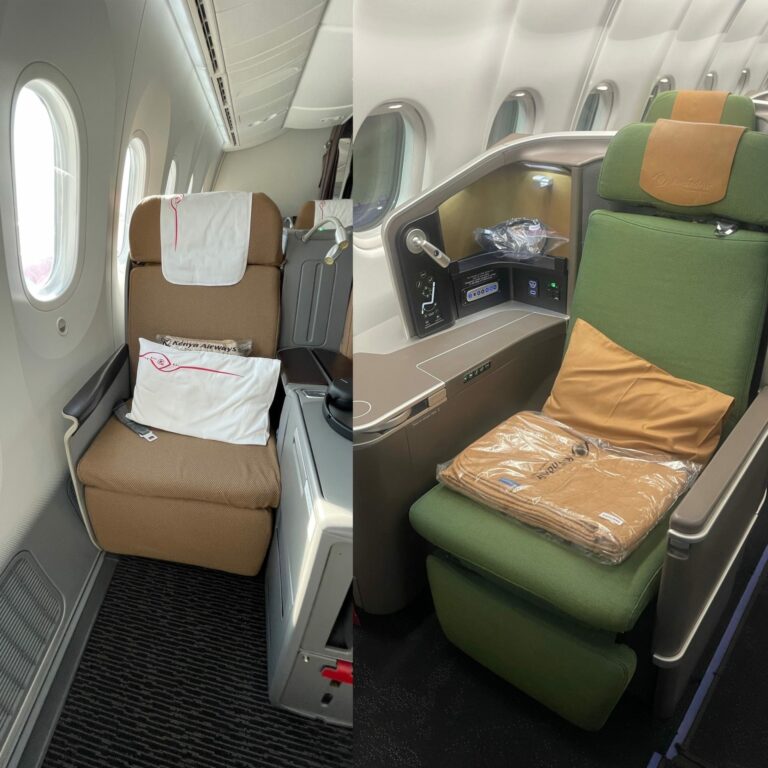 The business class, which is called Premier World, has a 2-2-2 configuration and accommodates 30 passengers. The seats offer plenty of leg room – more than on A380 and 777 of other airlines – and the bed fully reclines. The seats are slightly wider than on the A330 which RwandAir uses and is more comfortable. Economy is configured in a 3-3-3 configuration and accommodates 204 passengers. The flight was fully booked.
We used the Embraer 190 on the Nairobi-Livingstone-Cape Town route which has 12 passengers in business and 82 in economy. KQ flies this route every day and it is always fully booked. About 35 tourists dropped off in Zambia to visit the Victoria Falls and were planning to head to Cape Town after a few days. This route is very convenient for tourists who want to see the best of Eastern and Southern Africa and is not marketed enough in my opinion.
Tip: when flying from Nairobi to Cape Town, sit on the left side of the plan so that you can catch a glimpse of Mount Kilimanjaro.
Kenya Airways pilots and cabin crew 4/5
I have flown Singapore Airlines, RwandAir, Emirates, Turkish Airlines and British Airways in the past year and none had as smooth a take-off as the KQ flight which hit V1 at 40 seconds and then glided smoothly into the sky, cutting through the warm London air like butter. I was so impressed and after that the KQ experience went up many notches.
It was a reminder that KQ has some of the best pilots in the world – something that was brought to the world's attention when Captain Ruth Karauri executed the perfect cross-landing at Heathrow during Storm Eunice in February 2022.
The cabin crew on both legs of my flight were professional, friendly, and provided attentive service.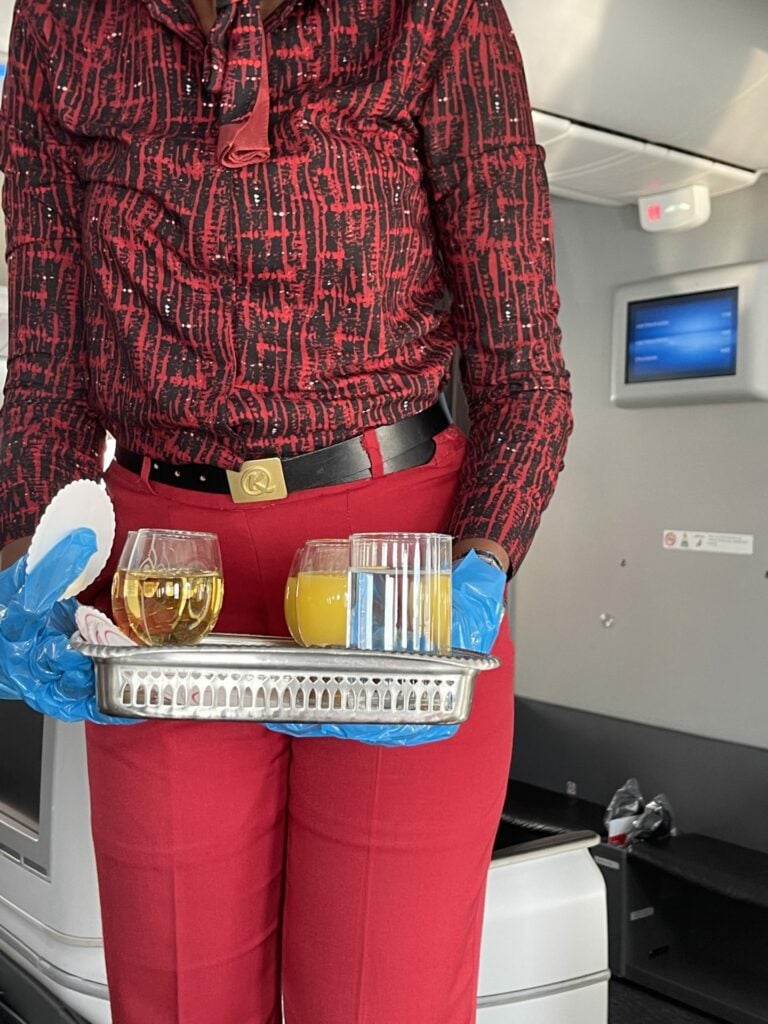 Kenya Airways food and beverage 4/5
Premier World passengers are offered pre-departure juices and water – champagne is available on request. There is a wide range of alcoholic and non-alcoholic drinks on offer throughout the flight. Interestingly, many passengers opted for the local beer, Tuskers. I was hoping to have Amarula and learnt that most airlines prefer to stock Baileys because it moves quicker.
The dinner was decent. The starter was a salad with baby spinach, feta cheese, olives, and roasted tomatoes. There were three options for the main: chicken with rice, beef with mashed potatoes and a vegetarian option. I chose the beef, which was delicious, and hot. The dessert was a plum tart. Continental breakfast was served 90 mins before landing with Kenyan coffee or tea.
The food was just as generous on the Nairobi-Cape Town flight where I had a fruit salad and cooked breakfast followed by another serving of beef and roasted potatoes.
I was disappointed that the food did not include well-known Kenyan food like mandazi for dessert and chapati instead of bread. Check-out the Kenyan-inspired menu from one of my favourite restaurants in Singapore, Kafe Utu, to understand what is possible.
Kenya Airways in-flight entertainment 3/5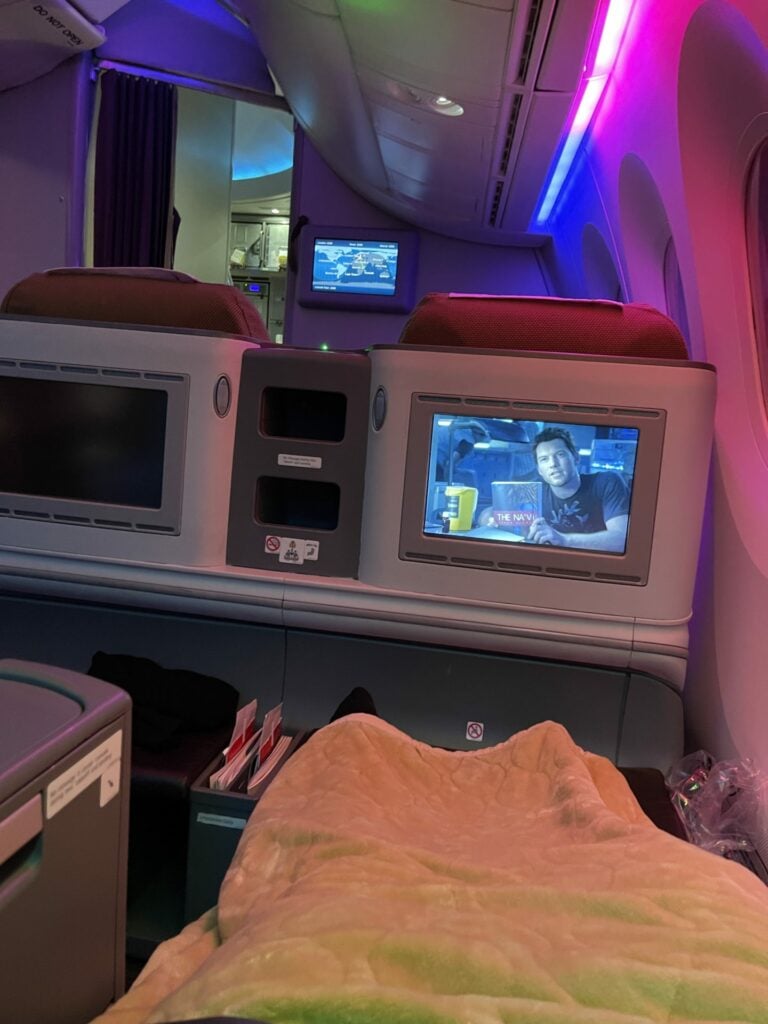 The movie library had roughly 90 films ranging from old favourites such as Lethal Weapon to more recent movies like Dune. Children were also well taken care with a range of well-known cartoons. The only annoying thing is that a safety video plays before every single film you watch. The safety video is also quite old as it talks about the new "new" Dreamliner.
Kenya Airways Nairobi lounge 2/5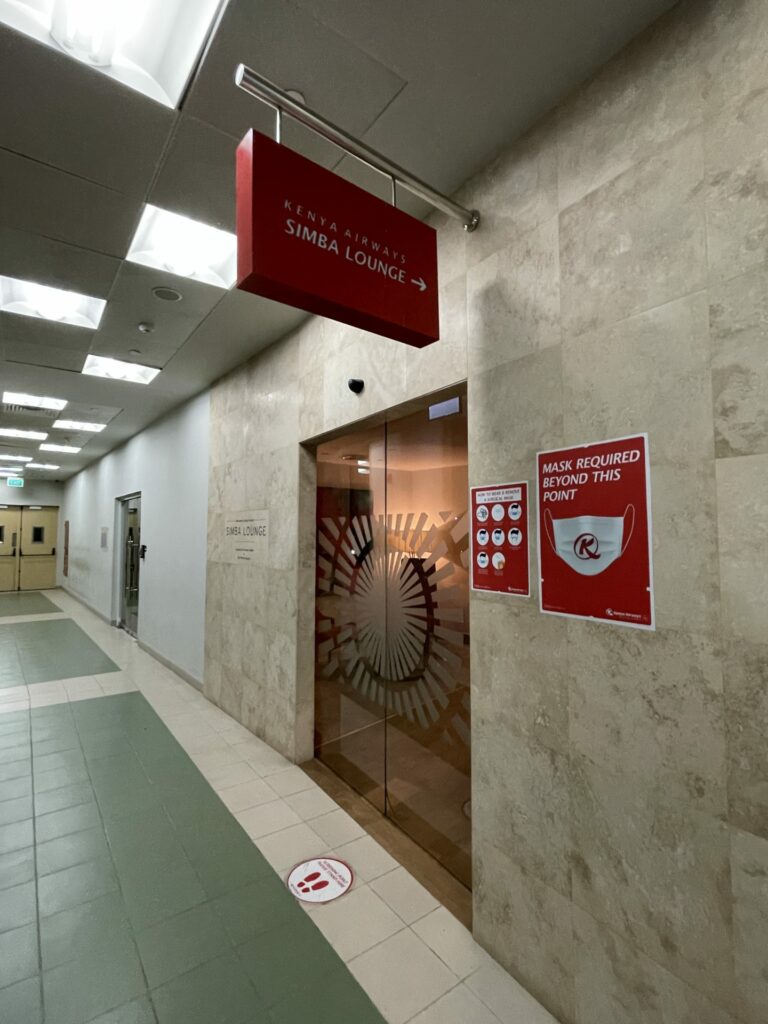 The Simba Lounge is one of two "state of the art lounges" at Jomo Kenyatta airport, located on the second floor. The lounge is small so don't be surprised if people sit at your table without asking. The food offering was sparse and not very tasty. The drinks bar was well-stocked if you fancy drinking at 5am. The ladies bathroom had two loo stalls and a shower so one could expect queues when the airport is busy. Overall experience was quite underwhelming. I wandered to the pharmacy on the ground concourse and found the eating places far more lively and entertaining.
Kenya Airways overall experience 3.1/5
My experience was much better than I had expected. What lets Kenya Airways down is the poor service on the ground – from operational issues which can cause delays to poor customer service. Otherwise, the service in the sky is comfortable and offers value for money. I guess I will be flying KQ again.