The smart money is investing in art as traditional investments such as stocks, bonds and cryptocurrencies deliver less than stellar returns. The growing appreciation for African art has seen an increase in sales from $50m in 2020 to $72m in 2021, according to Modern & Contemporary African Artist Market Report. However, this only represented 0.11% of the global art market, which was valued at $65.1bn in 2021.
The 1-54 Contemporary African Art Fair was launched in 2013 to raise the profile of African artists from the 54 countries on the continent and the diaspora. It holds three fairs every year in London, New York and Marrakech. The tenth anniversary of the 1-54 London Fair was held between 13-16 October 2022 at Somerset House. The exhibition is still available for viewing on Artsy until 31 October 2022.
ONGOLO visited the exhibition for a second year in a row (read the 2021 article Savvy investors are spending thou$and$ on African art) and identified 8 established and up-and-coming artists worth buying:
Isabelle D. (Algeria)
At first glance, Isabelle D.'s colourful and unique crocheted art resembles the coral reefs found across the African continent from Zanzibar to São Tomé and Príncipe. To my surprise, the inspiration for the work was Algeria's dark political past. From the Bruise Series (Turning Trauma into Beauty) marks the 60 years since Algeria gained independence from France and is a beautiful interpretation of the scars the country and its people still bear from colonialism. The 56-year-old artist, who was born in France and raised in Algeria, makes every element from scratch and takes about four months to construct the large pieces.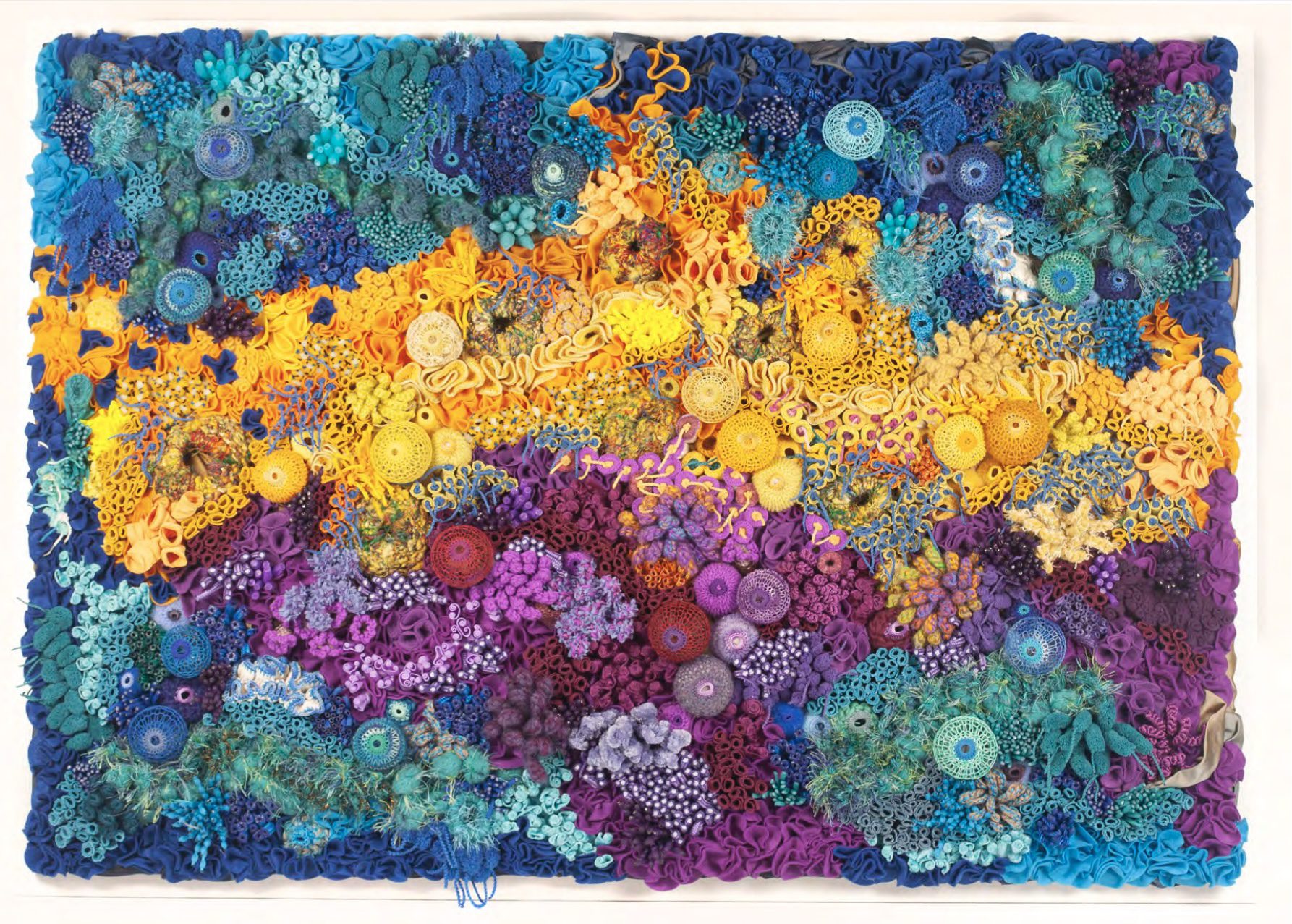 Isabelle D artwork
Gallery: Gallery Nosco. London. Brussels.
Onyis Martin (Kenya)
The 35-year-old self-taught artist channels a graffiti-style of art using posters, acrylic, spray paint and mashed paper on canvas. He takes inspiration from the bustling Kenyan capital city of Nairobi where he is based, national politics, socio-economic dynamics in Kenya and pop culture. He also highlights the importance of land rights by adding Land Register numbers (in red or yellow) across his paintings, which local councils paint on buildings that will be demolished. He has attended international residences in Colombia, Ethiopia and South Africa in recognition of his urban art.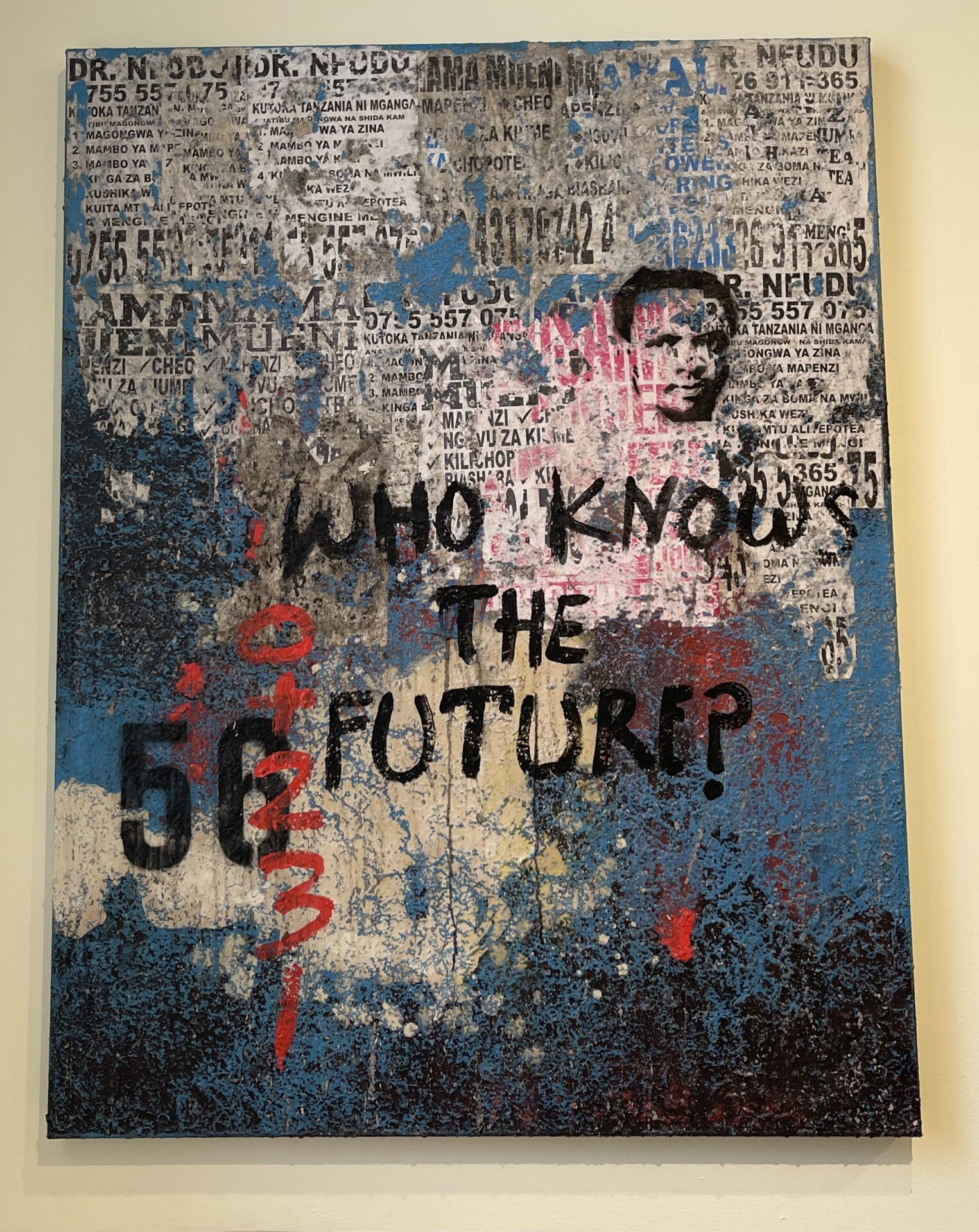 Onyis Martin Instagram
Gallery: 50 Golbone. London
Mbaye Babacar Diouf (Senegal)
The 39-year-old secondary school art teacher took inspiration from deflated footballs played by his students to create his unique "Ballons d'Or" series, which I would argue should become the Confederation of African Football (CAF) awards trophy. The sculptures are made using bronze casting and decorated with black nails, which African artists often use to represent grievances to be resolved or hopes and dreams unfulfilled.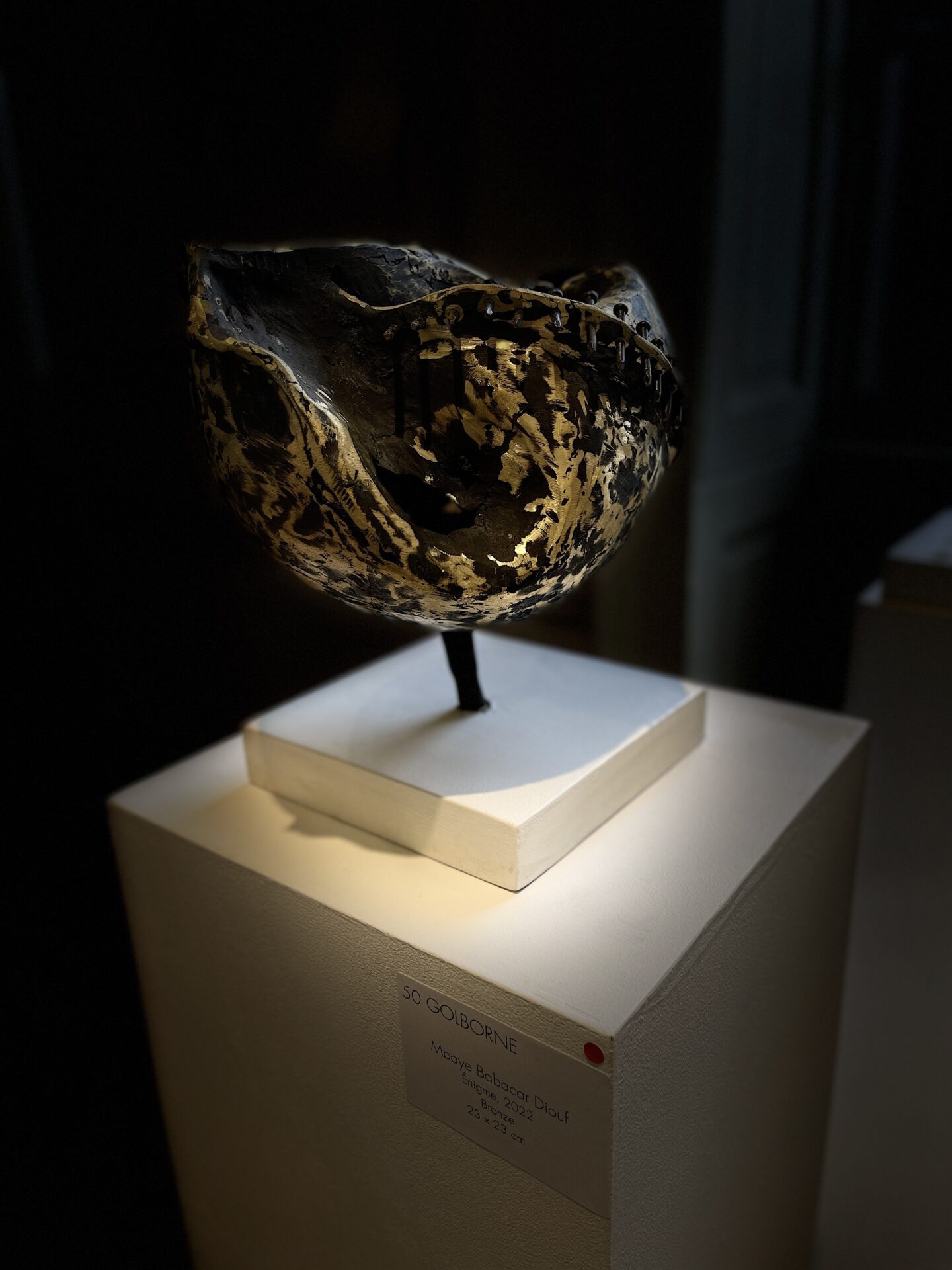 Mbaye Babacar Diouf collection
Gallery: 50 Golbone. London
Sthenjwa Luthuli (South Africa)
The 31-year-old specialises in carving wood and creates his paintings using enamel paint and varnish with a metallic finish. It takes him at least four weeks to carve wood blocks and paint. His paintings are celebratory and inspired by dance and movement. They are also deliberately headless to honour "the identities and names that have been lost to history".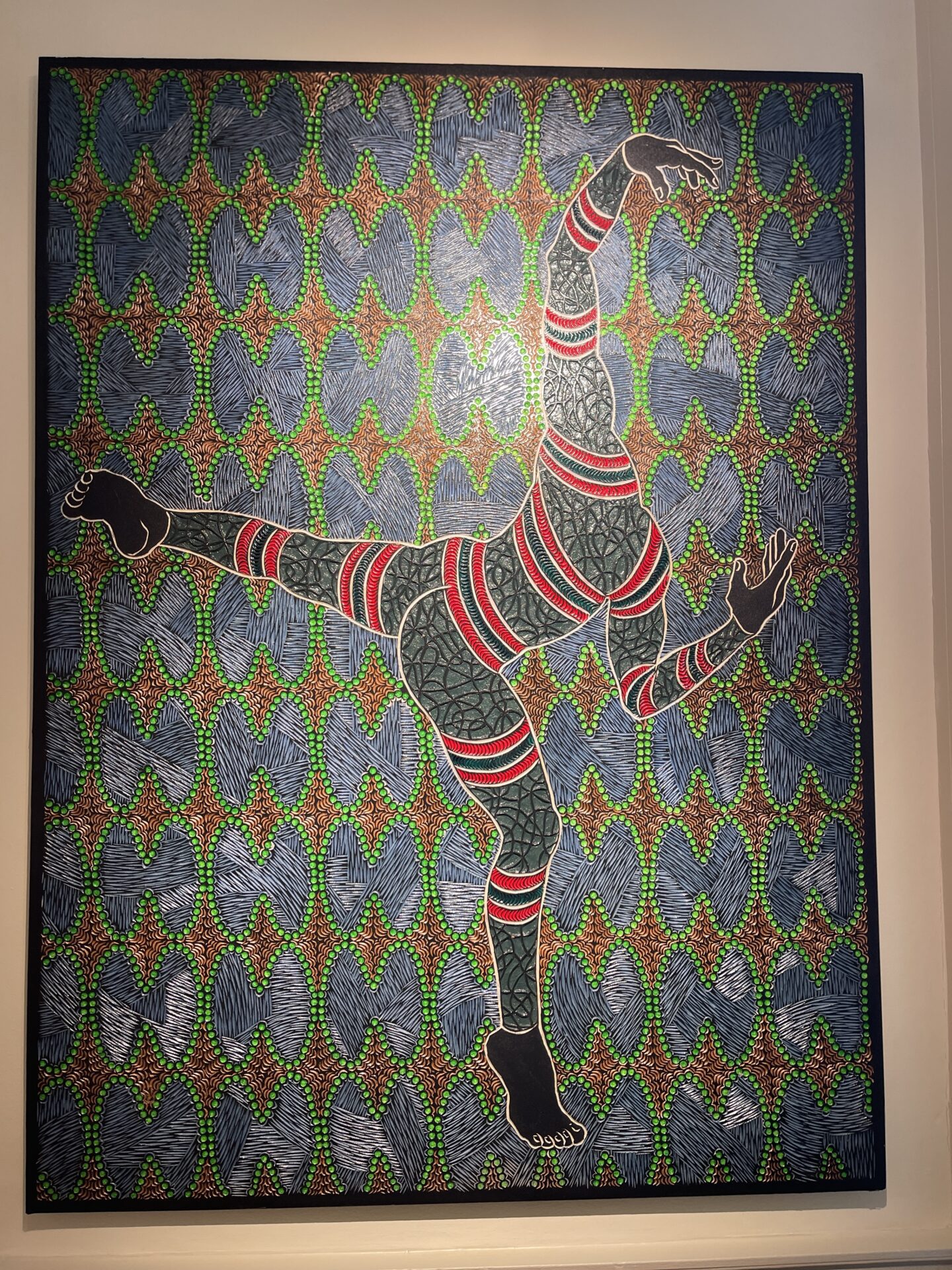 Sthenjwa Luthuli Instagram
Gallery: Unit London
Simone Elizabeth Saunders (Canada)
The 39-year-old Canadian-based textile artist "explores themes of the diaspora, ancestorship and Black womanhood". Her standout piece at 1-54 was Unwavering Grace: Legacy of the Stars. The velvet, acrylic and wool yarn on muslin reflects Saunders' Jamaican heritage and evokes strong female power, just in time for the release of Black Panther: Wakanda Forever on 11 November 2022.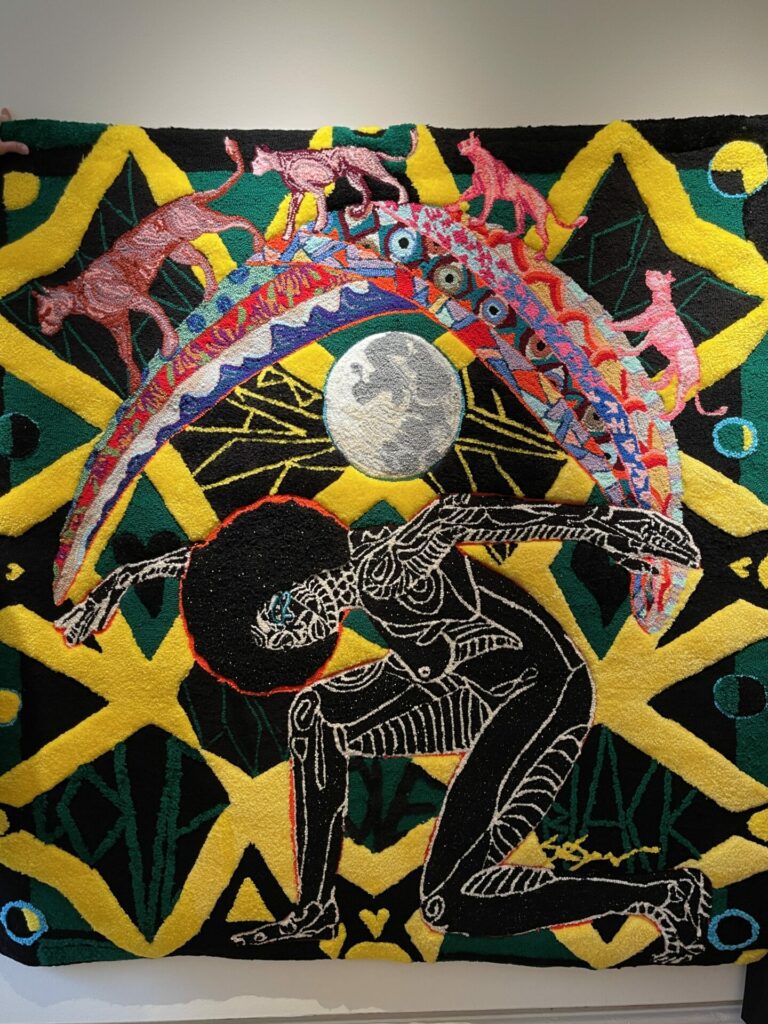 Simone Elizabeth Saunders website
Gallery: Claire Oliver. New York.
Eddy Kamuanga Ilunga ( Democratic Republic of Congo)
The 31-year-old Congolese artist is enjoying the kind of success that many artists on the continent can only dream about. His work is featured at leading art galleries in London and sold by Sotheby's. His art reflects the DRCs colonial history including the role of missionaries to coerce natives into slave labour and its present reality as the supplier of key minerals used to make everything from mobile phones, computers and electric vehicles.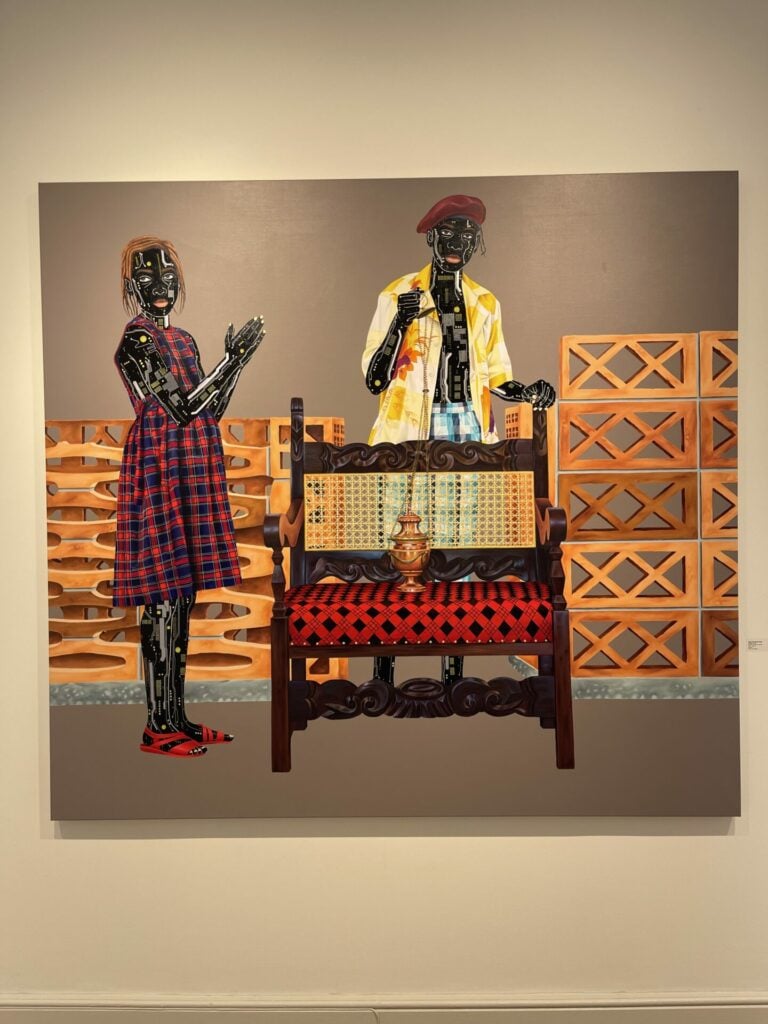 Eddy Kamuanga Ilunga Instagram
Gallery: October Gallery. London
Khadija Jayi (Morocco)
The 33-year-old Moroccan artist was born into a conservative family and uses her art to express her desire for purification, healing and freedom. She uses burned paper hardened with resin, plastic and acrylic to come up with her unique and bold designs.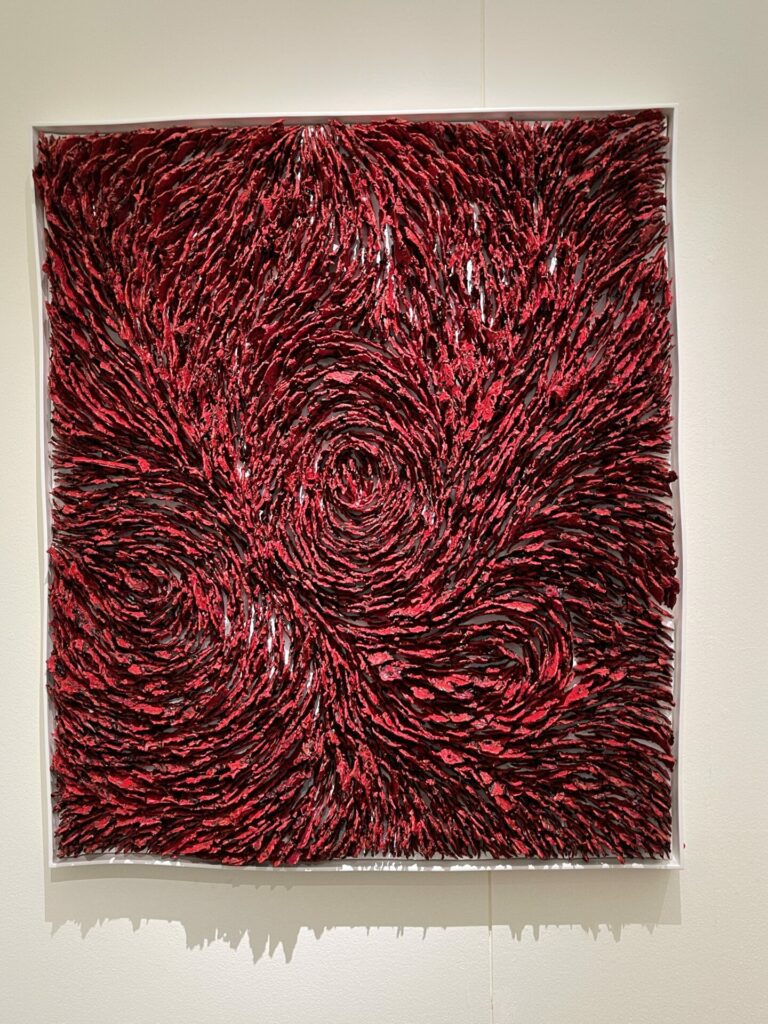 Khadija Jayi Instagram
Gallery: Galleria Anna Marra. Rome. Miami Beach.
Atong Atem (South Sudan)
Bold, colourful self-portraits exploring African identity is the signature style of the Ethiopian-born South Sudanese 31-year-old photographer who now lives in Melbourne, Australia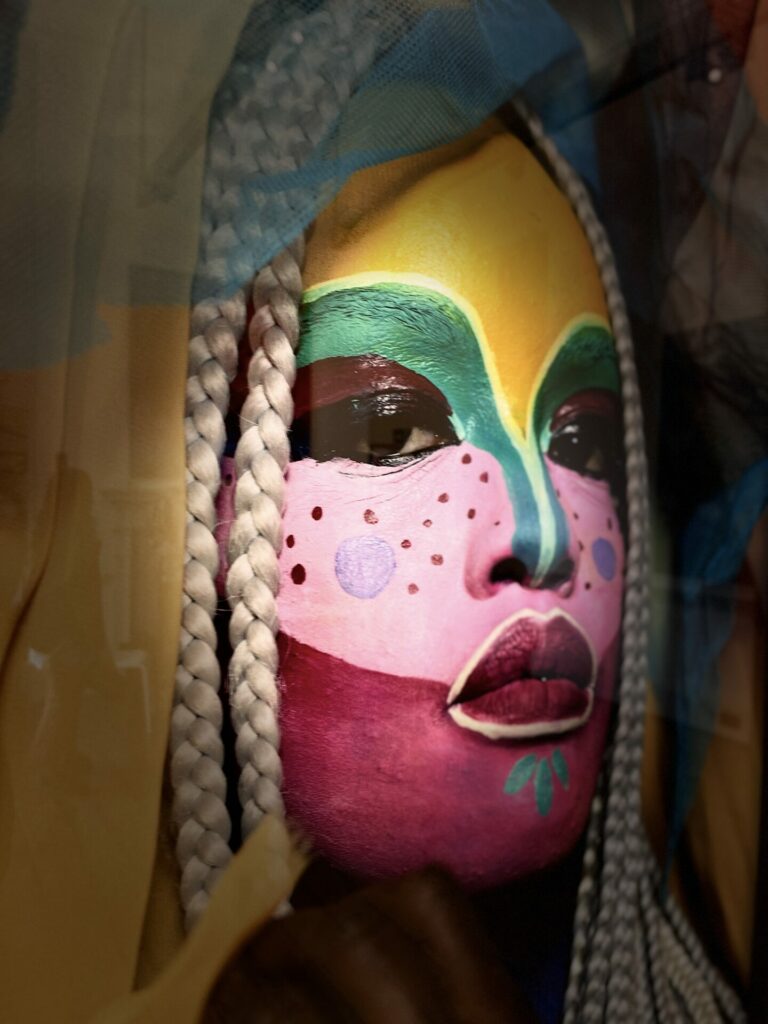 Atong Atem website
Gallery: Addis Fine Art. London