Ethiopian Airlines (ET) was named the best airline in Africa for the second year in a row at the 2022 Skytrax World Airline Awards, also known as the Aviation Oscars. The 4-Star Airline was ranked 26th globally and beat well-known airlines such as Thai Airways (46th), Air Canada (50th), American Airlines (68th), South African Airways (79th) and Kenya Airways (81st).
ET is a member of Star Alliance, the world's largest global airline alliance, along with two other African airlines: Egyptair (MS) and South African Airways (SAA). ET flies to 68 cities in Africa, blanketing the continent from Cape to Cairo, Dakar to Djibouti. It connects Africa with 54 cities around the world from Miami and São Paulo in the West, to Jakarta and Seoul in the East.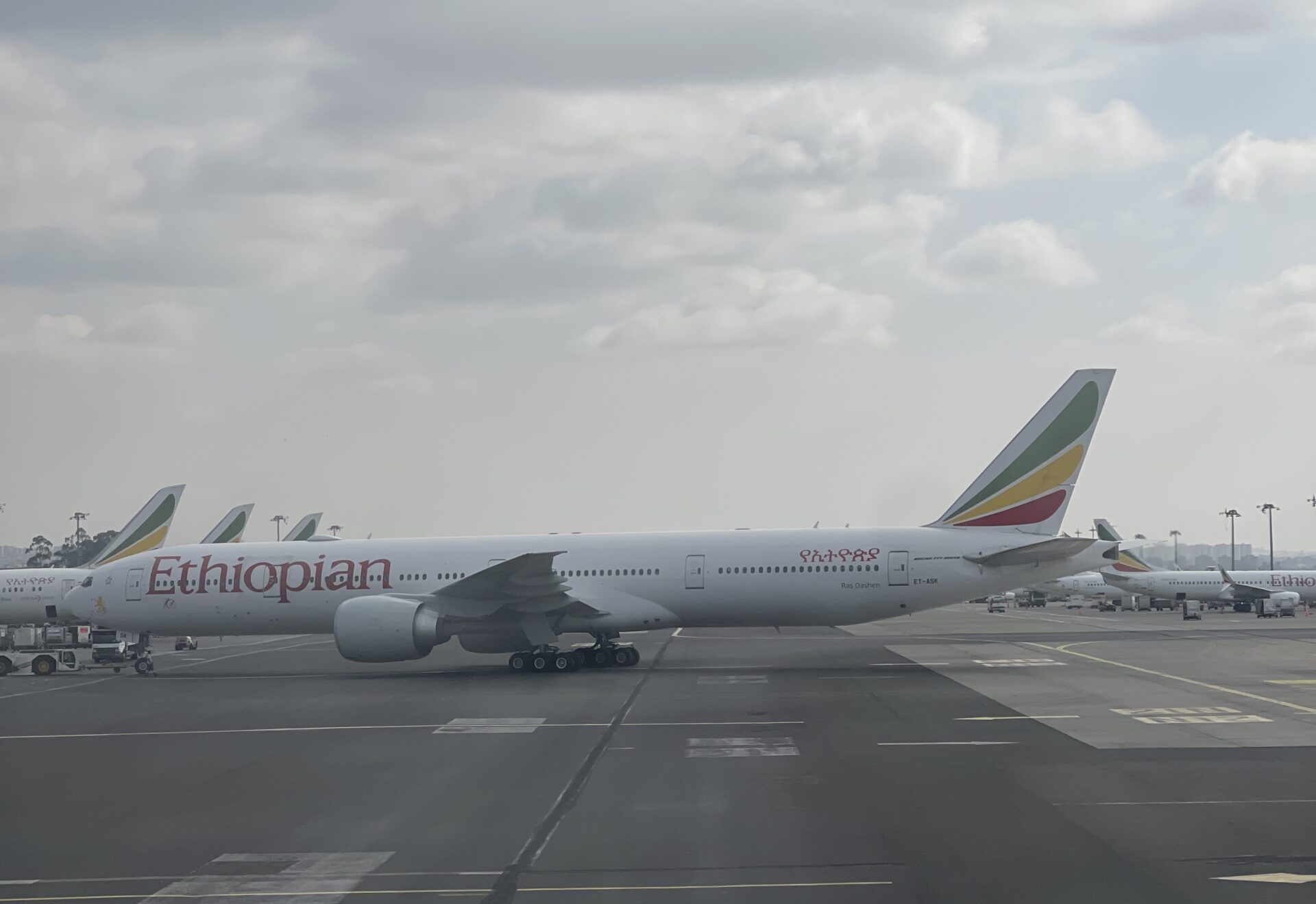 The state-owned carrier was established in December 1945 and has increasingly taken on a leadership role on the continent, following the demise of arguably the oldest African airline, SAA. ET has invested in other Africa airlines including Malawi Airlines (49% stake), ASKY Airlines (24% stake), and is credited with reviving Zambian Airways (45% stake) and Nigeria Airways (49% stake). It is worth pointing out that Ethiopian Mozambique Airlines (99% stake) and Tchadia Airlines (46% stake) both ceased operations in the last two years.
"To become the most competitive and leading aviation group in Africa by providing safe, market-driven and customer focused passenger and cargo transport, aviation training, flight catering, MRO and ground"

Ethiopian Airlines Vision 2025
It would appear as though ET has achieved its Vision 2025 goal well ahead of time and the strategy is clearly working as the airline made profits of nearly $1bn in the financial year ending 30 June 2022.
I explain why ET is winning with this review of the ET business class service from London to Lusaka.
Review of Ethiopian Airlines business class from London to Lusaka
The Star Alliance redemption programme allows passengers to redeem points across other member airlines. I used 120,000 Singapore KrisFlyer miles to book my ET Cloud Nine business class ticket.
Ethiopian airlines planes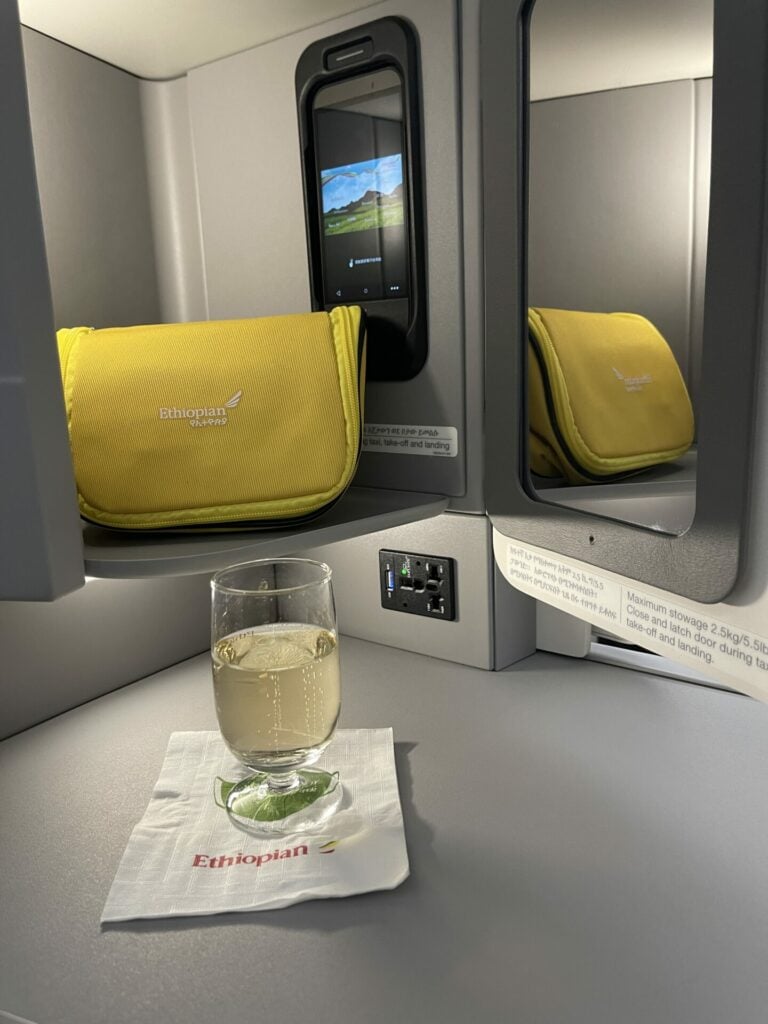 ET was the first African airline and the second airline globally, after All Nippon Airways (ANA), to embrace the Boeing Dreamliner in 2012. I only flew the Boeing 787 from Lusaka to Addis Ababa and was pleasantly surprised by the modern configuration, which is aesthetically better than Turkish Airlines. Read my 2022 review of Turkish Airlines business class.
However, the Dreamliner era – and Boeing's reign as the world's leading airplane manufacturer – is fading. ET made history again as the first African airline to operate the A350-900. The A350 is now the gold standard in this class of planes and I much prefer it because the business class configuration is 1-2-1 compared to 2-2-2 on the B787. This means all seats have aisle access and offer some privacy. The seat area has intelligent lighting which automatically goes off when the bed is fully flat and the leg rest is straight ahead rather than at a diagonal angle. The flat bed is very comfortable and more spacious than RwandAir. Read my 2021 review of RwandAir business class.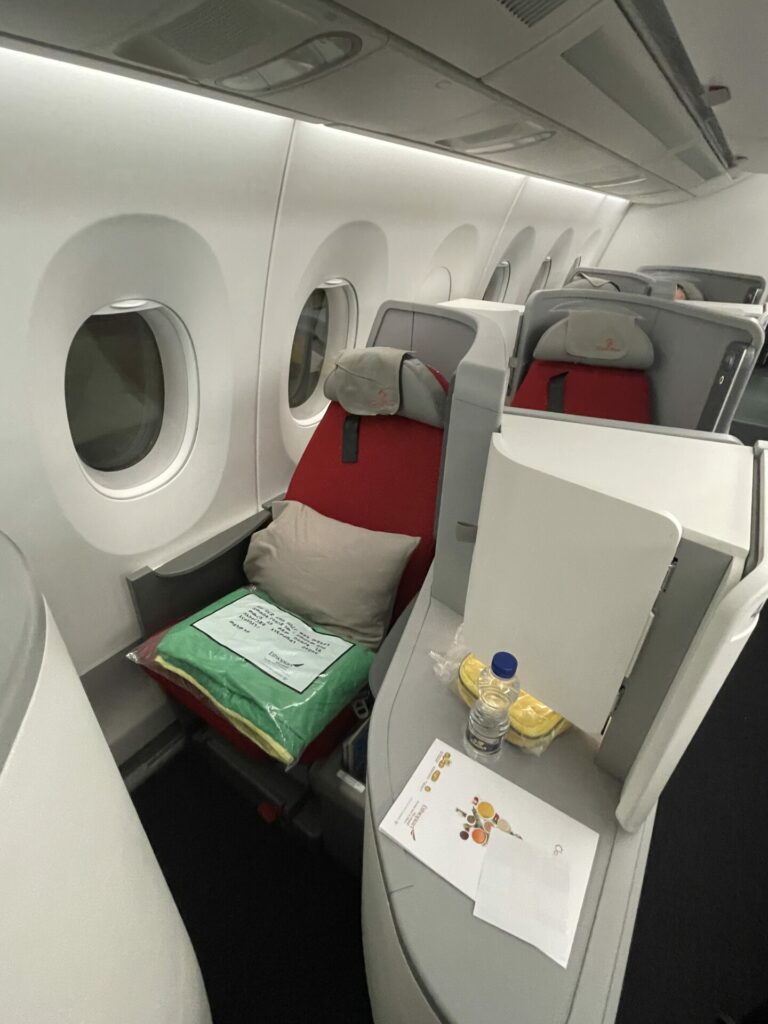 Note that the cabin temperature is set at 23 degrees and it is tropical onboard. I left snowy London wearing layers of warm clothing and ended up in my t-shirt and sweatpants. Several passengers complained that it was too warm but the temperature remained the same. I usually complain on European airlines because I find the cabins too cold so I was very happy. Tip: dress light!
Seat tip #1: pick A or L seats on the A350 if you want to sit right next to the window. On all the flights I took, these were even-numbered. The odd-numbered window seats were C or J and are closer to the aisle than the window. For couples travelling together, pick an odd numbered middle seat F and G.
Seat tip #2: seats 4A and 4L on the B787 do not have a middle window. Another reason to avoid the number 4. Luckily, the Lusaka to Addis Ababa flight wasn't full and I was able to move to seat 3L.
Ethiopian Airlines pilots and cabin crew
Ethiopian Airlines has some of the best pilots in Africa and it shows. I experienced one of the smoothest take-offs and landings (ever!) on the London to Addis Ababa leg. The pilots are also very safety conscious and were quick to put the seatbelt sign on during the slightest turbulence.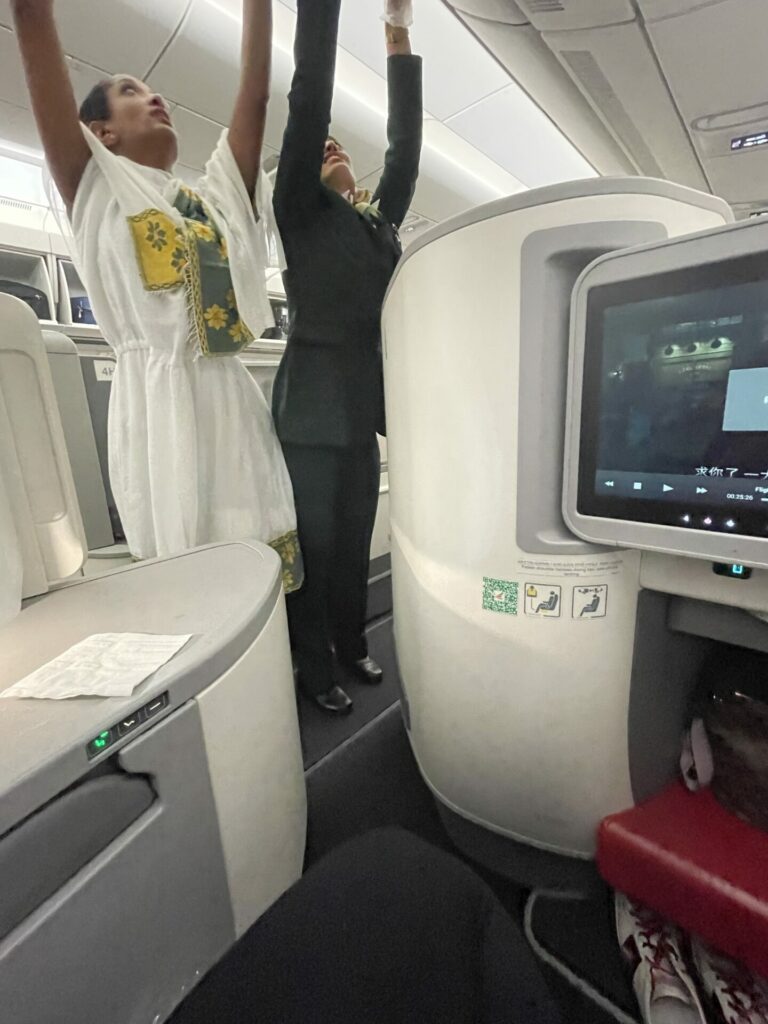 The cabin crew are friendly and frequently check on passengers throughout the flights. The crew wear dark green and white uniforms, which are business-like and convey the message that this is a serious airline. The most senior female crew member wears a traditional attire: a long, white embroidered dress and shawl called the netela.
Ethiopian Airlines in-flight meals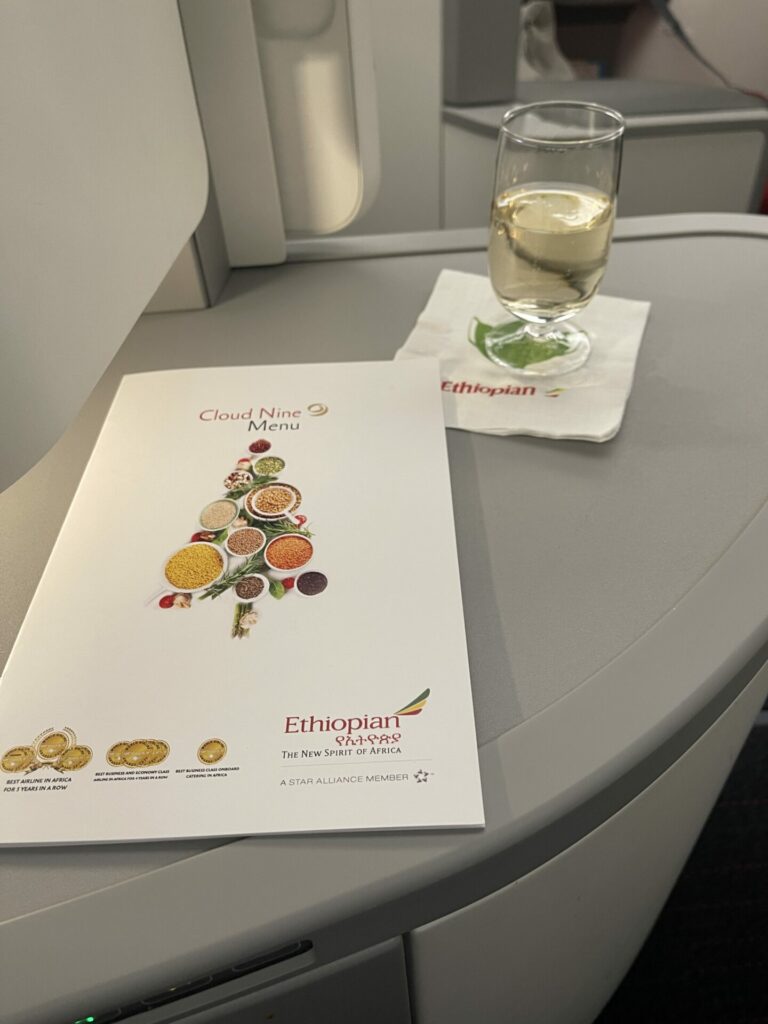 You will not go hungry on Ethiopian Airlines! The overnight flight from London to Addis Ababa offers a main meal service with a choice of starters, a seasonal salad, a main dish and dessert. A hot breakfast is served before landing. Ethiopian coffee and teas are offered and are worth trying. The wine menu includes Bottega Gold, an Italian Prosecco; red and white wines from Ethiopia, South Africa and France; and, a delicious Sandeman Ruby Port wine from Portugal. A wide range of beers and spirits are also available.
I would encourage the crew to proactively sell Ethiopian wines and coffee to passengers by doing tastings as part of the meal service. I didn't know that Ethiopia made wine! Most people will not say no to "Would you like try this Rift Valley Cabernet Sauvignon…?" If it were my airline, most beverages in economy would be locally made. Its nothing personal, just economics! Haha!
Morning flights from Addis Ababa to Lusaka offer lunch, which includes a wide variety of Ethiopian national dishes, or a hot light meal for afternoon flights from Lusaka to Addis Ababa. The "light meal" is equivalent to a full meal on other airlines.
What makes the in-flight meal service impressive is the fact that it is all managed in-house. Many leading airlines outsource to world-class catering firms such as Do & Co but ET views catering as a strategic pillar and the investment in itself is clearly paying off.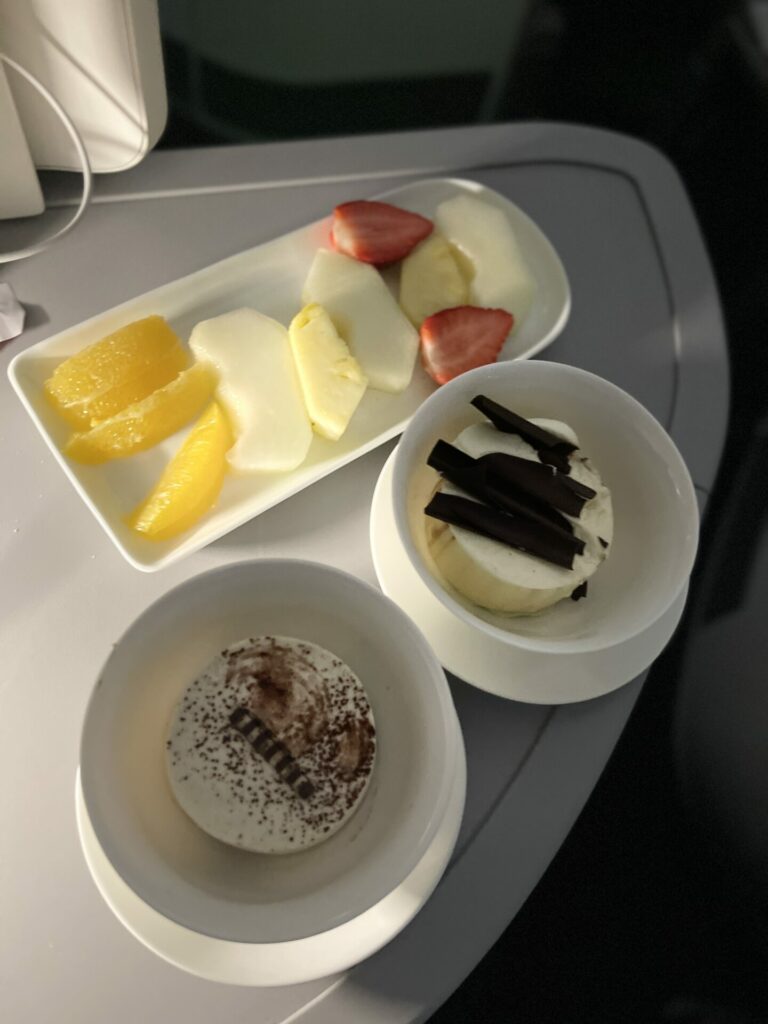 Note: Ethiopian Airlines does not serve pork.
Ethiopian Airlines in-flight entertainment
ET's in-flight movie library is decent and comparable to that of United Airlines (UA). Passengers are able to stay connected with WiFi and the costs range from $5 for one hour to $25 for the full duration of the flight.
The affordable price of tickets on ET means that perks such as free WhatsApp messages (excluding attachments) offered by the likes of UA and a digital newspaper and magazine library offered by many airlines, are not economically viable. As I had redeemed KrisFlyer miles and my trip was on my Singapore Airlines app, the e-library was available for me to download the latest Singaporean newspapers and magazines.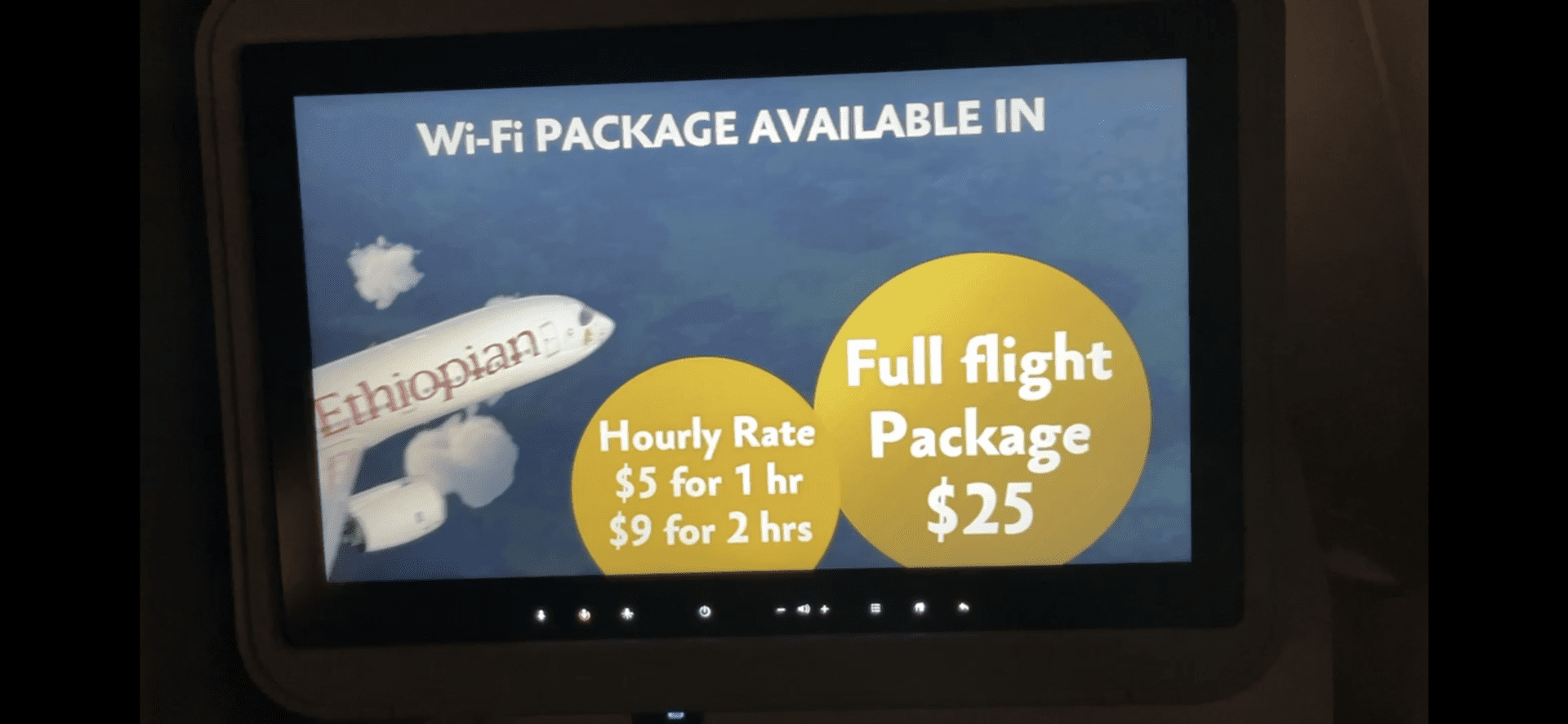 Truth be told the London to Addis Ababa flight was too short and I only managed to squeeze in one movie (Memory with Liam Neeson), food and a few hours of sleep. I skipped dinner and movies on the return flight in order to sleep for about five hours.
Ethiopian Airlines lounge services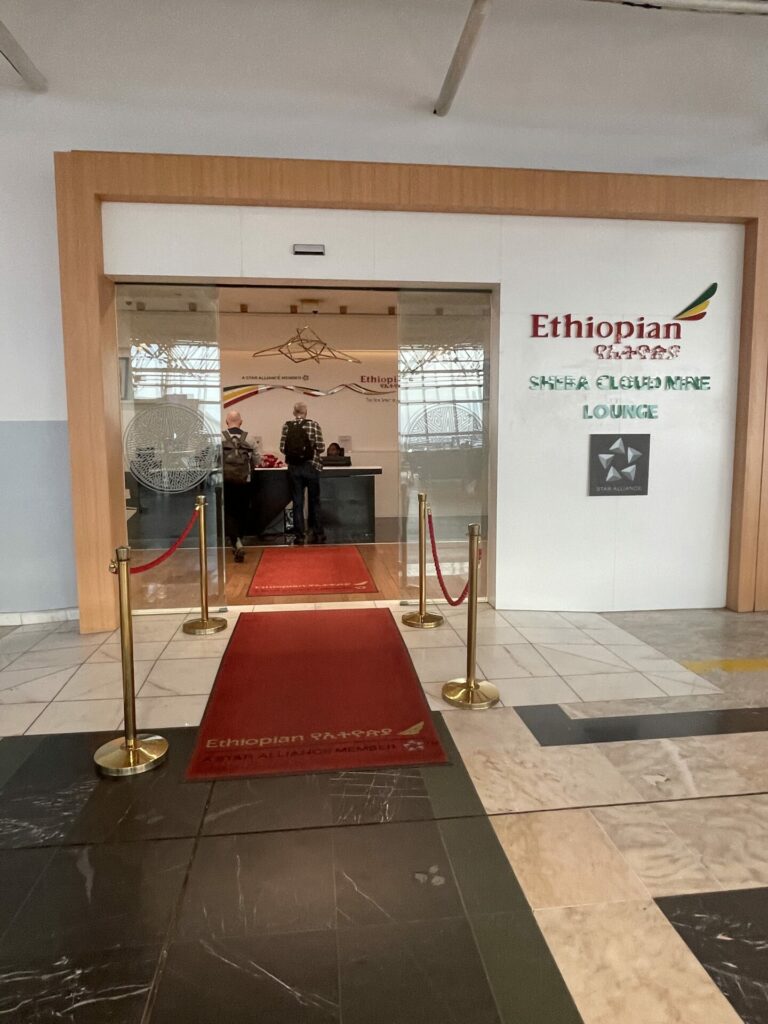 Ethiopian Airlines does not have its own lounge at Heathrow Airport. As a KrisFlyer Elite Gold member, I am entitled to use the Singapore Airline (SIA) lounge and usually do so when flying Turkish Airline. However, SIA had two flights – A380 and B777 – departing the same evening and were not accepting anyone not on their own flights. I was slightly miffed that I was being turned away by "my own people" (LOL) and did the walk of rejection across the corridor to Air Canada (AC), who welcomed me with open arms. There I watched the first half of the Morocco v France World Cup semi-final match with other ET passengers. We were among the last to board our flight.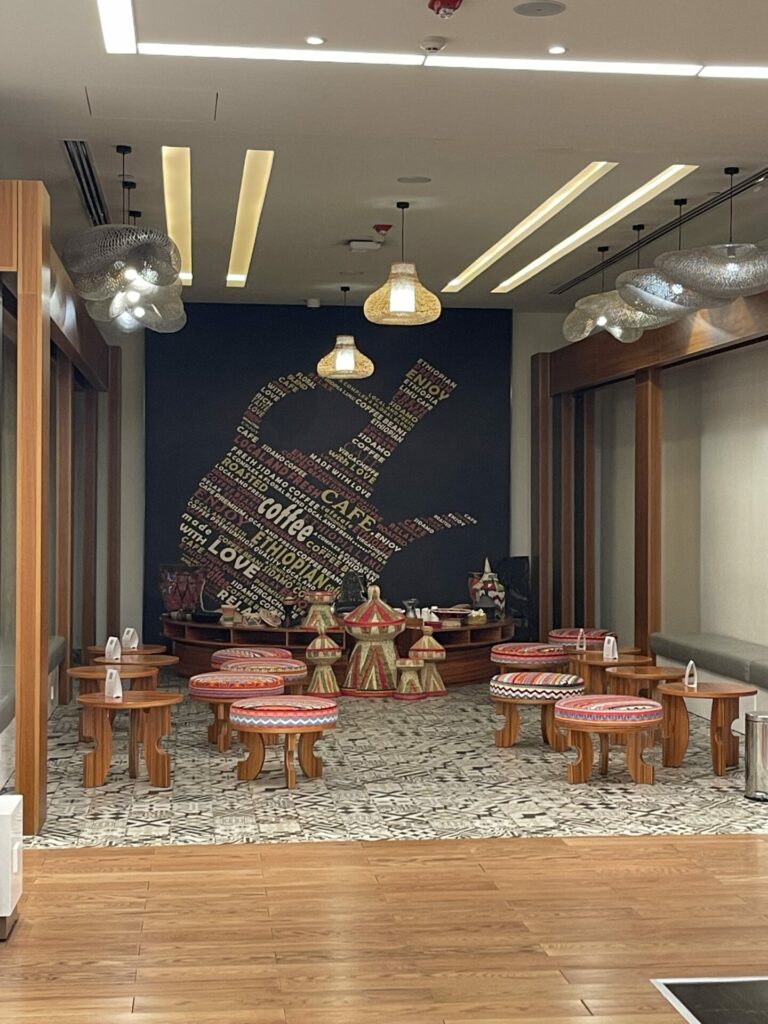 The great thing about the AC lounge is they have an arrangement with PressReader which allows passengers to download from a global digital newspaper and magazine library when connected to the lounge WiFi. This library is much better than SIA and Air France. So from now on, I will be eating at the SIA lounge and then heading to the AC lounge to stock up on my reading. I really hope double-dipping lounges is allowed!
The Sheba Cloud Nine Lounge at Addis Ababa Bole International Airport is huge. They must have taken a leaf from Dubai and Istanbul by creating different spaces for passengers. There is a bar, a canteen area, smokers' lounge, business centre, and a traditional Ethiopian café. The main space is open and has different types of seating including the comfortable egg shell chairs I sat in for four hours during the long Lusaka to London layover! The lounge looks out at the city which starts right outside the airport. The only downside is that the lounge can get very busy and as every flight departure is announced, can be noisy. The only way I relaxed was by plugging in my Bose ear phones and watching Netflix.
In Lusaka, ET uses the Pearl Lounge along with other airlines such as Qatar Airways. The lounge is small, functional and serves decent snacks and drinks.
Positive customer feedback on Ethiopian Airlines
"I started flying Ethiopian Airlines from London to Lagos when Emirates was suspended from Nigeria in 2021. I used to fly British Airways but their planes are old and they are not friendly and courteous. Ethiopian Airlines staff are very professional and helpful when you have children. I am travelling with my 22 months-old son and someone walked with me from the check-in to the gate. I am travelling alone but can always count on the crew to hold my baby when I need a comfort break. For mothers, how you treat our children is important and I am happy with the service"

Nigerian Mother travelling with her son from London to Lagos via Addis Ababa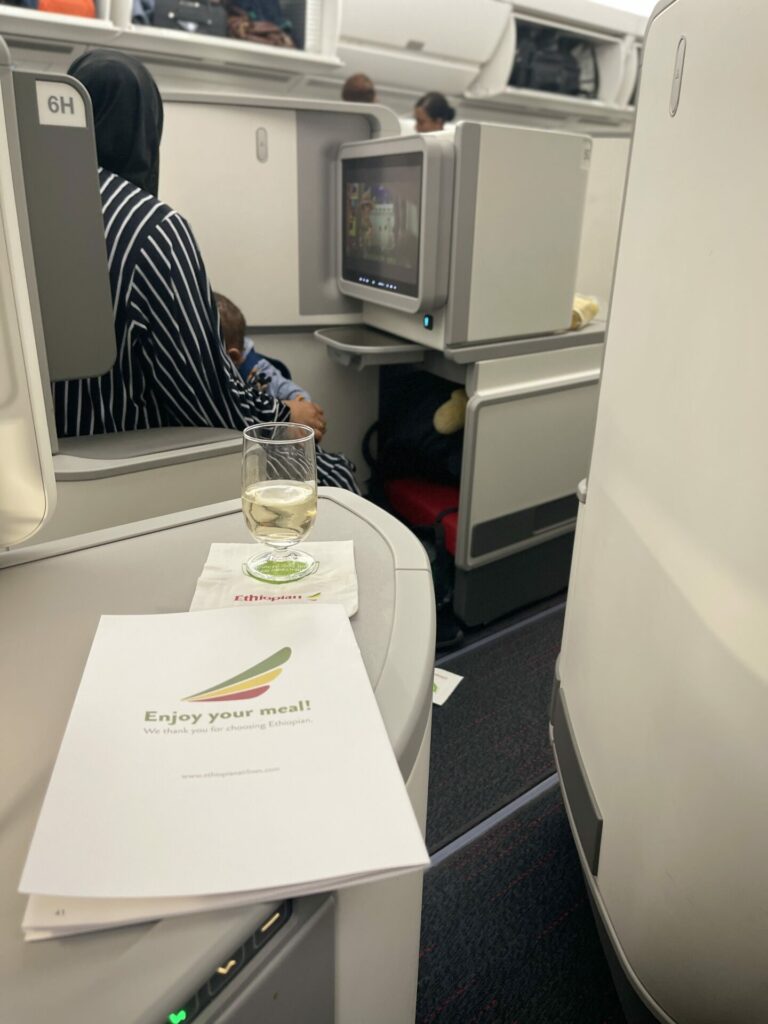 Suggested areas of improvement for Ethiopian Airlines
Ethiopian Airlines is delivering to a high standard and easily dominating the aviation industry in Africa. There is always room for improvement and I would recommend addressing the following four areas:
Ethiopian Airlines product offering is not serving the middle
Ethiopian Airlines offers two classes on all their flights: Cloud Nine aka business class (30 seats) and economy class (313 seats on the A350). Business class was fully booked between London-Addis Ababa (both legs) and less than two-thirds full on the Addis-Lusaka flight. The crew said the latter route is rarely full.
Most Africans, except Nigerians, do not fly business class unless work is paying. It probably makes more sense to introduce a premium economy class to cater to those who do not want to fly economy but also do not want to pay business class fares.
Ethiopia missing the trick to become a transit destination
Ethiopia has the advantage of being geographically well located. It takes 7-8hrs to fly to London and 5hrs to Lagos, which means passengers are willing to make the detour for the right price and to enjoy warm African hospitality.
It is surprising then that Ethiopia is content with passengers transiting through Bole airport, which is not renowned for its shopping, but does not seem to be actively encouraging them to leave the airport and tour the city. I tried to change my ticket to leave Lusaka two days early so that I could visit Addis Ababa but the ET office in Lusaka refused to make changes to my redemption ticket even though the flights are rarely full.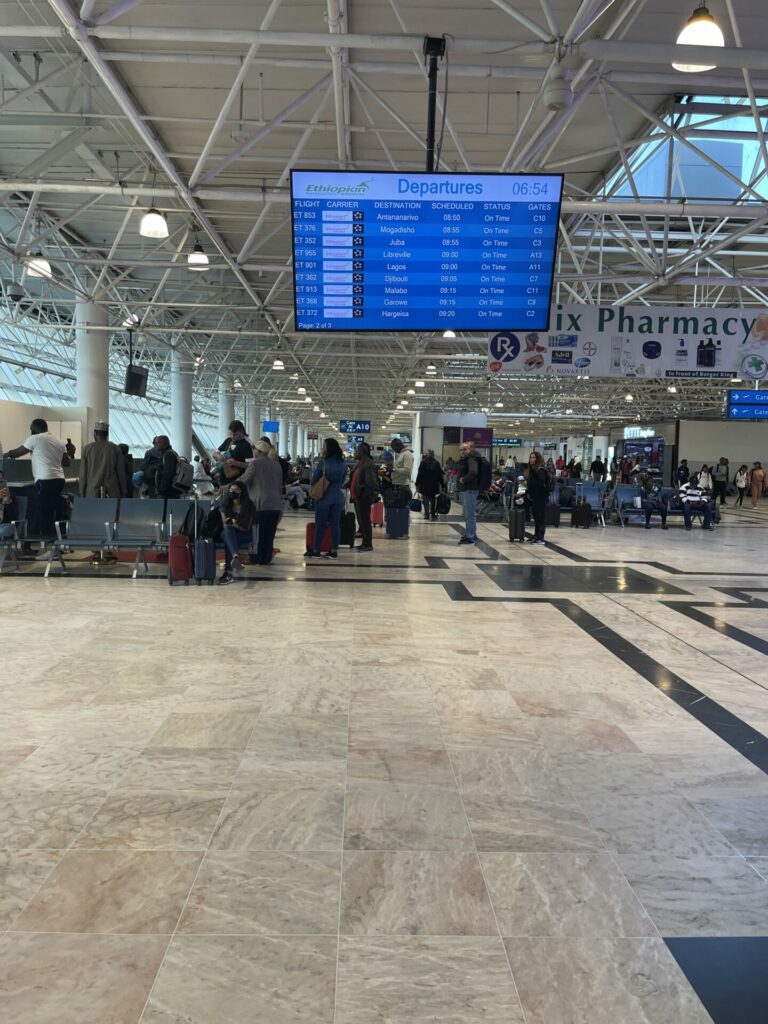 The other barrier is the process of obtaining a visa which costs $52 for up to 30 days, single entry. Why can't the visa requirement be waived for passengers travelling on ET? Singapore has perfected the art of transiting tourists as many flights to Australia and New Zealand stop over in Singapore, allowing travellers to spend hours or days in the Garden City. Rwanda too has made it easy by waiving visas for Africans. I flew RwandaAir in 2021 and had a 19-hour layover in Kigali which I spent touring the city. Read How to make the most of a one-day layover in Kigali.
Ethiopian Airlines in-flight service can be inconsistent
The funniest thing happened in the final hour of my London to Addis Ababa flight. The breakfast service started 37 minutes before we landed at Bole. I asked the cabin crew why we were eating so late and they said "we wanted to let passengers sleep". I appreciate the sentiment but this was a clear breach of Ethiopian Airlines' own operating standards and put all passengers at risk. I declined an offer for hot breakfast as the captain had already commenced the descent into Bole. Passengers were standing up 15 minutes before landing and the crew still scrambling to get ready with six minutes to go when they should have been strapped in their seats. I will upload the video to the ONGOLO YouTube channel.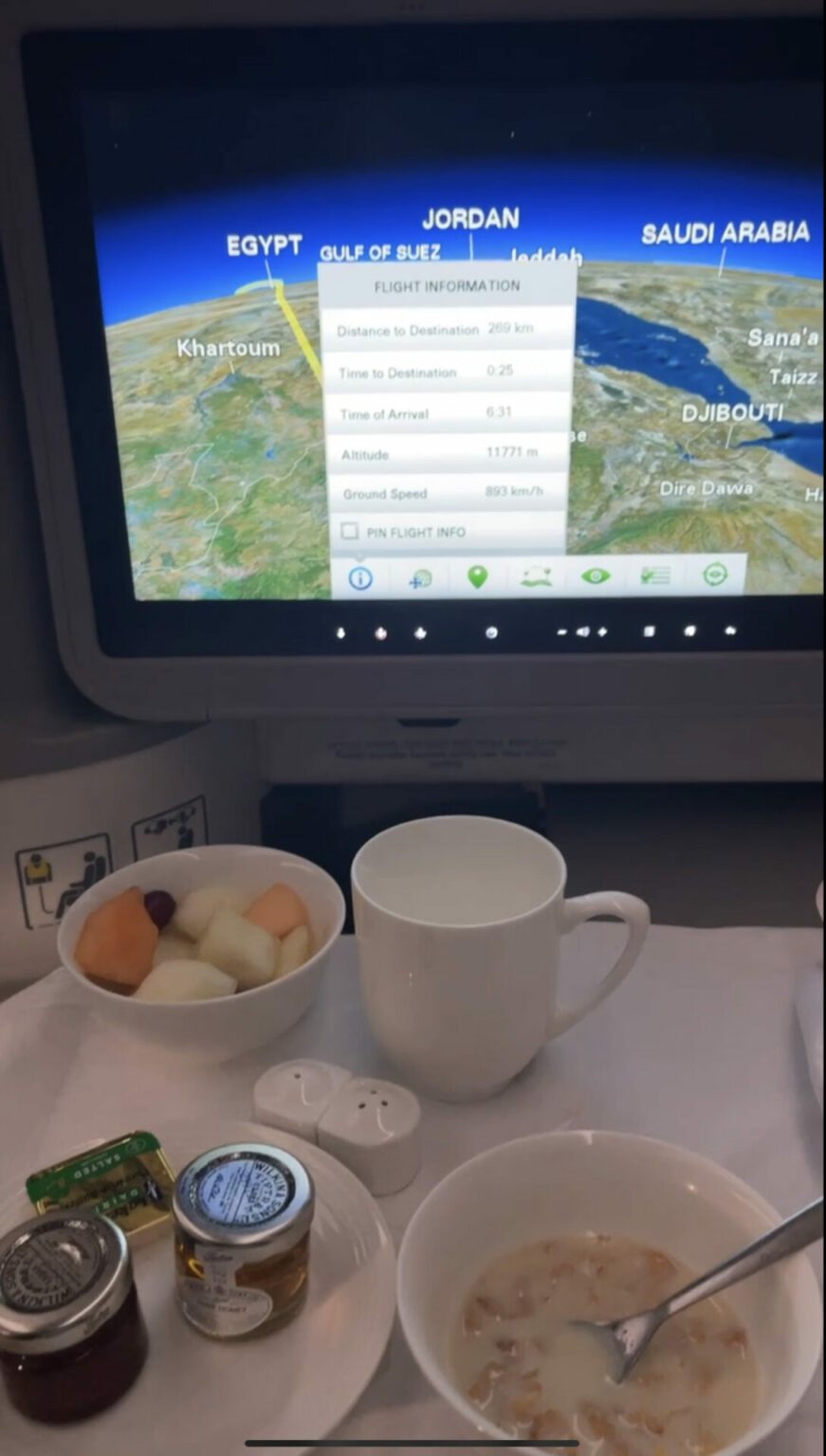 The other three flights did not have similar lapses though the service was inconsistent – sometimes really good and other times slow – and that could have been down to the differing level of experience of the crew. One young crew member did not know the seat numbers on the A350 and her supervisor explained that this was because the plane was new and they were all still learning. The eagerness to please also resulted in a couple's seats being given to two women who had mistakenly booked window seats with a disabled child. The couple demanded their seats back because they were on their honeymoon and wanted to sit together. It was very awkward. The crew member should have known to make the swap only after boarding had been completed, which is what the crew did on my Lusaka to Addis flight.
Ethiopian Airlines ground services could be more efficient
The Ethiopian government has invested heavily in infrastructure at Addis Ababa Bole International Airport, which has greatly improved the experience that many used to describe as "chaotic". One of two issues I observed was the bottleneck at the transit security checks, as the space is small and the team scanning hand luggage move at a glacial pace. The second issue is that even though there are many announcements about flights leaving – which many other international airports have stopped making – there is little communication when there is a delayed departure or gate change.
Top marks to Ethiopian Airlines overall
Fortunately, none of the issues listed above would sway my high opinion of Ethiopian Airlines: they are truly Africa's best. ET has the potential to become Africa's first 5-Star Airline and that means delivering flawless service across the entire customer journey, every single time.
Can they do it? Please share your ET experience in the comments below.